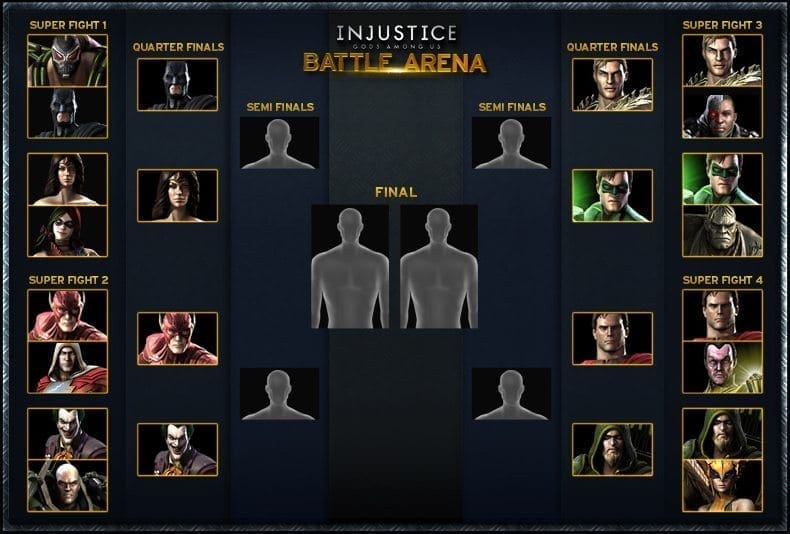 Injustice: Gods Among Us Battle Arena is entering the quarterfinals this week. The Winners from last week will square against new enemy this week. Check out the info below and make sure and cast your vote!
Press Release:
Warner Bros. Interactive Entertainment and DC Entertainment have revealed the fifth week of challengers in this week's Injustice Battle Arena, kicking off the quarterfinal round of matches that will pit previous weeks' preliminary tournament victors against each other to determine who will advance to the semifinals.
This week first round champions Batman and Wonder Woman collide as technological prowess and peak physical condition meet superhuman strength and speed, while in another ring the fastest man in the world takes on perhaps the most mischievous, as the lightning-quick Flash faces off against the unpredictable villain The Joker. Additional matches this week include a brutal clash between preliminary round champions Aquaman and Green Lantern and, finally, a bout of raw Krypton power versus deadly precision as Superman takes on Green Arrow.
Click here to cast your vote, and to find out more, head over to the Injustice: Gods Among Us homepage.

"Injustice: Gods Among Us" hits stores April 16 for PlayStation 3, Xbox 360 and Wii U.
[SlideDeck2 id=9271]