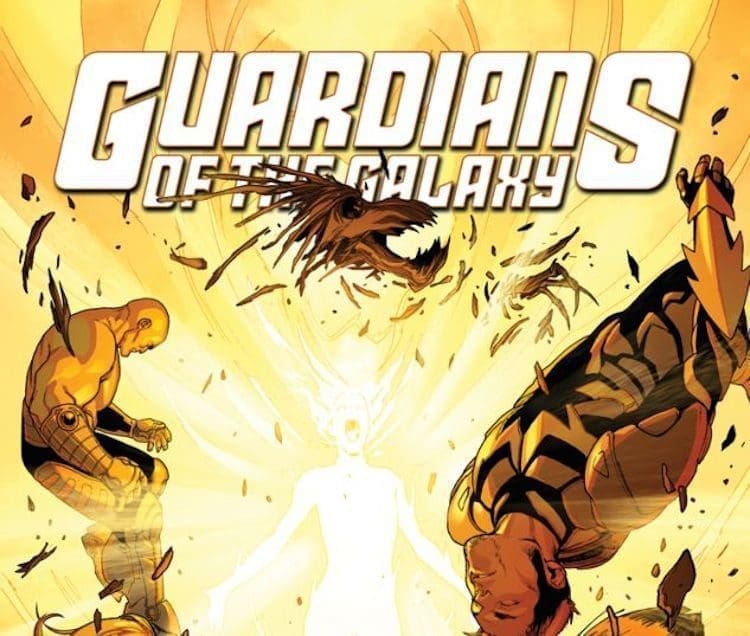 [Comic Publication Date: 3/26/14]
For better or for worse, the Trial of Jean Grey crossover event has provided consistent entertainment from both sides of the X-Men and Guardians of the Galaxy universe, even though the two teams have been brought together under an undercooked premise. Marking the end of this six-issue event, Guardians of the Galaxy #13 continues the tradition of providing a solid, entertaining issue, even if the titular trial is all but an afterthought by the end of it all. This issue doesn't leave the two teams "devastated" as the solicits over-promise, but it does leave both teams in an interesting place moving forward, including a potential cross-team romance and one X-Man leaving the team. More importantly than that, however, it leaves the door open for future crossovers to occur, and I'm all for that.
Once again, this issue of Guardians of the Galaxy is not steeped too heavily in actual Guardians matters. Star Lord's scheming father, J-Son, never appears despite his interference last issue, and the fact that no one has mentioned Angela being a victim of a space-time continuum accident mostly caused by the X-Men's time-traveling antics seems like a missed opportunity. There is, however, an important moment involving Cyclops where he decides, at last, what he needs to do about both his relationship with Young Jean and his father moving forward. It's a compelling enough decision that it actually makes me look forward to reading the upcoming Cyclops solo series and this is a character I didn't care about in the least previously. Young Jean herself has a moment of self-discovery with her power set that might prove to be worse than the Phoenix in the long run, but that's something left for the All-New X-Men series to explore further. She also manages to lay one hell of a guilt trip on her accusers that just further dilutes the whole point of the trial, rendering it a cursory thread in the long run of this event.
If there's one takeaway to be had from this entire experience it's how great of artists Sara Pichelli and Stuart Immonen are on their respective books. Jumping back and forth between the two titles has felt like a game of one-upmanship that has only brought out the best in both artists. Immonen had some fantastic two-page action sequence spreads in the All-New X-Men issues of this event and in Guardians of the Galaxy #13, Pichelli is no slouch, offering up an epic shot of the X-Men and Guardians of the Galaxy fighting The Gladiator and his Imperial Guard. David Marquez offers assistance on some of the pages as well, and the transition between him and Pichelli is virtually unnoticeable. Both are able to successfully represent every emotional beat from writer Brian Michael Bendis' script with some terrific facial work across all the characters. It's just a wonderful looking issue, but at this point, I've come to expect nothing less.
Guardians of the Galaxy #13 concludes the Trial of Jean Grey crossover event with another solid entry, putting forth a few new ideas that will likely influence both teams of heroes moving forward in their respective series. There's still no telling why there needed to be a trial to get these two teams together, but it was a fun way to spend the last two months.
GNN Comics Grade: NEAR MINT (8/10)
[SlideDeck2 id=9304]
Greetings true believers! John is the Comics Director of GNN and when he isn't reading books with pictures and made up words, he can be seen on twitter @thisjohnd or on Facebook. To contact him the old fashioned way, his email address is [email protected].