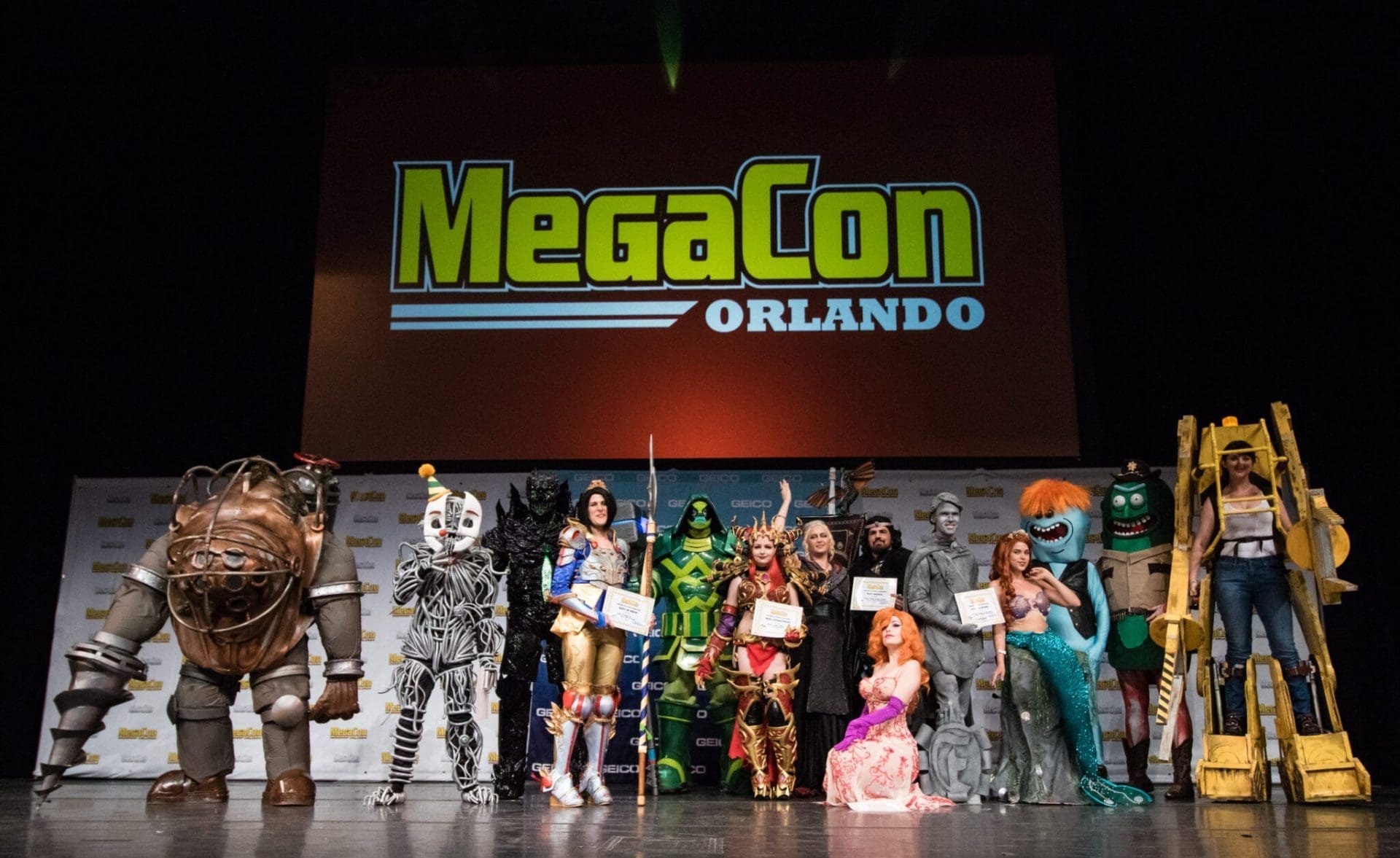 MegaCon Orlando is the southeast's largest comics, sci-fi, horror, anime, and gaming event that attracts hundreds of thousands of people every year. After a one-year hiatus due to COVID-19 followed by a rescheduled show that had the event being held in August last year, the event returns to its regularly scheduled timeframe and place: May 19 through May 22 at the Orange County Convention Center in Orlando, FL. That's four days of all things nerd!
I've attended and/or covered over a dozen conventions now and one thing I've learned is that one of the keys to having a good time at any convention is to do your homework and have at least some semblance of a plan in place. That being the case, I've written this article in two parts: the first part will tell you what MegaCon is and what'll be happening, and the second part will be a "10 (or so) Commandments for Having Fun at MegaCon."
So, dear reader, here's everything you'll need to know to have a great time at MegaCon 2022.
What is MegaCon?
As I mentioned, MegaCon is the southeast's largest fan convention, catering to fans of comics, sci-fi, horror, anime, video games, toys, tabletop gaming, and more. The family-friendly convention offers up a chance to meet celebrities; attend panels on a variety of subjects, from creating cosplay to writing your own comic book; play video games and tabletop games with other fans; compete in cosplay and trivia contests; commission artwork from a variety of artists; get a tattoo to show off your fandom; and buy great geeky gifts including rare comics and collectibles, shirts, action figures, and video games. They're adding panels, activities, vendors, and more every year, so it helps to check out the MegaCon website and Facebook page frequently to get updates and learn about con hours, who'll be attending, and what there's going to be to see and do at the con.
This year's convention returns to the Orange County Convention Center in Orlando, Florida after having to postpone in 2020 and having to push the event to August in 2021. In 2019, over 100,000 people attended the four-day convention. This year is shaping up to attract that many people, or more.
Orlando is Custom Made for MegaCon!
Not only is MegaCon a great event, but it's being held in a pretty cool city, especially for geeks and nerds of all types. The Orange County Convention Center is a quick drive from Walt Disney World (and EPCOT, Animal Kingdom, Hollywood Studios, and Disney Springs), Universal Studios and Islands of Adventure, and Sea World. The venue's also walking distance to Dave and Busters, a Ripley's Believe it or Not! museum, WonderWorks, several escape room venues, the ICON Park entertainment venue, Pointe Orlando, movie theaters, miniature golf courses, and several other food and entertainment options to keep you busy after a day at the convention.
Hotel options are also plentiful, but since the convention is being held in an area that's extraordinarily popular with tourists from all over the world, some planning and reservations are highly recommended.  You can see a list of hotels associated with the event on MegaCon's website.
A Star-Studded Lineup
Even though the convention is over a month away, the roster of celebrities available for photos and autographs is already shaping up to be epic.
As of this writing, the most recent additions to the celebrity guest list are Brendan Fraser and Nathan Fillion.
Fraser and Fillion join a lineup of exciting celebrity guests including a rare reunion of the four hobbits from The Lord of the Rings: Elijah Wood (Frodo), Sean Astin (Samwise), Billy Boyd (Peregrin), and Dominic Monaghan (Meriadoc); Karate Kid's William Zabka (Johnny Lawrence) and Martin Kove (John Kreese); and Clerks' Kevin Smith (Silent Bob), Jason Mewes (Jay), Jeff Anderson (Randal Graves), Trevor Fehrman, (Elias Grover) and Brian O'Halloran (Dante Hicks); Trailer Park Boys Robb Wells (Ricky), Mike Smith (Bubbles), John Paul Tremblay (Julian); Star Trek's Levar Burton (Lt. Commander La Forge) and Brent Spiner; Legends of Tomorrow Jes Macallan (Ava Sharpe) and Caity Lotz (Sara Lance).
There are even more celebrities attending, and you can see who they are on the Celebrity Guests page on MegaCon's website. The page also tells you what days the guests will be attending and contains links to information about the celebrities, including how much they charge for autographs and photo ops. You can also check this page to see if there are any cancellations.
You'll be able to attend Q&A sessions with these celebrities and get autographs and professional photo ops with these superstars of television and movies. You can pre-book photo ops on MegaCon's website.
More exciting celebrity appearances will be announced leading up to the event.
More Interesting People to Meet
In addition to international actors, artists, and authors, you can also meet, chat with, and purchase works from local and up-and-coming cosplayers, artists, and authors.
Cosplayers run wild at MegaCon. It's not odd to see Chewbacca eating lunch with Moon Knight or Deadpool posing for a picture with The Riddler and Indiana Jones. As of this writing, no featured cosplayers have been announced, but you can check out some of the featured cosplayers attending MegaCon as they are announced by heading to the Cosplayers page of the convention website.
Comic creators of all sorts are also available at MegaCon to chat, sign books, and in some cases, sketch your favorite characters. Frank Miller, Marc Silvestri, Greg Capullo, and John Beatty are just some of the big comic-related names scheduled to attend. If you'd like to see the full list of comic artists, writers, inkers, and editors attending the convention, visit the Comic Creators page on the MegaCon website.
If you're thinking a tattoo is in your future, you can learn more about the artists that will be attending the convention by heading to the Tattoo Artists page on the MegaCon website.
If you haven't noticed, the MegaCon website is a great place to see who's attending and when they're attending. Check back on their page each week to keep up to date on who's attending the convention and plan your weekend!
The 10 (More or Less) Commandments for Having a Great Weekend:
With so much to see and do and so many people to meet and talk to, managing your time is critical to making the most out of your time at MegaCon. While you can probably have a good time by just heading to the convention and just trying to find folks to see and things to do, if you plan on seeing everything you want to see and doing everything you want to do, you should have a game plan to make the most of your time at the convention.
To help you reduce frustration and get the most of your time at MegaCon, I started carving a few of tips for having a great convention into two giant tablets. Then I realized it would be easier to type them out, so here you go!
Thou Shalt Do Your Homework.
In addition to the MegaCon website, TripAdvisor can be your best friend when it comes to finding a hotel close to the venue. If you have a car and you don't want to pay out the nose for parking, do a little research to find a hotel that doesn't charge for it. Many hotels in Orlando charge both a parking fee and a non-optional resort fee that can be upwards of $25 a night. Do some research when booking rates and make sure you're not paying $200 a night for a $120 room. Also, it wouldn't hurt to make dining reservations if you plan on having a decent meal near the venue. There are bunches of cool options in addition to your standard fare if you're looking for something other than fast food.
Thou Shouldst Bring Cash!
Many celebrity guests only take cash for autographs and selfies at their tables. ATM machines at the venue typically run out of money sometime on Saturday (sometimes earlier), so you might be in trouble if you're looking to get an autograph and you're out of dough.
Thou Might Not Realize How Much There is To Do.
Every year, I'm amazed at the variety of things there are to see and do at MegaCon. Where else can you meet celebrities, buy a sword, get a tattoo, get custom commissioned art, chat with published authors and get books autographed, get your picture taken with Batman, play classic video games, have a great meal, watch independent movies, and get a Portal t-shirt all in one place? There aren't many events or places that match the sheer width and breadth of what MegaCon has to offer! It's so much more than a "comic book convention."
Thou Shalt Not Fault the Convention for Autograph and Picture Prices
Celebrities charge different prices for photos and autographs and the convention has nothing to do with it. Some celebrities will autograph a picture and take a selfie with you for $30 total. Some will charge $30 for each one, totaling $60. Some won't take selfies at all and will charge $150 for an autograph. Many first-time convention attendees are a bit shellshocked when they see the prices of pictures and autographs. Conventions are a big business and you might be disappointed at the prices of things. However, conventions don't set the prices, the celebrities and/or their managers do. If people are willing to pay, celebrities will continue charging the price they charge. Again, if you do your research, you won't be surprised when you arrive.
Thou Shouldst Expect Cancellations.
A good rule of thumb is to not just go to a convention for one person. For example, so many people get angry when celebrities like Norman Reedus or Ron Perlman cancel appearances. You'll see countless posts on MegaCon's Facebook page that say, "That's the only reason I was going! I want a refund!" Unfortunately, conventions make it very clear that cancellations happen, and they won't provide refunds in those cases (except if you buy photo ops or other packages related to that celebrity). So, if you're going to attend, keep in mind that in addition to your favorite celebrity, there are a lot of great events, artists, vendors, and cosplayers that you can see.
Remember Thou Needest to Plan! Your Time is Valuable!
If you want to attend three panels, get a tattoo, have some artwork done, shop all the vendors, and get a dozen autographs and the cast of Lord of the Rings, the cast of Clerks, and four other celebrities are all on your list, don't plan on only attending on Saturday, arriving at 2:00 P.M. and getting everything you want to accomplish done. Odds are, if you like a particular celebrity or want to attend a particular panel, hundreds of other people are going to want to attend that panel and like that celebrity, and his or her line will be long.
These celebrities also have photo ops and panels to attend, and they also might want to eat or go the bathroom. In years past, Stan Lee's (Rest in peace, Stan. Excelsior!) line was long and slow from the beginning of the day to the end of the day. Sometimes, I would see people in his line for hours. So, just do some planning and you should be able to fit everything you want to do into the time you have.
Thou Shouldst Try to Attend More Than One Day.
Speaking of planning your time well, it's easier to plan your time if you have more of it, so attend multiple days if you can! So many people only come to conventions on Saturdays because that's the day most celebrities and other guests attend. While that's true, it's also the day that has the biggest crowds and longest lines. Try to attend on Friday and Saturday or Saturday and Sunday to have one day to take it a little easier. Thursdays and Fridays are great days to hit some of the vendors, artists, and authors because the crowd is smaller and you can actually interact with them without having a sea of people bump into you.
Thou Will Most Likely Covet Some Companionship!
It's always more fun to experience a con with friends. It also helps that they can hold your place in line, hold a table for you in the food court, and help you carry your purchases. It also helps that you have someone you trust to take pictures or watch your stuff. Overall, it's just more fun (and a little safer) to travel with friends. It can also help offset the cost of hotel rooms and food.
Thou Shalt Remember That You're in Florida (Especially if Thou Art Cosplaying!)
Some people don't realize exactly how hot it is outside in Florida in May when they don that Chewbacca costume. If you're going to wear a bulky costume, be sure to have plenty of water handy and take breaks frequently. As mentioned in the preceding tip, having a friend as your wingman/woman is also helpful for keeping you rested and hydrated during the long, hot Florida days.
Thou Shalt Remember Thine Health!
COVID-19 adds a new layer to this tip. Most years, I would say to make sure to wear comfy shoes, bring snacks or money for food, bring water or money for drinks, be sure to rest, take some vitamin C, and bring some hand sanitizer because you're going to be in a convention center with thousands of people! This year, precautions might change, so if you want to see what the folks running MegaCon are doing to help keep you safe, visit their Health & Safety page. However, it's up to you to do what you need to do to keep yourself safe and healthy at MegaCon.
Thou Shalt Remember the Golden Rule!
When it comes to conventions, treat others as you'd like to be treated.  Don't get mad at people who spend a minute or two talking to a celebrity, especially if you'd like the same amount of time to interact with them. If someone needs help or directions, lend a hand. If someone needs to step out of line to use the restroom, offer to save their place. If someone needs a place to sit, offer a seat. 99 percent of folks at conventions are cool people. If you treat them the way you want to be treated, you might make a new friend or two. Being a jerk because a celebrity canceled, or something is more expensive than you thought isn't going to help anyone, and it's only going to ruin the convention for you and others. Have fun and be nice and others will do the same.
Finally, and I'll Keep This Serious…Cosplay is not Consent.
Yes, there are going to be very scantily clad cosplayers at MegaCon. That's not an invitation to get handsy or creepy and treat cosplayers like pieces of meat. Don't be afraid to approach cosplayers for pictures or autographs, but have respect and ask them first if you're going to do something you think might be deemed inappropriate. Most cosplayers love attention, but not all kinds of attention. Again, remember the Golden Rule and treat cosplayers with the respect with which you'd like to be treated.
Getting Your Tickets (and Other Stuff)
There are all different ways to attend MegaCon. You can attend for a single day, all four days, or any combination of days. There are premium packages and special events that you can attend that might require an extra ticket. Check out the Shop tab on the MegaCon home page for more information on ticket prices, special events, photo op prices, and more. Click the Buy Tickets link on the Shop tab to see all of the ticket options available.
In Conclusion
Attending MegaCon is amazing experience. There's so much to see and do that it can be overwhelming, and I've seen and heard people that haven't had a good time because someone they wanted to see cancelled, or something they wanted was too expensive, or the lines were long and they didn't get to attend a panel they wanted or see a celebrity they love. It's a shame when someone doesn't have a great time at a convention, but it can be a learning opportunity as well. Do some research, learn from your mistakes, and have a plan and you'll get the most out of MegaCon, an event that's truly not to be missed!