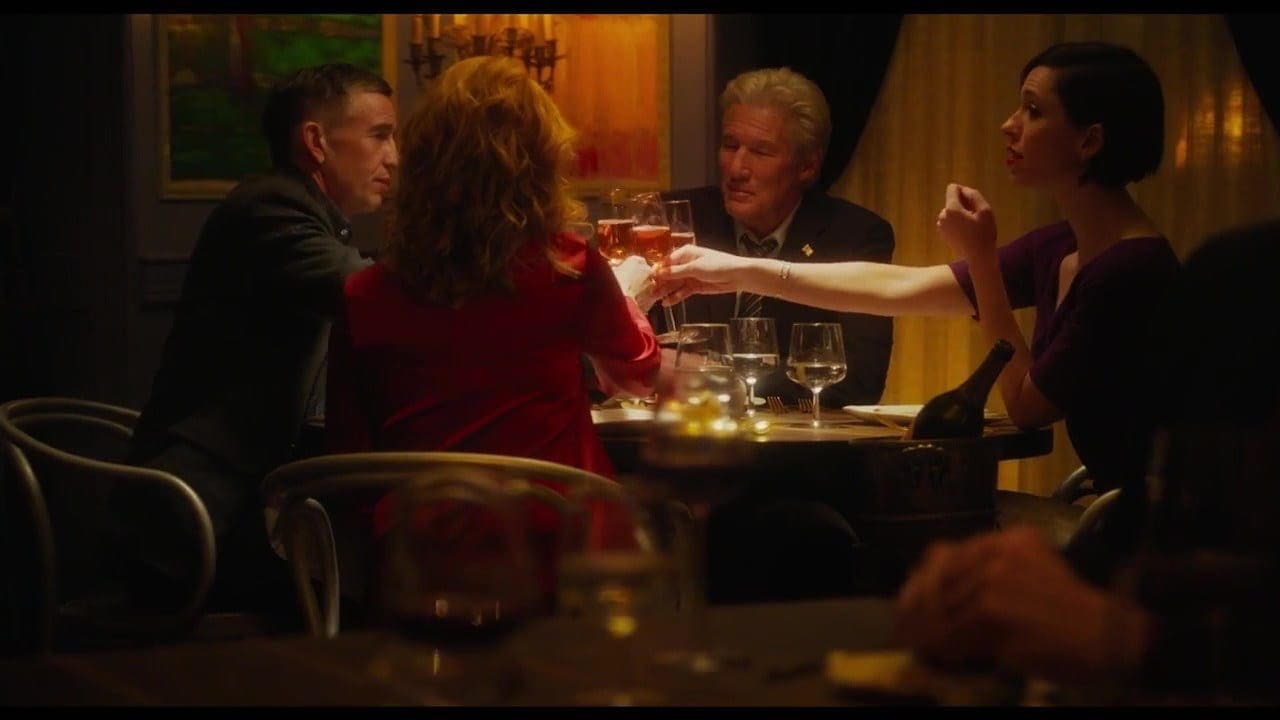 Sometimes when you mix two things together, you get something even better; like peanut butter and jelly, or peanut butter and chocolate (hey, I like peanut butter) sometimes the two are better apart. Like pineapple and pizza (even Gordon Ramsey agrees with this).
The Dinner seems to be a few different movies going on at once, any one of which would have been compelling and interesting but mixed together, they were weakened, diluting each other.  That's the sad thing about this film, really. The trailer really had me interested in seeing it. The starring roles are played by very talented actors, who I greatly enjoy, and they do very good things with their portrayals. Stan (Richard Gere) and Paul (Steve Coogan) are brothers, Stan is a member of Congress running for governor, and Paul is a former high school teacher, and social idealist.
Stan is married to Kate (Rebecca Hall) and Paul to Claire (Laura Linney). As the film begins, Paul narrates a personal tale of the families, but as it unfolds it becomes a broader commentary including discussion of class and privilege, as well as morality. It is revealed that mental illness runs in the men's family, and Paul had a mental breakdown, which led to a hospitalization. Stan is trying to get legislation passed to help those with mental illness. The crux of the film, though, is the that the sons of the two families have committed a horrific crime, and immolated a homeless woman.
As a film dealing with the political career implications of this crime and how it affects the families, this would have been a well acted and gripping movie. As a movie about families dealing with mental illness and the effects it can have on them, this would have been a well acted and gripping movie. As a movie about the benefits of class and privilege, this would have been a well acted and gripping movie. Set in the restaurant that it was, it would even work as a movie about decadent dining. But trying to do all of these things in one movie, it felt disjointed and unorganized, with none of the threads being fully realized enough to be satisfactorily resolved. In fact, as the credits rolled, my thought was "That's it?" I wish this had been the movie from the trailer.
The Dinner: [yasr_overall_rating size="large"] 
About The Dinner
Synopsis: A look at how far parents will go to protect their children. Feature film based on a novel by Herman Koch.
Director: Oren Moverman

Writers: Oren Moverman (screenplay), Herman Koch (novel)

Stars: Richard Gere, Steve Coogan, Rebecca Hall, and Laura Linney
Rated: R
Runtime: 2 Hours
Eric is a bit of many things: pirate, photographer, geek, biker, gamer, jewelry maker and master of bad puns. He has worked for Phoenix Comicon every year from 2007 to 2016 and was been a part of the Arizona Renaissance Festival from 2009 to 2013, which is where he picked up the Bald Pirate name. He also chuckles a lot when referring to himself in the third person.