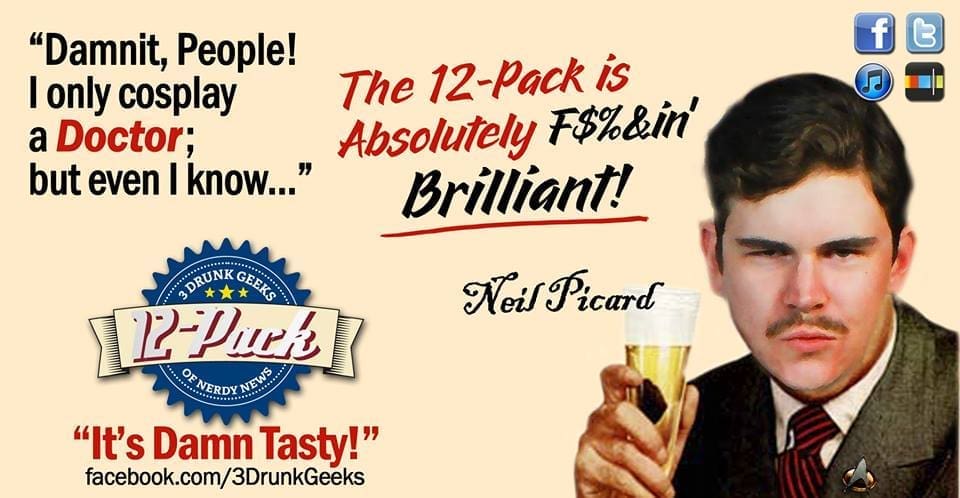 Don't look like an idiot in front of your friends at the comic book store! Keep up with the nerd news you need to know by tuning into THE 12 PACK!
In this delicious installment prepared lovingly for your earholes:
The Fantastic Four has been formed, The Terminator reboot has its Kyle Reese, Jada Pinkett Smith gets "fishy" and MORE in our CASTING ROUNDUP!
Dr Horrible 2 is (kinda) in the works!
Good-bye Irrational Games…
MOAR PROOF THE GOOGLE IS TAKING OVER THE WORLD!
Man and his "best friend" not as different as we once thought.
200-year-old douche discovered
Snake handling Pentecostal Preacher meets a fitting death
ALL THIS AND MORE ON 12 PACK: DEMENTIA TOWN!
If you like iTunes, download from this link: HERE
If you like your geekery mobile, download Stitcher!: HERE (Promocode: DRUNKGEEKS)
Or listen to us directly from the online Stitcher Radio App: HERE
Cheers and Enjoy!
Be sure and check out The 3 Drunk Geeks on the interbutts!
Episode Art Credit: Jeff Jones:
https://www.facebook.com/pages/Driven-Design/166324230036 / http://drivendesign-phx.com
Wear our podcast stuff on your torsos!