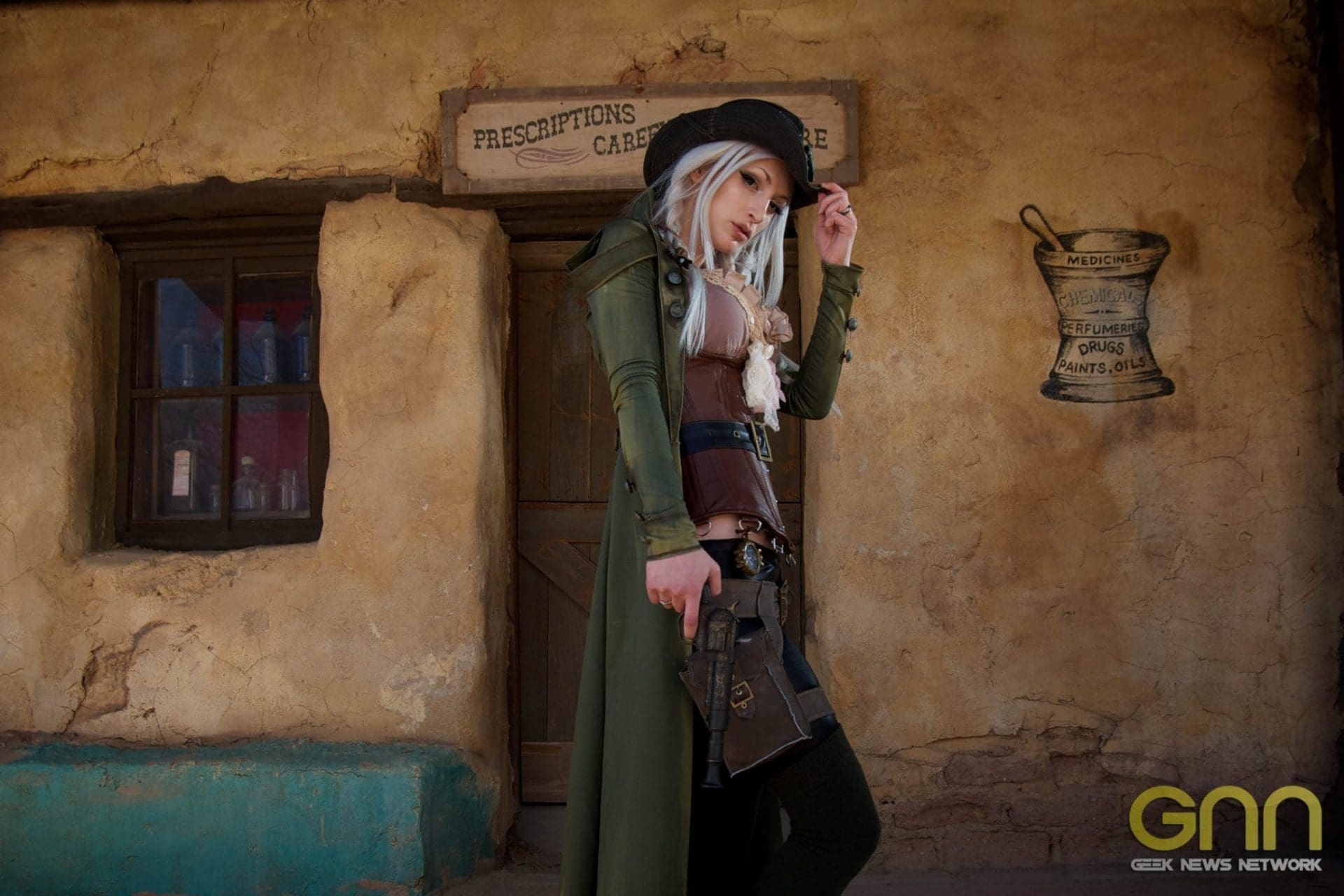 We had the pleasure of interviewing world renown steampunk model and designer Kato at Wild Wild West Con 2014. She was a special guest at the 3rd annual steampunk convention, the largest of its kind in the southwest. With Old Tucson as its backdrop, there couldn't have been a better venue for this event. Kato was kind enough to take a few minutes out of her busy schedule to chat with us and even do a little photo shoot. Enjoy!
Hong: I'm here with Kato, steampunk model and fashion designer. Thank you for taking your time to chat with me! How are you doing Kato?
Kato: I'm doing good thank you.
Hong: Tell me a little bit about yourself.
Kato: Well, I'm a British expat and a fashion designer. I live in Portland, Oregon now. I've been here for about seven years and I have a fashion brand called Steampunk Couture. I just make primarily steampunk clothing. That's my bread-and-butter, that's what pays the bills. But just recently about two-years-ago I launched a new Victorian fashion erotica brand called Steamgirl. It's the same premise of Suicide Girls in that it's a pay site that has a lot of different models on it. I use myself as a sort of jumping-off point so I'll be the first model on the site but I'm introducing a lot of models throughout the year and it's doing really well.
Hong: That's awesome. I've followed your growth and it's really cool.
Kato: Thank you!
Hong: So what inspired you to do all of this? The steampunk modeling and now the Steamgirl brand?
Kato: My journey has been very interesting. I have a background in fashion illustration and I was sharing a lot of my fashion illustrations and some clothing I was making on MySpace, back in the MySpace days. One of the ex-backing vocalists from the steampunk band Abney Park pointed out how steampunk my clothing looked and I had no idea what steampunk was. I pretended to. I quickly went home and did some Google searching and that word fit my style perfectly. It's so much easier to explain to people what I did and explain my style of clothing, and that's how I found steampunk. I use myself as the model for my clothing to begin with for convenience sake because it's a lot easier to do that and it's more cost effective in the beginning. But over time I began to realize I was getting a big following for my photos in particular. I had a big male following too that wanted some poster prints and we kind of realized we were onto something there and I should be branding myself. So I'm not really one of those people who made steampunk my identity or created a steamsona that a lot of people refer to it as. I'm just me. My name is Kate and we just put an "o" on the end. It's been my nickname since I was a kid so that's really kind of been my journey, and I'm looking forward to moving into a lot of licensing now in the future and giving myself more time to be more creative because you know, doing everything yourself all the packing and shipping and distribution it can be extremely tiring and pull a lot of creativity out of the job. I have a really lovely assistant named Alan.
Hong: Professor Falconer?
Kato: Yes, Professor Falconer. He does a lot of work for me and there's a wonderful seamstress now. She's running my business for me while I'm here so it's fantastic.
Hong: So what made you transition from Britain over here, to America?
Kato: I actually got a job working for a musician in Los Angeles. I was just a fangirl, I was a big fan of his work and realized that he didn't have a fanbase, a fanclub essentially. So I created a website and I was doing a little bit of modeling at the time and he said that he needed an extra model for a magazine article that they were working on. So I had to fly out to California, we became best friends, and he ended up hiring me as sort of a personal assistant and head PR for the fanclub. That kind of paid the bills for about two years but it also gave me enough time to learn to sew. Because I was actually never one of those kids that was fortunate enough to have a seamstress for a mother or grandmother. I taught myself to sew a lot later in life but during those years I had the time to do that and I was able to get Steampunk Couture off the ground at the same time. So that's what brought me over here.
Hong: Do you like it over here?
Kato: I do, I do. I feel really at home. I didn't really like Los Angeles as much. It was a bit weird. Coming from Wales as well, I was such a country girl. Growing up, you know, I wanted to be around other kids my age and I wanted to be in the big city and go to the goth clubs and I did that for a couple of years and realized I didn't like it. Then I moved to L.A. and it was like the biggest culture shock.
Hong: Los Angeles is huge. What made you move to Portland?
Kato: Well I was visiting a friend up in Portland, she was working on a movie. So she was up there for about two years and she was calling me and she was like, "You're going to love it up here, it's amazing." I went and visited her in the dead of winter when you shouldn't go but it was magical and so I thought if I love it when it's pouring rain and freezing cold I'm going to love it all year round. So I wanted to move and I've been living in Portland for three years.
Hong: That's awesome. So what brings you to Wild Wild West Con?
Kato: My assistant, he's very excited about conventions and appearances and he loves touring me around like I'm an amazing exhibit.
Hong: Well you're amazing!
Kato: They put me on the poster for last year and I wasn't able to attend so a lot of people thought I was going to be here which made people request that I make an appearance this year. So yeah, they invited me which is the first time I've been invited to a convention as a guest.
Hong: How do you feel about that?
Kato: It's interesting, it's very interesting. I'm not pushing myself as a character or..
Hong: Or like a famous cosplayer.
Kato: Right, right. So it's a bit weird but it's flattering, it's very charming and everybody's been wonderful.
Hong: So what are you currently working on? Other than Steamgirl of course.
Kato: Oh, well right now I'm focusing on as much licensing as possible but I'm also working on a graphic novel as well.
Hong: So when does that come out?
Kato: Hopefully soon. These things take so much time, so much longer than you'd expect they would. But I'm working on a really nice figure as well. I had a little action figure come out, it's a posable Kato doll that came out just a few months ago and sold out which is quite wonderful.
Hong: That's awesome!
Kato: Yeah, and I'm working on my own Steamgirl figure that's non-posable, it's sort of a small 12″ statue and that's almost finished. It's being painted by Kat Sapene down in Los Angeles at the moment and then Dark Horse comics is going to be my manufacturer distributing on that.
Hong: That's really cool.
Kato: Yeah, they're really interested in expanding the Steamgirl brand which is wonderful. I didn't really have to pitch anything to them, they were like, "what have you got? Give us something" and I was like, "My God you're Dark Horse comics."
Hong: It's a big deal.
Kato: Yeah, so that's what I'm working on now.
Hong: So the graphic novel is going to be based off Steamgirl as well?
Kato: Yes. I've written the synopsis for it already and I'm just kind of looking for an illustrator at the moment. I wanted to shoot straight for the top and ask J. Scott Campbell to illustrate it but I don't know if I can afford him. But Joe Benitez and Brian Kesinger, they're both very interested. They're hoping that Campbell is going to turn me down so that they can get the job.
Hong: Before you started all these things, what inspired you initially? Your main inspiration.
Kato: Well, I've been into fashion since I was too young to be into fashion, you know. I'm an 80s kid and the first time I saw punks walking around my town I thought, "that is awesome." My very religious mother was like, "don't look at them, don't look at them! They're evil!" [laughs] But, you know, that was amazing and by about seven-years-old I was tearing holes in my jeans, cutting my own hair, and trying to make my own clothes, much to my mother's horror. So yeah, I'd always been obsessed with fashion and illustration. I'm self-taught. I did go to art school. I left high school when I was sixteen and I went and finished my last two years of high school at a tech college where I specialized in fine art and then I went and did a nine-month course at an art school in South Wales. I focused on fashion and textiles and learned a few basics but everything else just came about later on when I had the time. But I had a very humble experience of you know, waiting tables and working retail and doing that monotonous thing that everybody has to do. I think it's good for everyone to go through that. I always wanted to be self-employed, my father is a well-known artist in the UK, he's done very well. He started his career at twenty-one so I had a lot to live up to. I wanted to be dad, you know? Seeing him working at home and I was like, "that's really inspiring. I want to do that." So I knew I just wanted to be self-employed in a creative medium of some kind. I started my first business when I was about sixteen making dreadlock hair falls, those are detachable dreads. Then I moved into a lot of pop art portraits and those did well for a while but I didn't have a whole lot of focus and I think it's because I was waiting for steampunk to discover me.
Hong: Now how does your family feel about all this?
Kato: They've very happy. They're happy that I'm happy. I've always been the black sheep of the family but they embrace that. My father didn't get a whole lot of support from his parents wanting to be an artist. He came from a family of welders and blacksmiths and things so they were like, "art isn't a real job" you know? So I think having had that upbringing and having had no support from his parents he knew he didn't want to treat his children the same way so when he realized that one of his kids–I'm the third of four kids–had the art gene, he was extremely supportive of that. They've never said no; they haven't always understood everything that I do, I don't think they totally get steampunk but they've never said no to anything that I wanted to do.
Hong: That's good. It's good that they're supportive. Now, if there was something that you could change or do differently during this whole steampunk journey of yours what would it be?
Kato: You know I try not to have any regrets about things to be honest. There have been some things that have almost come close to me wanting to pack it all in and call it a day but then I'm like that kind of stuff is good for people. It's good for me, there's got to be a reason we go through these sort of hardships and we go through these stresses. Those sort of things have helped me make better business decisions later on, like moving into licensing for example. I mean early on I tried to do everything myself and didn't think there was going to be anybody that could help me make all my clothing so I was working insane, insane hours. Once that started taking its toll on my sanity it helped me realize that I needed to outsource, I needed to get more staff. So you know, bad business decisions like that do help you make better decisions in the future.
Hong: You learn from your mistakes.
Kato: You do, exactly. I don't think there's really anything I would change to be honest.
Hong: Are you wearing contacts?
Kato: I am. Are they freaking you out?
Hong: No, they look awesome. Is there a reason why you are wearing those contacts? Is it part of your costume?
Kato: Because they make my eyes look pretty [laughs].
Hong: Oh, well there you go, that's perfect. That they do. Now one last question:  If there was someone you could work with in the steampunk community who would you work with?
Kato: Well I really want to get my hands on Campbell. I want to jump in bed with J. Scott Campbell. Not literally but in a business sense. Absolutely. Who else? Any of those other big comic companies, big distributors and probably not investors but just anyone that's just…you know, Weta [Workshop]. I would love to work with them.
Hong: Well thank you for your time Kato!
Kato: Thank you!
Please visit Kato on Facebook, thisiskato.com, steampunkcouture.com, and steamgirl.com.

Photo credits: Fox Williamson of Cosplay Close-Up. All rights reserved.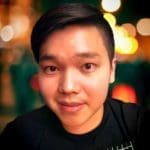 he/him • aapi • photographer • journalist • podcaster • geek • martial artist • foodie • social activist • gemini • gryffindor • dj • cinephile • gamer • traveler • intj