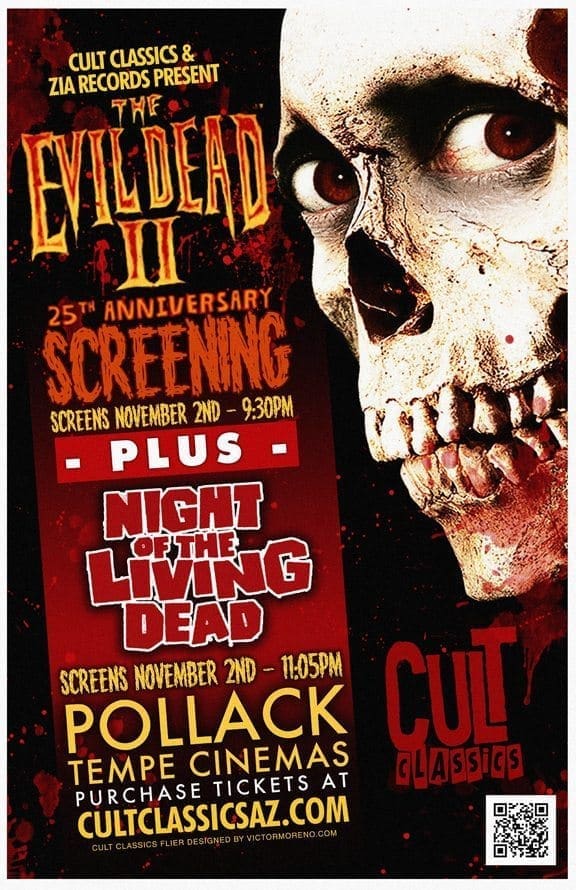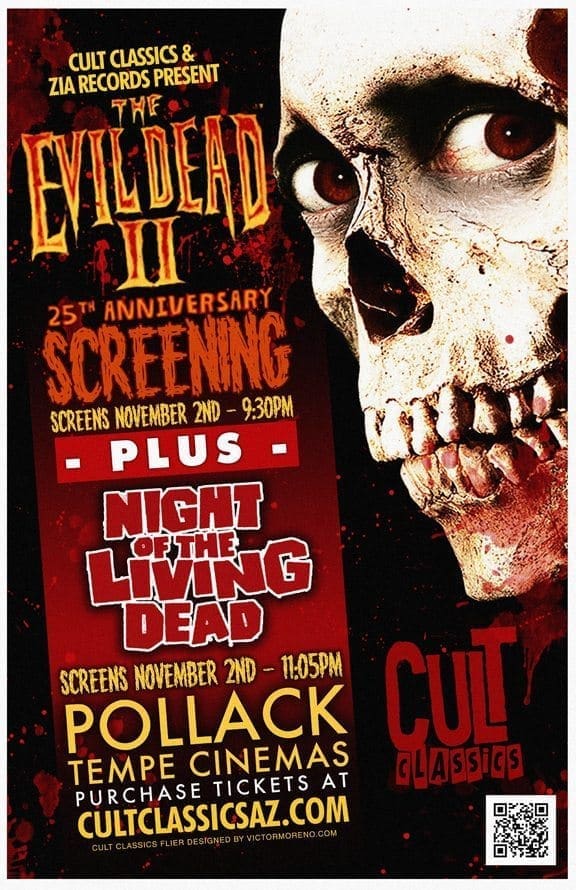 Cult Classics, Phoenix's premiere repertory film screening series, presents our first annual Day of the Dead CINE DE LOS MUERTOS mini film festival at 9:30pm on November 2nd at Pollack Tempe Cinemas in Tempe, AZ. Sponsored by Zia Records, Cult Classics marks Mexico's Dia de los Muertos holiday on November 2nd with a unique ONE-NIGHT-ONLY double feature pairing of classic zombie films. First, at 9:30pm, is a special 25th anniversary theatrical screening of Sam Raimi's zombie horror comedy EVIL DEAD 2, starring Bruce Campbell. This screening is followed at 11:05pm by the zombie film that started it all, George A. Romero's classic NIGHT OF THE LIVING DEAD!
Prior to the screening, Cult Classics will present a pre-show consisting of vintage zombie and horror clips, plus other fun cinema odds and ends sure to please film fans of all ages, living or undead. We'll also have giveaways courtesy of our sponsor Zia Records, with Zia gift cards and merchandise. Cult Classics will also be raffling off copies of EVIL DEAD 2 on Blu Ray, as well as EVIL DEAD 2 action figures, manufactured by NECA. Raffle tickets are free for all paid attendees!
The first 50 people at CINE DE LOS MUERTOS will also receive a complimentary gift bag, featuring items related to the film and other fun knick knacks. Previous Cult Classic gift bags have included film props such as a chinese food carton full of gummi worms for our Lost Boys screening in September, as well as a black and white striped bag for our Beetlejuice screening with Zagnut bars and a reproduction of the Handbook for the Recently Deceased from the film. Our Evil Dead 2 gift bag is sure to top them both! Line-ups begin at 8:30pm and no earlier.
Cult Classics will also have special art prints for the event for both EVIL DEAD 2 and NIGHT OF THE LIVING DEAD. Illustrated by 2012 Best of Phoenix winner, Victor Moreno, these art prints are limited edition and signed and numbered for the event. Online ticket buyers also have a chance to purchase a VIP Double Feature pass that entitles them to a 3rd special event print that will not be available for sale at the event – it will be printed to order for online ticket buyers!
Tickets are now available for sale at http://evildead2.brownpapertickets.com and at all valley Zia Records locations. More details are available at our website http://www.cultclassicsaz.com and on Facebook at http://facebook.com/cultclassicsaz.
Costumes are welcome and encouraged! This will be a Dia De Los Muertos you won't forget!
Cult Classics presents EVIL DEAD 2 / NIGHT OF THE LIVING DEAD
November 2, 2012 at 9:30pm
Tickets at http://evildead2.brownpapertickets.com
Pollack Tempe Cinemas
1825 E. Elliott Road, Tempe, AZ 85284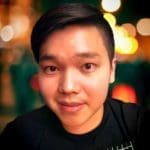 he/him • aapi • photographer • journalist • podcaster • geek • martial artist • foodie • social activist • gemini • gryffindor • dj • cinephile • gamer • traveler • intj