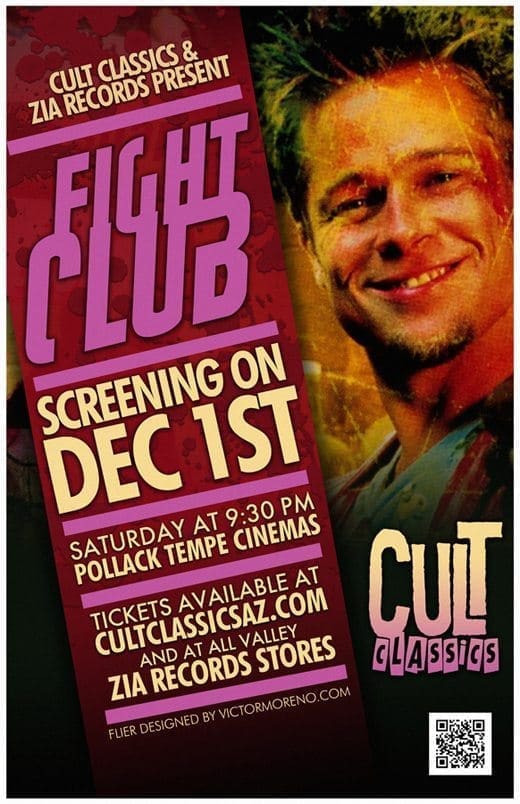 Tempe, AZ – Ladies and Gentlemen … welcome to FIGHT CLUB! Cult Classics and Zia Records present FIGHT CLUB on Saturday December 1st at 9:30 pm at Pollack Tempe Cinemas, located at 1825 Elliot Road Tempe, Arizona 85284.
Cult Classics, Phoenix's leading independent revival screening series, and Zia Records proudly bring back to the big screen David Fincher's 1999 adaptation of Chuck Palahniuk's breakthrough novel. FIGHT CLUB stars Edward Norton, Brad Pitt, and Helena Bonham Carter. Norton plays the unnamed protagonist, an "everyman" who is discontent with his white-collar job. He forms a "fight club" with soap maker Tyler Durden, played by Pitt, and becomes embroiled in a relationship with him and a dissolute woman, Marla Singer, played by Bonham Carter. And along the way, corporate art is destroyed, gas station clerks are liberated and the question we and the narrator are left with is, "Who is Tyler Durden?"
Prior to the screening, Cult Classics will present a pre-show consisting of vintage film clips and classic trailers, plus other fun cinema odds and ends sure to please film fans of all ages. We'll also have giveaways courtesy of our sponsor Zia Records, with Zia gift cards and merchandise, including giveaways of FIGHT CLUB on Blu Ray!
Tickets for the film are $11. We have a few VIP options which can get you some different limited edition prints from Victor Moreno Design to commemorate the screening:
VIP Option #1 – Narrator Package – This option gets you regular admission and an 11×17 print that features Edward Norton, the narrator. This is $20.
VIP Option #2 – Tyler Package – This option gets you regular admission, plus an 11×17 print that features Brad Pitt as Tyler Durden. This is $20.
All-Access VIP – This gets you admission, both of the Tyler and Narrator Prints AND a bonus 3rd print featuring Marla Singer that won't be available for sale at the event. This is $35.
Tickets are now available for sale at http://fightclub.brownpapertickets.com and at all valley Zia Records locations. More details are available at our website http://www.cultclassicsaz.com and on Facebook at http://facebook.com/cultclassicsaz.
Costumes are welcome and encouraged! This will be an edition of FIGHT CLUB you'll talk to your friends about!
Cult Classics presents FIGHT CLUB
November 2, 2012 at 9:30pm
Tickets at http://fightclub.brownpapertickets.com
Pollack Tempe Cinemas
1825 E. Elliott Road, Tempe, AZ 85284
Press Contact: victor@cultclassicsaz.com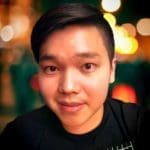 he/him • aapi • photographer • journalist • podcaster • geek • martial artist • foodie • social activist • gemini • gryffindor • dj • cinephile • gamer • traveler • intj