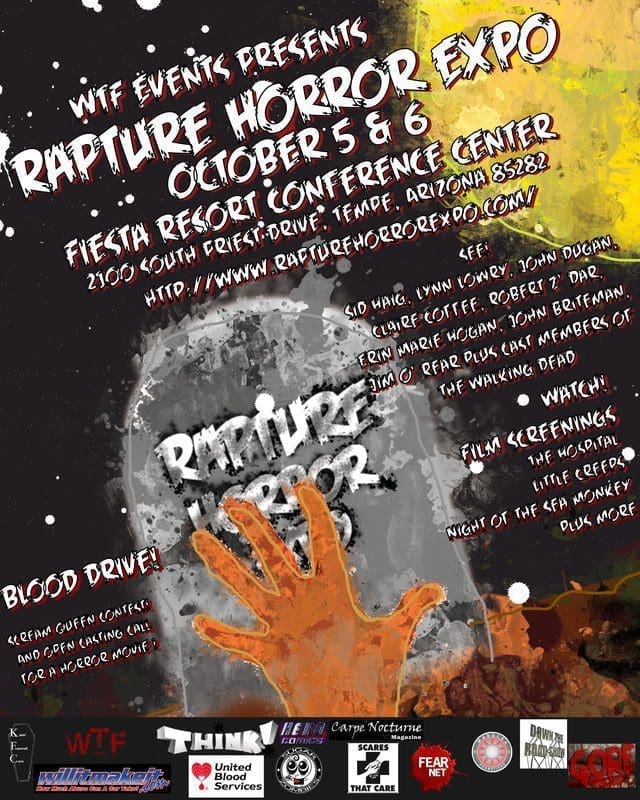 By Elizabeth
Wednesday October 2nd, 2013
Come out of the shadows and check out this weekend's RAPTURE HORROR EXPO!
When and where:
Tempe, AZ Doubletree Resort October 5th and 6th .
Saturday 10-8, Sunday 10-7
Screening room will be open late on Saturday
There are so many amazing things taking place at RHE this weekend; it very well could be the greatest and spookiest time of your life!
Such things include:
– The opportunity to meet and greet some legends of horror such as Linda Blair, Sid Haig, and Danielle Harris
– Workshops on the paranormal and SFX makeup
– Counter Culture Fashion Show, with fashions from Touture Couture and Modified Minds
– Indy Horror Film Showcase and an Amateur Film Contest
– You could also go down in horror history by auditioning at an open casting call for an upcoming horror film on Sunday, or take part in the Scream Queen Contest
A special discounted rate of $25.00 for one day or $25.00 for a weekend pass will be given to any ASU students that shows their ASU ID.  Also, please note that tickets will be available at the door, however all adult tickets are $10.00 more than list price (limited VIP Passes). Don't miss it!
Check out the official Rapture Horror Expo website here:
http://www.rapturehorrorexpo.com/
and check the Facebook here:
https://www.facebook.com/RaptureHorrorExpo
[SlideDeck2 id=9578]