I'll be honest with you guys. When I first walked out of the theater after watching this movie, I thought to myself… wow, how in the HECK (word censored for publishing purposes) am I going to summarize everything I just watched into a single, spoiler-free article? I wanted to scream about everything I had seen at the top of my lungs from the top of the Empire State Building… or the Chrysler Building, you know, whichever you think has the better view (wink, wink).
Thankfully, I had a whole day to process all of my emotions and I'm finally ready to share with all of you, my fellow Spider-Geeks, my unfiltered-yet-still-spoiler-free reaction to Spider-Man: No Way Home.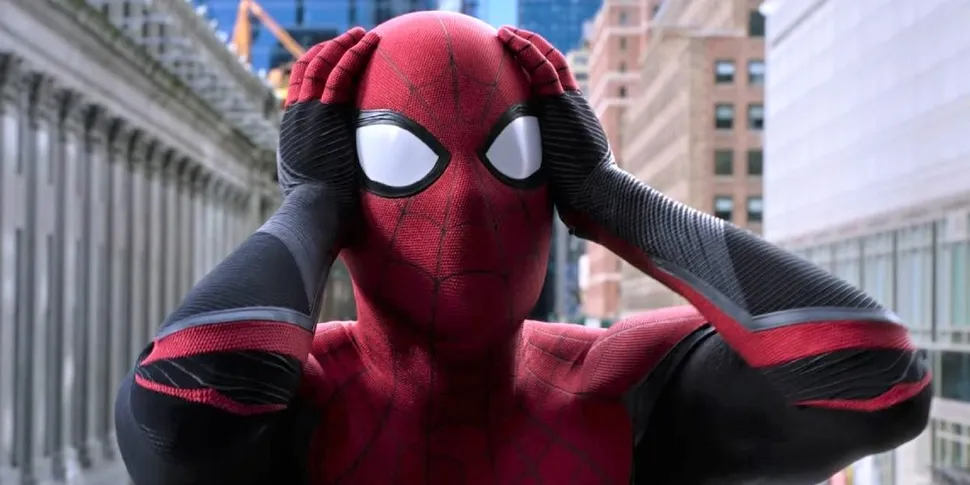 First thing's first: a reminder of where we had last left off.
If you'll remember, the ending to the most previous Spider-Man film, "Far From Home," left us in suspense and awe as Peter Parker's identity was revealed to the entire world after the fateful end to Mysterio. "What will happen to Peter?" was the question on all of our lips, I'm sure. Trailers for "No Way Home" quickly hinted towards the many stresses that were to come for our high school brainiac now that half of the population had painted him as the villain of the story.
Much to my enjoyment, things kick off pretty quickly once you're settled in your chair. A quick recap, and we're right back into the action watching Peter swing around the city with M.J., trying their best to avoid the hoards of press and flashing iPhones. But where do we go from there? Well, I'll tell you. As we had guessed from the trailers, we jump straight into the confused and anxious mind of a teenager struggling between doing what's right and doing what's best for himself and his personal relationships. Oh, to be young and naive…
Thankfully, our good friend and ally Dr. Strange does his best to steer Peter on the better path, warning him of the dangers that come from tampering with the lives of others. However, as we could've guessed… things don't work out that easily.
Now, let's jump gears for a minute.
Up to this point, we have all been speculating and bouncing around on the edges of our seats gossiping about the probability of the Multiverse. After all, we've been gifted the beauty that is "Spider-Man: Into the Spider-Verse," which opened up a wormhole of future possibilities for fans everywhere. Which section of the Multiverse will Marvel explore next? Is there a chance we will see other versions of Spider-Man in future films, as we saw with Miles Morales and his friends? Certainly, with Dr. Strange being an integral part of this particular film, there was no way we couldn't speculate over dipping our toes into the Multiverse.
So, therein lies the question… did this film manage to take us there?
Of course, it did. But you already knew that from the trailer, didn't you?
It's time to wipe the dust off of our brains and say hello (once again) to our good friend, Dr. Otto Octavius. But that's not all. Along with Doc Ock, various other blasts from the past make their way into our current Peter Parker's universe and certainly give him a run (er, swing) for his money. What's our soon-to-be college Freshman to do? Juggling an identity crisis, new villains, a city in chaos, and a girlfriend all at the same time seems like it will be too much for young Peter to do on his own.
Don't worry, though. He'll get by… with a little help from his friends. But that, my fellow Geeks, is something you'll just have to go see for yourself.
Spider-Man: No Way Home has proven to live up to the massive hype, colliding into our universe with exciting new twists that left us cheering, screaming, and maybe even wiping away a few tears. With something old and something new, this film delivered action-packed goodies for every Spider-Man fan throughout the years, reminding us why Peter Parker's story is one of our absolute favorites. Whether you grew up watching Toby, Andrew, or have only recently climbed into gear with Tom Holland, you're going to walk away from this movie excited to see what else Marvel and the Multiverse have in store for us. Because as we all know… with great power, comes great responsibility. So grab your tickets, grab a friend, and get ready for the ride of your life.
Oh, and as always… don't forget to stick around post-credits. Trust us… you won't want to miss this little Easter egg.
About SPIDER-MAN: NO WAY HOME
Synopsis: With Spider-Man's identity now revealed, Peter asks Doctor Strange for help. When a spell goes wrong, dangerous foes from other worlds start to appear, forcing Peter to discover what it truly means to be Spider-Man.
Director: Jon Watts
Writers: Chris McKenna, Erik Sommers
Based on the Marvel comic book by Stan Lee, Steve Ditko
Cast: Tom Holland, Benedict Cumberbatch, Zendaya, Jacob Batalon, Jon Favreau, Jamie Foxx, Willem Dafoe, Alfred Molina, Benedict Wong, Marisa Tomei, Thomas Haden Church, J.K. Simmons, Rhys Ifans
Rated: PG-13
Runtime: 2h 28m
Releases: December 17, 2021 (USA)