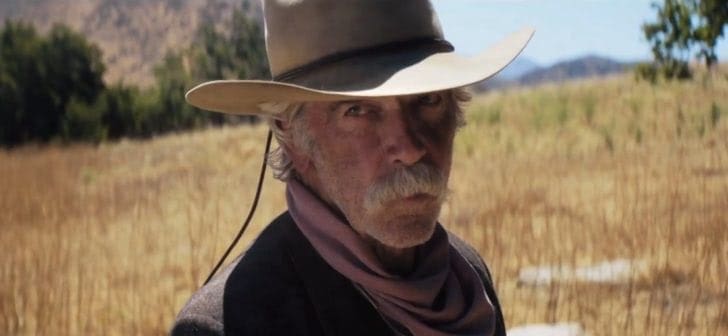 Westerns are, for the most part, formulaic.  There is a rugged hero, steadfast and sure, who will ride through beautiful vistas. He'll make friends along the way and best the odds, facing down men tougher than he is. All of this because moviegoers like it when the good guy wins.
Sadly, The Hero is not a Western. The film offers up the cliche of a man with an ailment, facing the end of his life and wanting to change the path his road has taken. It's been told many times before and in most cases better than what you'll see in The Hero.  Though it brings together actors that have played memorable roles, it doesn't make the best of their thespian abilities.
The titular character is Lee Hayden (Sam Elliott), having starred in an iconic Western with the same title.  He has pancreatic cancer, and is looking at a family that he barely knows anymore.  He has some contact with his ex-wife, Valarie, (Katharine Ross), but no contact with his daughter, Lucy (Krysten Ritter).  Hayden's only real friend is his pot dealer, Jeremy (Nick Offerman).  While partaking with Jeremy, Hayden meets Charlotte (Laura Prepon).  Hayden and Charlotte have a drug-fueled evening, which leads to Hayden getting job offers again.
The film crawls along, with the viewer waiting for something to happen.  Waiting for the movie to start, for it to get good.  It never does, though.  Despite the velvet smooth voice of Sam Elliott making every line sound profound, the dialogue was boring.  The interactions between the actors had no real chemistry.  The best performance was Hayden reading the lines of a part that he's been offered.  A reading in which he is clearly thinking of his relationship with his daughter.  Beyond that, there is nothing compelling about this movie.
You've seen this film done better.  It will no doubt be done better again.  Wait for the next iteration of this story comes around.
The Hero: [yasr_overall_rating size="large"]
About The Hero
Synopsis: An ailing movie star comes to terms with his past and mortality.
Director: Brett Haley
Writers: Brett Haley, Mark Basch
Stars: Sam Elliott, Nick Offerman, Laura Prepon, Krysten Ritter, and Katharine Ross
Rated: R
Runtime: 1 Hour, 33 Minutes