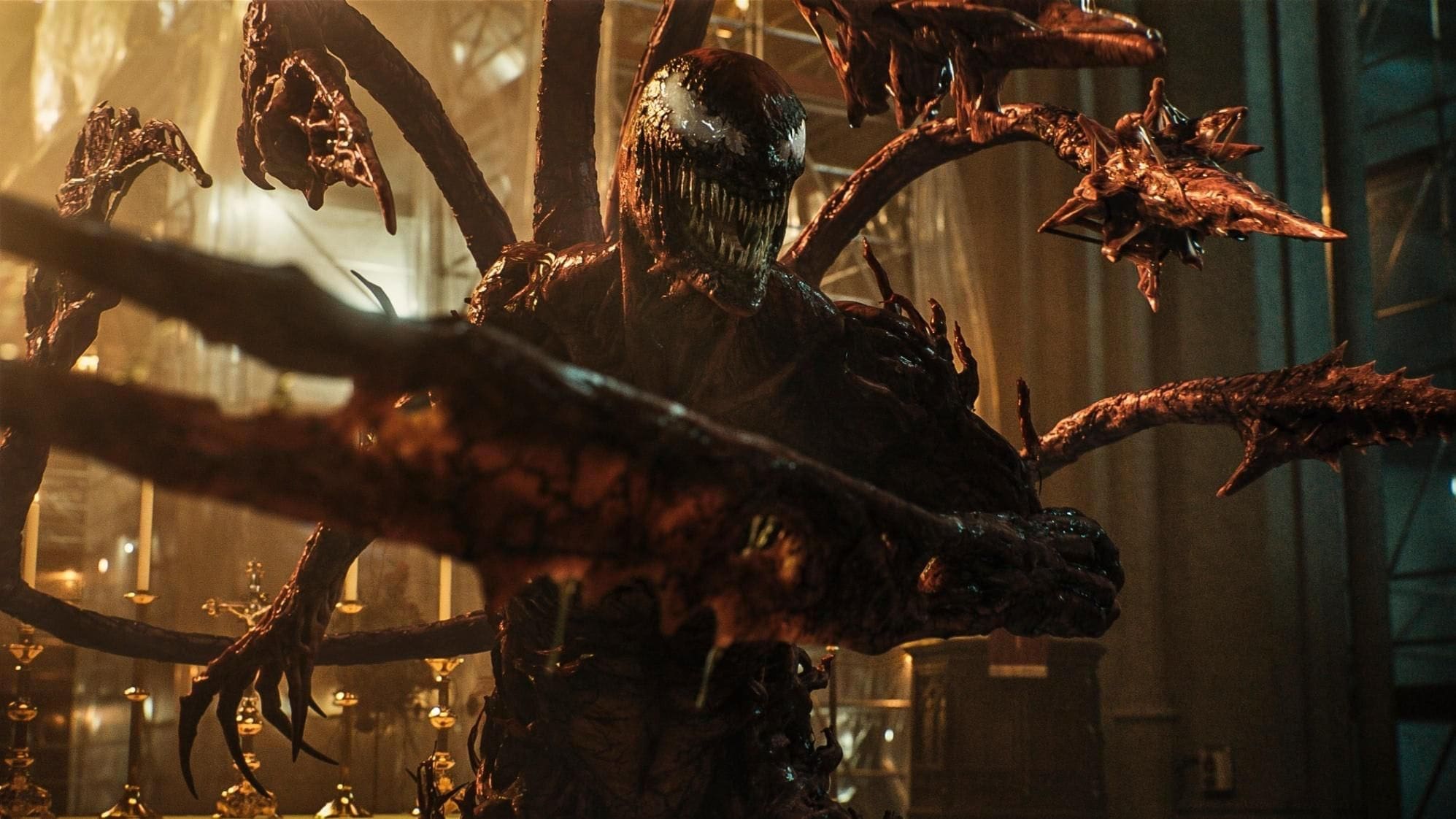 Everyone's favorite head-chomping symbiote is back for a sequel, and what is now the second film in the SSU.  For those understandably not yet familiar with the acronym, it stands for Sony's Spider-Man Universe.  This label remains somewhat ironic considering the titular web-slinger is still on loan to the Marvel Cinematic Universe (MCU), but Sony is proceeding forward with tales from Spidey's rogue gallery nonetheless.  This time making his big-screen debut is the fan-favorite comic villain, Carnage.
The film picks up with Eddie Brock (Tom Hardy) and Venom, the alien symbiote which resides within him, experiencing difficulties adjusting to life under this unusual cohabitation. Eddie is trying to keep up appearances working as a journalist when serial killer and death row inmate Cletus Kasady (Woody Harrelson) inexplicably takes a liking to him. While giving his final interview to Eddie, Venom lashes out at Cletus. The resulting altercation leaves Cletus with a few drops of Eddie's blood leading to the birth of a new symbiote, Carnage. While Eddie and Venom are having a falling-out, Cletus and Carnage break out of prison in search of Cletus' lost love, Frances (Naomie Harris).
Venom: Let There Be Carnage doesn't entirely set itself apart from the original, but it does improve upon it.  Tom Hardy brings the same wacky energy in the back and forth with his often-invisible hitchhiker that carried the first film.  This dynamic continues to delight and remains the strongest reason to see these movies.  Woody Harrelson is a welcome addition to the cast, as his portrayal of a psychopathic serial killer is gleefully reminiscent of his role in Oliver Stone's Natural Born Killers back in 1994.  Both actors are perfectly suited to their roles and are a joy to watch on screen.  This time renowned character actor Andy Serkis is in the director's chair, and he gives Venom: Let There Be Carnage a more striking comic book ambiance that fans of the genre will love.
While I expect comic fans to be thrilled by the spectacle of this film, the similarities to the first may leave the uninitiated with much to be desired.  The plot, unfortunately, seems to have once again been an afterthought.  The pacing feels rushed, the character's motives are often glossed over, and the lack of explanation for much of what happens is a bit much to ask general audiences to ignore.  Cletus Kasady is given just enough development to make him interesting, and I'm thankful for this, but I also can't help but dwell on the various ways they could have explored the character in more depth.  The film also feels over-commercialized at times (Sony loves product placement), as well as being neutered by its PG-13 rating.  Granted there are good (particularly financial) reasons to make comic book movies accessible to younger audiences, but a movie about two people-eating alien monsters really feels like it deserves some splatter. 
The SSU clearly lacks the well-rounded polish of its MCU older brother, but Venom: Let There Be Carnage still manages to pass the bar for solid comic book entertainment.  Although it doesn't fully step outside its creative shadow, Venom: Let There Be Carnage is a notable improvement over its more lackluster predecessor.  I expect Marvel fans to appreciate the subtle comic book ambiance and spirit of this film. Its grandiosity and humor help to overshadow some of its many weaknesses and keeps the film engaging.  That said, it still has many weaknesses that can't be ignored, and missed opportunities that could have elevated this to something so much better.  Ultimately, Venom: Let There Be Carnage succeeds at being what it set out to be. However, its contentment with being nothing more than a thrilling comic book blockbuster leaves us with a film that will be enjoyed by its target audience but probably no one else.
About Venom: Let There Be Carnage
Synopsis: Eddie Brock and Venom, the alien symbiote living inside him, are having difficulty adjusting to their new life together. However, when convicted serial killer Cletus Kasady acquires a symbiote of his own named Carnage, Eddie and Venom will have to figure out how to work together if they hope to stop him.
Director: Andy Serkis
Writers: Kelly Marcel, Tom Hardy
Stars: Tom Hardy, Woody Harrelson, Michelle Williams, Naomie Harris, Reid Scott, Stephen Graham
Rated: PG-13
Run time: 1 Hour, 37 Minutes
Releases: October 1st, 2021 (USA)
I am an ASU honors graduate with bachelors in Political Science and Philosophy.  I work as a Paralegal by day and enjoy casual, volunteer, and sometimes freelance writing on the side.  I'm a long time movie buff and avid gamer.  Collectible card and board games are my specialty.  I also remain actively engaged in the world of politics and like to stay up to date on all things science.  If there is one goal I have in life it is to never stop learning.