Hello Comic Book Fandom:
Each week Marvel Comics, DC Comics, Image Comics, Dark Horse Comics, IDW Publishing, BOOM! Studios, and others release comic books every Wednesday and sometimes fantastic comic books get lost in the shuffle. The goal of this list is to highlight ten comic books that are worth checking out for this week.
This is the way the list works: I tend to add more books that are new reader friendly than those that are not. But usually, it's just a list of books I'm excited for, and you should be too. Anyways, if you'd like to take a look at the full Diamond Shipping List, click here.
This week, Charles Soule continues his awesome "Swamp Thing" run with issue #21; Joshua Hale Fialkov begins his "Ultimate Comics: The Ultimates" with issue #25; Iconic comic book artist/writer, Lee Weeks, comes back to work on Daredevil in "Daredevil: The Dark Nights" #1; and lastly, Robert Venditti begins an era with "Green Lantern" #21.
So, how about that list?
———————————————-
10. Django Unchained #4
The adaptation of the screenplay from award winning director Quentin Tarantino's latest film continues!

Django and Dr. Schultz take a big risk against impossible odds inside the stronghold of slave owner Calvin Candie.

This is the only way to read the entire, uncut story, which contains scenes that may not appear in the final film!
———————————————-
9. Superior Spider-Man #11
"No Escape" Part 1 of 3

• The Spider-Slayer is scheduled for execution and Mayor J. Jonah Jameson is leaving nothing to chance. To ensure that everything goes according to plan, Jameson's called in the one man he can trust to oversee everything—the Superior Spider-Man.

• Since the startling events of Superior Spider-Man #9, will anyone realize that things have changed…?
———————————————-
8. Swamp Thing #21
Who is Capucine, and what is the Sanctuary of the Green Leaves? Mysteries plague Swamp Thing as he rushes to find the answers to these questions and finds much more than he expected, and see a Swamp Thing from the past unlike any you've ever imagined!
———————————————-
7. Astro City #1
ASTRO CITY is back in a new, ongoing monthly series that showcases old heroes and new, as The Ambassador comes to Earth, and an ordinary man is caught up in a cosmic conflict!

Featuring the return of favorites like Samaritan and Honor Guard, and the debut of some new sensations! Plus, the seeds of a new mystery: Who is the Broken Man?

The entire award-winning creative team is back to kick off a new epoch of the human and the super human. Get in on the ground floor of Astro City's next epic!
———————————————-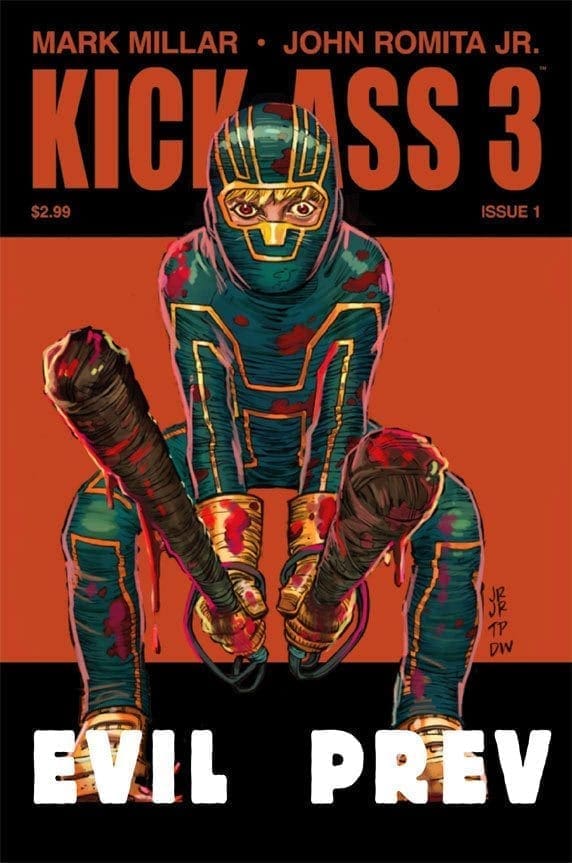 6. Kick-Ass 3 #1
Kick-Ass and Hit-Girl's blockbuster return for the LAST EVER story arc of Mark Millar and John Romita Jr's mega-selling series.

Hit-Girl's in jail, leaving Kick-Ass to lead the superhero team of Justice Forever. Their first mission: Bust Hit-Girl out of the clink. But superheroes have now been outlawed, leaving Kick-Ass to dodge both cops AND criminals. For the first time since donning the costume, Kick-Ass is beginning to have his doubts. Is he now in too deep to get out?

The phenomenal follow-up to the Kick-Ass 2 movie coming this June. Issue #1 features six different covers by the industry's biggest artists, all available for order. Each cover will feature a different character, and when all six covers are linked, a special message will be revealed.
———————————————-
5. Legends of The Dark Knight #9
Scarecrow believes that fear is your friend, and he wants to help Batman get in touch with that emotion. Will his new fear toxin succeed?

And in "Tap Tap," Batman sets out to trap a thief in the home of a billionaire investment banker but falls afoul of a security system far more elaborate than he expected.

Guest-starring Catwoman!
———————————————-
4. Avengers #13
"EVOLUTIONARY LEAP"

Hyperion learns the true cost of the decisions he's made at the Origin Site in the Savage Land.

The Return of techno-titan Terminus.
———————————————-
3. Daredevil: Dark Nights #1
A gorgeous new series featuring the greatest talents in comics brings you the rest of the Man Without Fear's story

Legendary artist Lee Weeks returns to his favorite hero for 'Angels Unaware!'

A blizzard brings New York to a stand still — and a young patient lies on death's door unless Daredevil can get to him in time!
———————————————-
2. Ultimate Comics: The Ultimates #25
ULTIMATES DISASSEMBLED BEGINS!!!

All-new creative team and direction!

The search for the Infinity Gems brings disaster to the Triskellion's doorstep!

Is this the end of the Ultimates?
———————————————-
1. Green Lantern #21
Hal Jordan becomes the leader of the most feared and hated group in the universe: The Green Lantern Corps!

New faces, new threats and a new beginning for the GREEN LANTERN monthlies!
Preview Pages:

———————————————-
Chuckie is blogger for fine sites such as Geek News Network and Comic Book Therapy. Burrito enthusiast would be the best way to describe him. Follow Chuckie on twitter @dweebofthedead, because he guarantees good times will be had if you do, and he will tell you how much he loves Batman and Fresca.
[SlideDeck2 id=9304]
Lover of Comic books, film, television, fresca and video games. Check out my blog dweebofthedead.tumblr.com to see what kind of shenanigans I got going on, or check out my twitter for up to date ramblings @dweebofthedead.
Email: chuckie.valdez@geeknewsnetwork.net