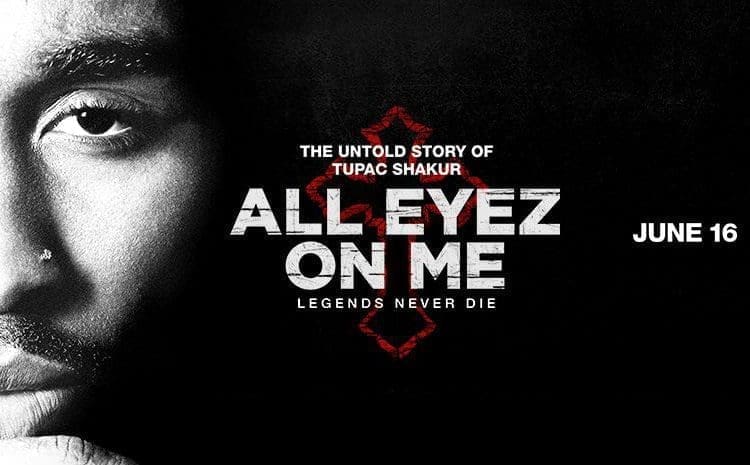 After the success of Straight Outta Compton last year, several studios were looking to capitalize on the R-rated rap docu-drama formula. While Straight Outta Compton wasn't the first rap-based film to perform well both critically and commercially, it made such a loud splash that several gestating films were quickly put on the fast track. One such film is All Eyez on Me, the story of Tupac Shakur.
All Eyez on Me isn't a bad film, but given how iconic Tupac was, both life and death, there's a lot to tell here and a lot that can go wrong. Unlike Straight Outta Compton, which had both Dr. Dre and Ice Cube deeply involved in the creative process and on set almost every day, All Eyez on Me didn't have anyone to provide that kind of love and care to ensure the final product was the highest possible quality.
What we end up with in All Eyez on Me is a film that feels more like a big budget made-for-TV movie than the clean, crisp and emotional journey that was Straight Outta Compton. Demetrius Shipp Jr. takes on the huge role of playing Tupac Shakur. While he certainly has the look and even the voice of Tupac down, that's where the similarities end. Tupac had an aura about him, a swagger if you will, that flowed into everything he did from interviews to his music. That crucial element of Tupac is absent in Shipp's performance.
Danai Gurira is exceptional as Afeni Shakur, Tupac's mother, but she's left behind after the early years of Tupac's life and the first act of the film. Kat Graham shares the same fate as Tupac's childhood friend, Jada Pinkett. While both show up here and there after the first act, they aren't featured enough to have a significant impact, and that hurts the film considerably. This also brings into question the accuracy of the film as the real Jada Pinkett-Smith has publicly stated many of the scenes in the film between the two never occurred. It's one thing to dramatize some moments in Tupac's life to add flair, but there's definitely some questions as to whether or not some scenes remained factual.
Acting aside, All Eyez on Me felt like a film that was forced to hit certain points in Tupac's life, without properly filling in the gaps that led up to those moments. This causes what should be big emotional points in the film to simply fall flat. In addition, anyone who is not already familiar with Tupac and his life as a rap star will be lost throughout many of the pivotal points in the film due to the simple fact that very few things are explained well.
Tupac's biggest rivalry with Bad Boy Records and Biggie Smalls is depicted in the film through a Biggie song playing on the radio, a random inmate giving Pac some advice, and some nameless thugs beating up on an equally nameless Death Row representative. The context is lost and the emotional impact on the film is virtually nonexistent. This happens again and again throughout the film and only gets worse as the film draws to a close with Tupac's death, completely overdramatizing the events and once again, making it feel more like a made-for-TV movie than anything else.
While All Eyez on Me isn't all bad and starts off very strong, the more characters that are introduced, the more the film starts to drag. Tupac and Suge Knight (Dominic L. Santana) look their parts, but most of the other iconic members of the cast didn't have the same physical resemblance. Dr. Dre (Harold House Moore) and Snoop Dogg (Jarrett Ellis) look nothing like their real-life counterparts. And when it comes to Dre and Snoop, who both played prominent roles in Tupac's career, neither relationship is expressed in the film as both characters have minimal screen time.
If you're a fan of Tupac, All Eyez on Me is probably worth catching on cable or Netflix at some point in the future. If you know very little about Tupac or don't enjoy his music, there isn't much for you in All Eyez on Me. Even if you do like Pac's music, it's oddly placed within the film and generally doesn't flow well with what's happening on-screen. All Eyez on Me could've been just as epic as Straight Outta Compton, but instead falls tremendously short.
All Eyez on Me: [yasr_overall_rating size="large"]
About All Eyez on Me
Synopsis: Tells the true and untold story of prolific rapper, actor, poet and activist Tupac Shakur. The film follows Shakur from his early days in New York City to his evolution into being one of the world's most recognized and influential voices before his untimely death at the age of 25.
Director: Benny Boom
Writer: Jeremy Haft, Eddie Gonzalez
Stars: Demetrius Shipp Jr., Danai Gurira, Kat Graham
Rated: R
Runtime: 2 Hours, 20 Minutes
Bryan Dawson has been writing professionally since the age of 13. He started his career as a video game writer and has since worked for Random House, Prima Games, DirecTV, IGN, AOL, the British Government, and various other organizations. For GNN, Bryan taps into his passion for movies.