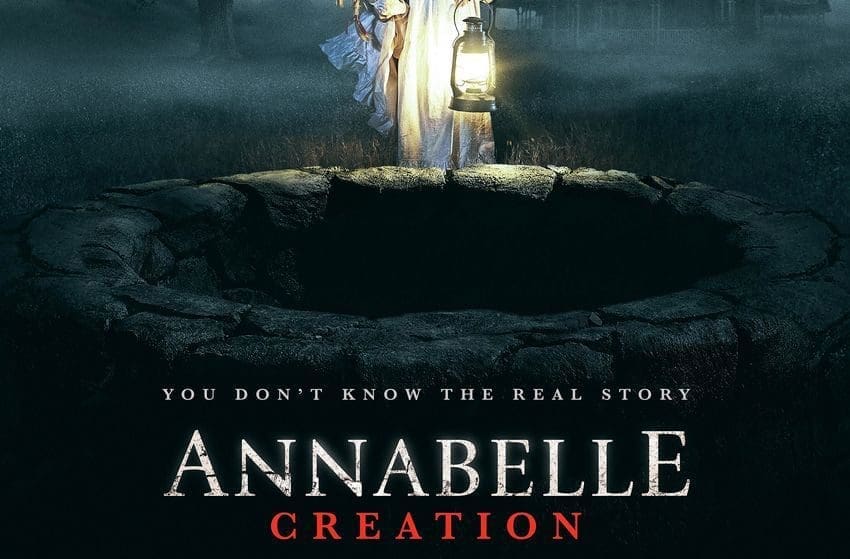 When The Conjuring was released, it was not a only a great horror movie that turned into an instant classic, it was also a well-made film, period.  The characters, story, direction, editing, and set design all came together.  Following the successful Insidious and Saw franchises, it was probably the apex of James Wan's career in the horror genre up to that point.  It also begun the cinematic universe of the Conjuring world.  Conjuring 2 had fairly large success, but it's biggest contribution was providing the characters of the nun and the crooked man, both of whom now have spin-off films coming out.  Annabelle was the first spin-off movie and, while I enjoyed it, it was not well received.  Perhaps it didn't have that emotional impact the Conjuring films provided or there weren't enough scares.  Whatever the case this next entry in the Annabelle franchise will certainly have your heart racing and turn your knuckles white.
In Annabelle: Creation, directed by David F. Sandberg, Samuel and Esther are living in the countryside with their little girl.  Samuel (Anthony LaPaglia) makes dolls in his workshop and has created a new one that is ready to be sold.  After a sudden tragedy, they decide to turn their home into an orphanage for girls years later.  Two inseparable friends named Linda(Lulu Wilson) and Janice (Talitha Bateman) are excited to one day be adopted together.   Janice only hopes her future parents can overlook her struggles with polio.  The house is gorgeous with a huge patio, lots of rooms, and a yard that goes as far back as you can see.  Samuel is not very friendly, but makes the place as comfortable for the girls as possible.  His wife remains hidden behind closed doors and prefers her privacy.  When a mysterious doll surfaces in one of the rooms, Janice and Linda begin to see and hear things.  As time goes on, it becomes clear there is more to this doll than originally thought.  It's up to everyone to figure out the terror that is plaguing this home before it's too late.
The story drives your investment in the characters and makes you care about their fate.  The story in this movie does an excellent job of providing the right amount of backstory without getting too explanatory.  It subtly adds details throughout the film and only when they became necessary.  You learn more about the couple and why they are so reclusive.  You also learn the life of an orphan under Catholic authority.
Since the story unravels from a child's perspective, it's only natural for us to question why moments transpire without being resolved.  Would you believe a kid that said they saw a possessed doll?  A child is seen as less trustworthy than an adult; so their word doesn't carry much weight.  Which means a doll or demon could torment that child relentlessly without interruption.  It's that constant building of tension and no means of escape that gives this movie its edge.
David F. Sandberg directed Lights Out last year and, while I enjoyed the concept very much, I was only mildly entertained by its execution.  Still I had hope that he could bring some originality to the story of Annabelle and deliver the scares along the way.  He did not disappoint at all.  Not only does Annabelle: Creation outperform the original, it may actually be better, in my opinion, than Conjuring 2, which suffered from a gluttony of villains.  The slow introduction of the doll and its inception combined with the vulnerability of the children, as well as the sound and film editing, made this an explosive scare-a-thon.  As someone who enjoys all types of horror, it takes a lot for me to be caught off guard.  I was genuinely frightened for most of this movie.  I did not know what to expect.  The only one I knew for sure was making it out of this movie alive was the doll.
Annabelle: Creation has done what few sequels have managed to do and that's be better than their original.  Horror movies have a low bar when it comes to expectations, but James Wan's films have raised that bar enough times for me to expect more.  It helps that he brings in new, fresh directors to breathe life into these franchises.  Mike Flanagan did that with Ouija: Origin of Evil and that movie was bonkers crazy, in a good way.  Letting filmmakers make films their own can yield unexpected results and it's only with the unexpected, and a highly talented and motivated production crew, that horror films can continue to evolve.
If I had to criticize this film, and it would only be nitpicking, I suppose the transition into the third act felt rushed and didn't quite earn its ending the way it should have.  I can overlook it since the scares were so well done.  Like the original Poltergeist movie, the subtlety in horror throughout is suddenly thrown out the window for an all-in house of terror.  It's probably one of the best haunted houses you could ever visit.  You may not leave, but what a way to go.
I highly recommend this movie for horror fans and couples who like a date that ends with hyperventilating in public.  Annabelle: Creation continues the trend of modern horror films that are led by strong, young female actresses.  Lulu Wilson, who was also in Ouija: Origin of Evil, and Talitha Bateman are charming and very talented. The other girls in the film don't get as much screentime, but they also contribute to the ensemble and get some good screams in too.  Anthony LaPaglia and Miranda Otto provide an unsettling presence in the house that compliments the doll's scenes.  The girls and their nun are a force of innocence and light enveloped by evil and damaged souls.  Also whenever LaPaglia spoke, I couldn't get the voice of Liam Neeson out of my head.  I think you will enjoy how this film ties into the overall franchise and look forward to the inevitable sequel.  And remember that hiding under the covers always keeps the monsters away.
Annabelle: Creation: [yasr_overall_rating size="large"]

About Annabelle: Creation
Synopsis: Several years after the tragic death of their little girl, a dollmaker and his wife welcome a nun and several girls from a shuttered orphanage into their home, soon becoming the target of the dollmaker's possessed creation, Annabelle.
Director: David F. Sandberg
Writer: Gary Dauberman
Stars: Lulu Wilson, Talitha Bateman, Stephanie Sigman, Miranda Otto, Anthony LaPaglia
Rated: R
Runtime: 1 Hour, 49 Minutes