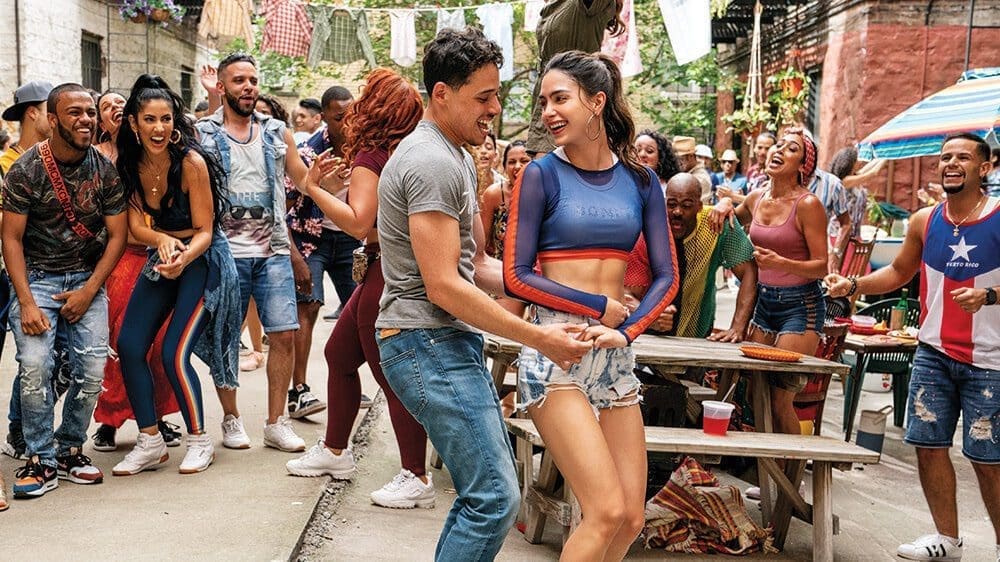 HOME. Home is where we lay our heads. What does Home mean to you? In the much-anticipated adaptation of Lin-Manuel Miranda's In the Heights for the silver screen, director John M. Chu (Crazy Rich Asians) with writer Quiara Alegría Hudes explores the concept of family, culture, connection, and identity by following a month in the life of Usnavi de la Vega (Anthony Ramos). Vega is a bodega owner in Washington Heights, NY who dreams of returning to the Dominican Republic after leaving with his now-deceased family when he was a child. The musical was released to accolades on Broadway in 2008 with Lin-Manuel Miranda playing the lead role. As a "Hamilton" aficionado who had never listened to the "In the Heights" music before seeing the film, I enjoyed the heavily stylized musical lyricism that combined R&B, salsa, rap, and show tunes that would later launch Miranda into the stratosphere when "Hamilton" hit Broadway in 2015.
Lin-Manuel Miranda originated the role of Usnavi on Broadway but felt he was too old once the film began production, so he cast Ramos (who had originated the role of Laurens/Phillip in "Hamilton") after seeing him perform this main role on stage in 2108. Usnavi's best friend is Benny who is in love with his employer's daughter Nina (Leslie Grace). Christopher Jackson ("Hamilton's" George Washington) originated this role that went to Corey Hawkins in the film version. Miranda plays the Piragua Guy in a hugely comical scene with Christopher Jackson in a bit part as the Mister Softee ice cream truck owner. The two sweets vendors good-naturedly compete over who has the sweetest frozen treat in the Heights. While the interchange between Jackson and Miranda is brief, it's a fun nod to the original Broadway relationship and adds some interest to those in the theatre who know Miranda only as the 'Hamilton guy'.
Other actors you've seen elsewhere include Olga Miredez who reprises her Tony-nominated role as the block's matriarch Abuela Claudia, Jimmy Smits (Kevin Rosario) the local taxi dispatch slowly selling off his property on the corner to pay for Nina's college tuition to Stanford, and Daphne Ruben-Vegas (Daniela) who runs a local salon and is most famously known for originating the role of Mimi in "Rent" on Broadway. There's also a relatively quick and awkward cameo by Marc Anthony.
Anthony play's Usnavi's Tito, the father of Sonny (Gregory Diaz IV) who works hard at the Bodega. Usnavi is actually more of a father figure to Sonny. Usnavi's love interest Vanessa (Melissa Berrera) hopes to escape the Heights, like her friend Nina has, by moving to the Village and starting a fashion line. As the narrative opens she's working for salon owner Daniela and her best friend Cuca (Dacha Polanco from Orange is the New Black), but Vanessa wants more for herself.
The narrative follows the original storyline closely and since "In the Heights" hit Broadway over a decade ago, it goes without stating that spoilers will follow here. Seriously. If you don't want to know what you don't know, then stop now. Ok, for those of us who giggled at that "Hamilton" reference and are ready to move on, let's go. 
Any stage performance must include short bits of narrative exposition and a suspension of disbelief by the audience while a theatrical release can do quite a bit more by permitting the plot to breathe. I actually felt this was the opposite here. Hudes and Miranda turned Kevin and Benny's quarreling relationship from the play 180 degrees. As Kevin's protege, Benny works hard for his boss and pines after Nina with whom he had a relationship that Benny mistakenly ended before she left for the Golden Coast. There are no racial clashes between the two men (Benny's African American rather than Latino, which causes a huge rift in the stage version). Moreover, Kevin's wife's entirely missing. I found both of these changes more effective as Kevin can develop those stronger relationships between himself and the two children. He gives Nina everything she needs financially, while he advises Benny on how to be a strong business person. 
The other major difference surrounds a lottery ticket. It's clear that a lot of the neighbors live simple lives, but they dream of bigger things. Usnavi saves every penny to move back to the Dominican Republic; Nina goes to college to escape. Vanessa has aspirations for a fashion career while Daniela moves her beauty salon to the Bronx. We see many of these characters buying lottery tickets as the film opens, and Usnavi later is called by the Lottery Commission and told that the winning ticket was sold in his bodega. As Usnavi starts to think that he could do with all that money, the song "96,000" begins as everyone congregates at the local swimming pool. The entire cast and dozens of extras perform an enjoyable and highly choreographed Christopher Scott dance sequence that takes place mostly in the water. Most of the principal actors sing through their dream lives with the winning money, with Sonny's hyperspeed rap sequence being the most delightful part of the number.
In the stage version, Abuela Claudia reveals she purchased the winning ticket and wants to share it with Usnavi and Sonny. In the film, Usnavi discovers the ticket with his name scrawled on it when cleaning out Claudia's apartment near the film's conclusion. The film's narrative is over the course of five weeks during the dog days of summer. It's hot and a power outage wreaks havoc on the block. It's during the hottest of these days when we lose not only power but also Abuela Claudia who peacefully passes away from the heat and stress. As she's dying, the audience is treated to Merediz's pure talents again as her life flashes before her eyes in "Paciencia y Fe".
This dream sequence of Claudia's is one of several magical realism special effects they've added into the film. This one and another where Benny and Nina dance across the side of a vertical building during "When the Sun Goes Down" are gorgeously filmed, but another minor sequence during "96,000" where several actors make disappearing graphics with their hands is distracting and not needed.
Speaking of dreams, it's clearly abundant that this story is about immigration, the invisibility of minority representation in America, and maintaining cultural identity in a mainstream society powered by people with lighter skin and more money. While this film does not outwardly deal with racial tensions as the main plotline, racial inequities underlie a good portion of the narrative, especially with Nina and Sonny.
Nina represents the smart kid with the means to escape the neighborhood. She pretends everything is ok at college but slowly reveals the struggles she's having as a Latina woman. The white, rich students at Stanford treat her as the help – not as an equal. She feels defeated. At the beginning of the film, as she returns to tell her father that she's dropping out, her hair has been straightened. She goes directly to Daniela's shop to get a manicure and hair done, relaxing it back into her natural curls. She subtly code switches, albeit I cheered toward the end when she returned to college and kept her natural curls and braids. Nina agreed to go back because she has found her purpose. In the heat of the summer, she and Sonny attend a DREAMERS protest, and it's revealed Sonny is undocumented. He has always wanted to follow Nina's path, but he realizes he is stuck for good.  Nina realizes she needs to go back to Stanford, create the community she so desperately wants, and learn to fight for the rights of DREAMERS across the USA.
After Usnavi discovers the lotto ticket and realizes what this money can do, he immediately goes to the Heights' lawyer to start the process to get Sonny his green card. The lawyer warns him it's expensive and could fail in the eleventh hour. Both Usnavi and Sonny agree the right is worth it as he turns over the lotto ticket to cover the battle ahead for Sonny.
The narrator of this story is clearly Usnavi himself as he sits on what looks like wooden boxes outside an island bodega talking to four unnamed children. It plays like he has returned to the Dominican Republic and is telling the tale of Washington Heights in his past. Partway through it's revealed the one child is his daughter, Iris when she calls him "Dad". This frame trope is as old as storytelling itself, but what I liked about it here is the shift of perspective. As the narrative continues each character realizes what "home" means to them. For Kevin, home is his daughter. For Benny, it's assumed home is with his business mentor Kevin while Nina's away at college. For Daniela, it's still the corner, even though her business plan thrives in a richer part of town. And then there's Vanessa and Usnavi, now a family unit. As we wrap up the frame narrative, through creative camera angles Chu reveals that Usnavi tells the story from inside the bodega that's now been altered slightly to balance between his sundries and Vanessa's fashion designs. As he wraps the story, Iris begs to go out to play. Her parents follow her and her friends outside where the hydrants have been screwed open, water shoots into the streets, and people of all ages laugh and splash. It's clear these characters know home is where they can celebrate themselves, the lives they've made, and their culture. In the case of this story of family and friendships, home is in the heights.
About IN THE HEIGHTS
Synopsis: Much anticipated film adaptation of Tony award winner musical "In the Heights" by Lin-Manuel Miranda about a magnetic bodega owner in Washington Heights NYC dreaming of returning to the Dominican Republic while navigating family, love, dreams, struggles, and culture.
Director: John H Chu
Writer: Quiara Alegría Hudes
Stars: Anthony Ramos, Corey Hawkins, Leslie Grace, Melissa Barrera, Olga Merediz, Gregory Diza IV, Jimmy Smits, and Daphne Ruben-Vega. With Lin-Manuel Mirando, Christopher Jackson, and Marc Anthony.
Rated: PG-13
Runtime: 2 Hours, 23 Minutes
Theatrical Release: June 11th, 2021 [Also, released to HBO Max June 11, 2021 – July 11, 2021)
East coast father raising a 16 year old daughter & two bonus teens with my wife deep in the southwest. Photography Instructor // Media blogger