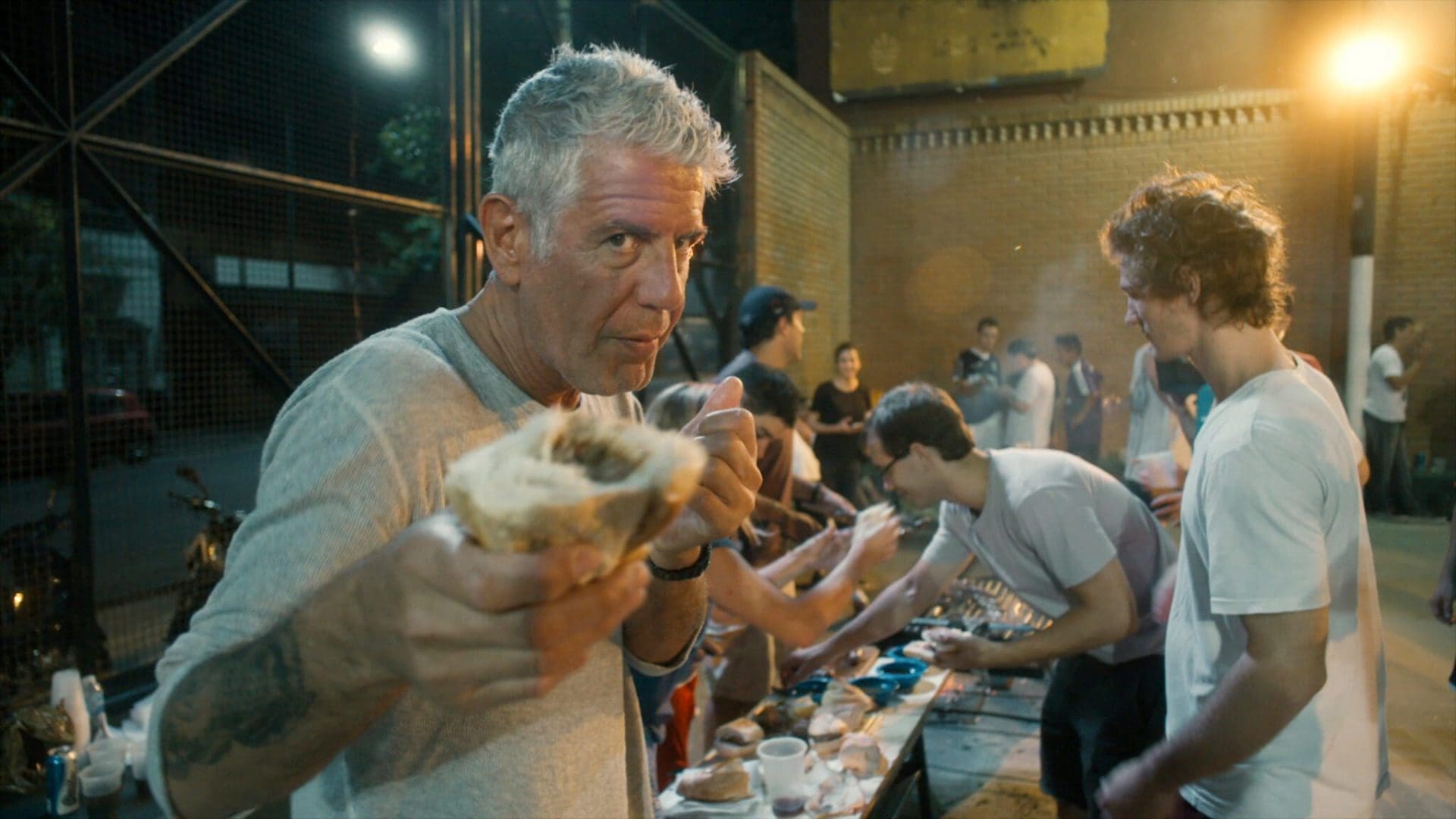 I'm a stickler for memoirs and enjoy documentaries, so when I heard about director Morgan Neville's (Won't You Be My Neighbor? and 20 Feet From Stardom) Roadrunner: A Film About Anthony Bourdain, I was chomping at the bit to drag my wife out to see it. Her reply was something like, "Anthony who?". I'll be the first to admit I know Bourdain's work mostly from the zeitgeist that surrounds the notion of celebrity in America, and then the reactions to his suicide in June 2018. As a fellow traveler who is open to the wonders outside my own backyard within cultures wildly different than my own, I found him compelling, but I think that larger-than-life personality was what drew millions to Bourdain worldwide.
As a famous chef, memoirist (New York Times bestseller Kitchen Confidential), and television personality (A Cook's Tour and then later the popular No Reservations and Parts Unknown among others), Bourdain was that sort of person you couldn't miss. He lived large and died on his own terms. With that said, I found several issues with this documentary about his life that I'll explain in my review of Roadrunner: A Film About Anthony Bourdain.
Celebrity is a notion created by exposure around us. Do many celebrities have talents? Sure. But are all celebrities known for and celebrated for those talents? Nope. People love a good disaster, which is why we have rubbernecking on highways near wrecks and the news shows mostly the horrors around us. Why is it that we care so much about people once they're gone? Is it because we regret the art they might create if they're still alive, or do we become obsessed with the spectacle within a society where the sterilization of the representation of humankind becomes this numbing ennui?
The idea of celebrity that surrounds personalities like Bourdain will drive people to the theatre to learn more. What they will find there are two hours of footage cut together from his previous television shows edited in a way to portray him as a brass, foul-mouthed addictive personality who tried to continue to escape throughout his entire life, hopping from relationship to relationship, and literally flying off to parts unknown to escape himself. I went into this film enamored by the notion of seeking out to understand cultures very much unlike my own but mostly found the narrative of a mentally ill storyteller who crafts his own tale until it finally ends him.
I could not stop thinking about the fact that the thousands of hours of footage from his life and televisions shows could tell any story Neville wanted the viewers to see. So why this one? I'll be honest. I've not seen many of his shows' episodes. I've not read his book (even though I am morbidly interested now), and I went into Roadrunner relatively green to the world of Anthony Bourdain. Instead, I felt like I got the world of Morgan Neville. I couldn't stop considering how the film would be different if a different filmmaker had tackled this story.
The movie ties in interviews with friends, confidantes, coworkers, and his three former partners. Neville is good at tugging at our heartstrings (he literally told Fred Roger's story), but Roadrunner was increasingly boring and slow. At one point just over an hour in I paused the screener to grab a snack. Had I not been reviewing the film for work I would have ended it at that point, or fast-forwarded to the near end to catch the reactions to his death and learn a little more about that situation. But I continued on through the same messages from various people about his enigmatic relationships with people and his continued substance abuse.
Neville structured his film mostly around Bourdain's relationships with his first wife, high school sweetheart Nancy Putkoski, his marriage to fighter Ottavia Busia (with whom he has a now 14-year-old daughter, Ariane), and then a tumultuous relationship with actress Asia Argento. The film does a terrible job of insinuating (or is it not insinuating?) that Asia being seen out with another man days before Bourdain's death was the final impetus for his actions in France when he hung himself. This sequence among many others felt like sloppy editing to tell a contrived story rather than allowing Bourdain's life story to unfold naturally for the audience.
While I found the quotes from the trailer compelling, I later wanted to know what was left unsaid. What is the story we didn't get? I feel if you are a Bourdain fan, you will enjoy the film (if you don't get bored by the pacing of it all), but as a highly talented and popular storyteller, his story was not told well in Roadrunner.
As his relationship with his long term producers faltered, as he began to create art that was less authentic and more polished (through reshoots), as he continued to self implode, and as he continued to find fewer and fewer locations to escape himself, Bourdain chose to take his own life and leave the rest of us wondering why. 
Anthony Bourdain was always rushing to get into a scene, to get out of a scene, to get home, to get on the road again. He was always searching, and perhaps he finally had nowhere else to look but inside, and that destroyed him. He couldn't hide from his parts unknown any longer.
About Roadrunner: A Film About Anthony Bourdain
Synopsis: A documentary about Anthony Bourdain and his career as a chef, writer, and host, revered and renowned for his authentic approach to food, culture, and travel.
Director: Morgan Neville
Starring: Anthony Bourdain, Ottavia Bourdain, David Chang
Rated: R
Runtime: 1 Hour, 58 Minutes
East coast father raising a 16 year old daughter & two bonus teens with my wife deep in the southwest. Photography Instructor // Media blogger