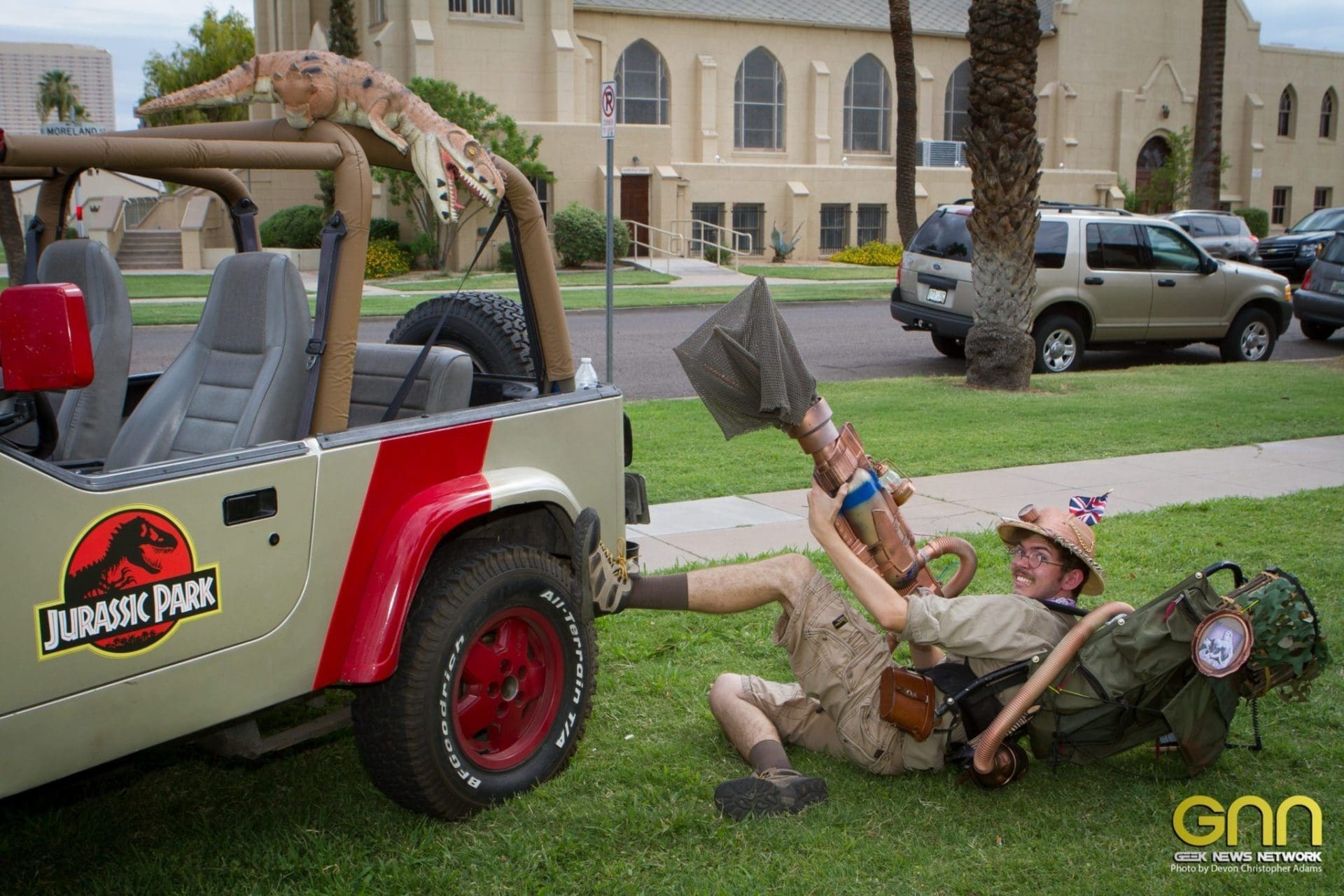 Geeks News Network enjoyed a day at the second annual DinoCon 2014 A. D. on August 2, 2015 at Phoenix Center for the Arts.
9. Velociraptor Vendor Hall. The Velociraptor vendor room, situated in the rear of Phoenix Center for the Arts, was chock full of awesome vendors that included Bookmans Entertainment Exchange, one of the awesome vendors. 
8. The glorious August monsoons. DinoCon 2014 was at The Phoenix Center for the Arts, housed in a historic Baptist church off Margaret T. Hance Park. Because of logistics, fans had to go outside to move between the vendor hall and main theatre. In the summer desert heat this can be an issue, but during DinoCon 2014 a late afternoon monsoon dropped the temperatures and clouded the otherwise stark sunlight. It did briefly rain but mostly the monsoon simply cooled off the fans as they enjoyed their experience.
7. Growing Pains. It's no secret that there will be growing pains. Last year DinoCon was in Mesa's Natural History Museum, but it was time for a more centralized location. Phoenix Center for the Arts is as quirky as this niche convention itself, but it may be time to reevaluate. DinoCon sold out long before registration opened on August 2, 2014 and a line to purchase tickets slowly dissipated as fans left the building for the day. While PCA has other rooms to hold this fledgling convention, it may be time to make the move while it's still a smaller convention. The $5 price tag is awesome, but I bet most fans would pay twice that easily to have more space to enjoy their con.
6. Jurassic Park Motor Pool. The club has repurposed vehicles to match those in the original Jurassic Park film. Did you know the Jurassic Jeeps have red stripes to prevent the Triceratops from charging? Neither did I! The vehicles were a huge hit out front as the kids of all ages clambered over them for photo ops and passerbys on 3rd Street rubbernecked wide-eyed as they slowly drove by. Follow their adventures on Facebook.
5. Dinosaur Carnival videos. Early in the day "professional teenager" Trinidad Jimenez showed a steadily growing crowd some of the best worst videos on dinosaurs I've ever seen. According to the program it was a "visual smorgasbord of memes, clips, and weirdness curated by Phoenix DinoCon creators. My very most favorite was Milky the Dinosaur from 1973. Milky has udders. You have to see it to appreciate it.
4. Little Miss Dinosaur. VoiceAmerica Kids is a global Internet radio station that organizes children radio hosts like Anna DuBois (a.k.a. Little Miss Dinosaur) who spent her time at DinoCon interviewing fans, volunteers, vendors, and the co-founders. Anna's mother lugged around the "mobile radio" station, capturing audio for an upcoming "Dinosaur Detectives with Little Miss Dinosaur" episode. Learn more about her the show here or follow Little Miss Dinosaur here.
3. Phoenix Ultimate Geek Smackdown Turbo Dinosaur Edition. PUGS Phoenix Ultimate Geek Smackdown (PUGS) started a few years ago at Phoenix Comicon by Jeff Moriarty, co-founder of Improv AZ and Ignite Phoenix. PUGS was so popular that the programming director of Phoenix Comicon has asked them back each year. DinoCon 2014 included Phoenix Ultimate Geek Smackdown Turbo Dinosaur Edition hosted by Julia Zolondz and Andrea Beesley of FilmBar. One of the coolest smackdowns was between Chris Pratt (new Jurassic Park) versus Jeff Goldblum (classic Jurassic park). Of course, Goldblum took it. Who else could argue with The Fly?
2. Mike Tricic. Dinosaur animatronics expert and sculptor Michael Tricic was the celebrity guest of honor at DinoCon 2014. Tricic's body of work included Terminator 2, Day of the Dead, Bill & Ted's Excellent Adventure, and Jurassic Park, where he created the animatronic Tyrannosaurus Rex from the original Jurassic Park film. He discussed the history of special effects over the last 30 years of film during his keynote in the Tyrannosaurus Theatre.
1. Julia's passion. Co-founder Julia Zolondz's presented at Ignite Phoenix in May 2014. Her presentation was one of the best received of the evening and hundreds of   audience members raved about Julia's passion for dinosaurs following that event. That passion translated to the successes of DinoCon 2014.
Photos taken at Phoenix DinoCon 2014 by Ben Stadler-Ammon [www.s-astudios.com] and Devon Adams [www.DevonCAdams.com]. All rights reserved.
[AFG_gallery id='27']
East coast father raising a 16 year old daughter & two bonus teens with my wife deep in the southwest. Photography Instructor // Media blogger