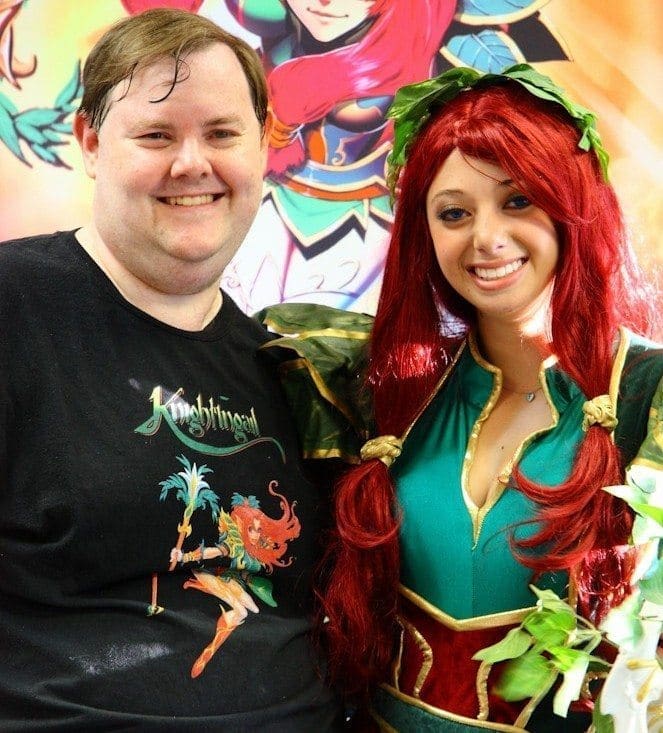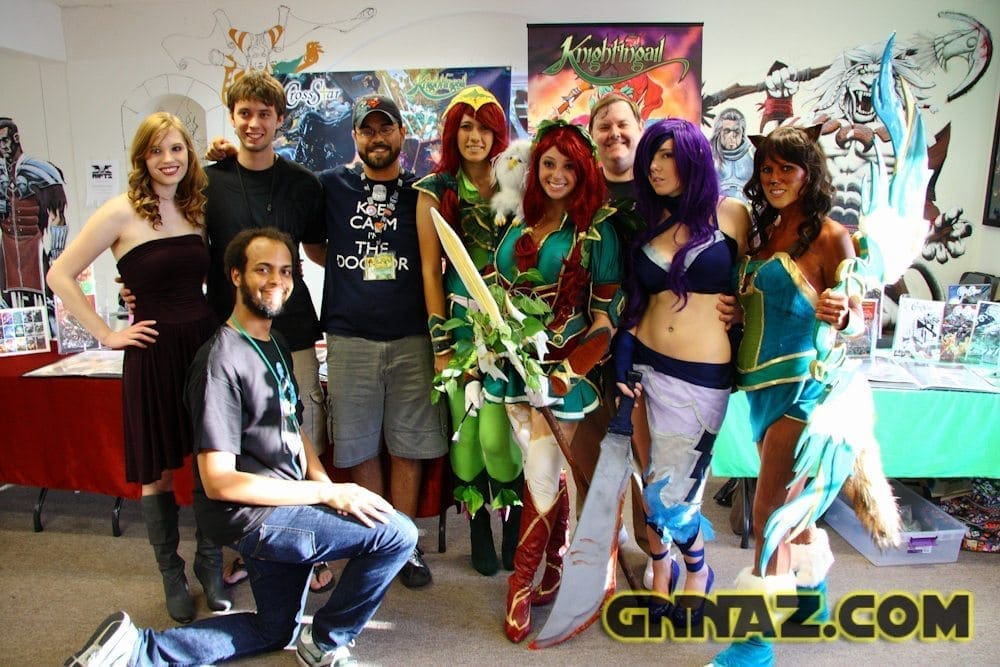 Tempe, Az – Pop Culture Paradise in Tempe was a crowded place full of excitement and enthusiasm yesterday evening, not just over the usual merchandise we all enjoy, but for the highly anticipated Knightingails United event. Between roughly five and seven o'clock, Wayne Gardiner and the girls of Knightingail, both past and present, mingled, gave announcements about the comic book series, answered questions, and autographed merchandise. They provided a vibrant display of comic books, prints, and costumes for everyone to enjoy, including a set of all six current Knightingail issues and an exclusive "Bright Shining Stars." The place was full with people eager to meet them and see the display.
Wayne Gardiner, creator of Knightingail, was excited to discuss that the series has been picked up by publisher Big Dog Ink and that it will be having a six issue trade out in December, compiling the issues into one book, allowing for easier sales on sites such as Barnes & Noble and Amazon. When asked what the future held for Knightingail, Wayne informed us that Knightingail would continue for quite some time and the story has only just begun.
Toni Darling, appearing at Knightingail United as Assassin Eloa, very much enjoyed reading Knightingail. She stated feeling that the story was wholesome, suitable for all ages, and that it sent a good message. Her interpretation of the story is that it is a coming of age story and explored the disillusionment that we all go through at one time or another. She also felt that for being a man, Wayne writes very well from a female perspective and that Knightingail is a story that girls can really relate to. As far as the amazing Knightingail costumes, Toni shared that wearing the costumes is very fun and the Assassin Eloa costume is her favorite.
Cara Nicole, who was dressed as Kaeli, shared with me that she loved the Knightingail comic for many reasons including the seemingly feminist message that it sends without being to hardcore about it. She feels the story is good for young women because it shows them that they do not have to be sex objects, that they can be strong and powerful, and still be a girl. She loves wearing the costumes, which she stated are very well made, and although this was her first time wearing the Kaeli costume, she now feels that it is her favorite.
Lindsey Elyse, dressed as Eloa, stated that she loved the Knightingail comic book and that it was really good, it even made her cry. She also mentioned that  the costumes were fun and that she loved wearing them.
The new Knightingail girl, identified only as Knightingail, was adorable and incredible at staying in character. She mingled with people, answered questions, posed for photos, and interviewed the other girls. She explained that she loved being Knightingail because she is so "awesome."
While the event may have been short, and we may have wished to spend more time with Wayne and the Knightingail girls, it was a great event, a good turnout, lovely news, and one thing is for certain, the Knightingail girls are indeed bright shining stars and Knightingail has much more to share with us in the future.
 Check out this photo gallery courtesy of Eric Fiallos of Bald Pirate Creations:
[flagallery gid=29 skin=default_old align=center name=Gallery]
"Being a geek is all about being honest about what you enjoy and not being afraid to demonstrate that affection. It means never having to play it cool about how much you like something. It's basically a license to proudly emote on a somewhat childish level rather than behave like a supposed adult. Being a geek is extremely liberating." –Simon Pegg. I'm Cheyenne Rayne! My interests are insanely diverse. I can have fun doing almost anything. I love to have fun and laugh. I love to learn about new things and create. I love to help the world around me. This results in a lot of volunteer work and of course a lot of geekiness. My geeky interests include video games, Magic the Gathering, anime, cosplay, computers, etc. Feel free to check out my Facebook at http://www.facebook.com/CheyenneRayneArt.