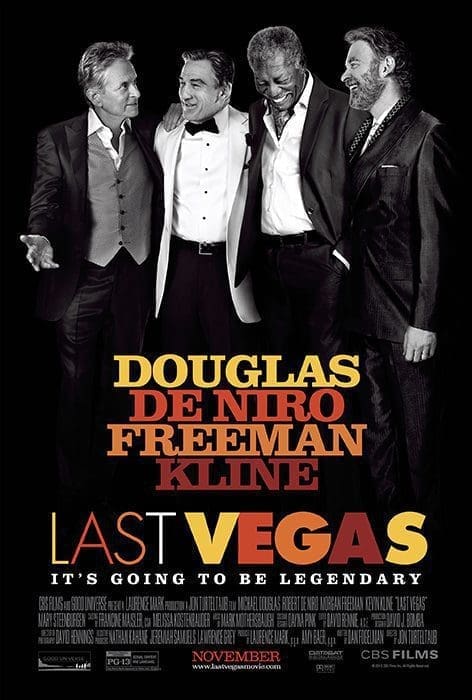 It's easy to forgot how quickly time goes by and then be suddenly shocked when you realize Robert De Niro is now 70. I feel like I just watched Raging Bull. But, that's the nature of aging. One day you wake up, realize you're taking 10 prescription medications, and that you enjoy spending your Saturday nights watching television. It becomes an aging rut, and most of us are watching our baby boomer parents go through it or soon we will be experiencing the same thing. That is why films such as Last Vegas are fun, because it's relatable, silly, and acts as a gentle reminder that we should enjoy the time we are given.
Directed by Jon Turteltaub, the man who brought us 3 Ninjas in the '90s and more recently National Treasure, Last Vegas follows four 60-something pals who grew up together in New York. Calling their little pack the "Flatbush Four", the men embark on life, follow their respective paths, and occasionally show up to each other's milestone events. Then one day, the consummate bachelor of the group finally decides to settle down with his young 30-something fiancé. It's an occasion that calls for celebration and the four best friends get back together and head to, where else but, Las Vegas for the weekend to throw a nostalgic hurrah.
Last Vegas features a high quality cast with some of the greatest iconic actors of our time including Michael Douglas, Robert De Niro, Morgan Freeman, and Kevin Kline. Everyone involved is charismatic and has their own bit of comedic fun, but for most of the characters, there are serious life undertones they are struggling with, whether it's health issues, fear of aging, or death of a spouse.  Kline's character, however, is the comic relief with his ailments being more lighthearted and he therefore steals the show delivering the best quips and one-liners. Playing a Floridian retiree who is bored with the rut of his circumstance, he is given a free pass by his wife to go wild for the weekend, which he wholeheartedly tries to do.  Kline has always had great comedic timing and his style works very well with this character and setting.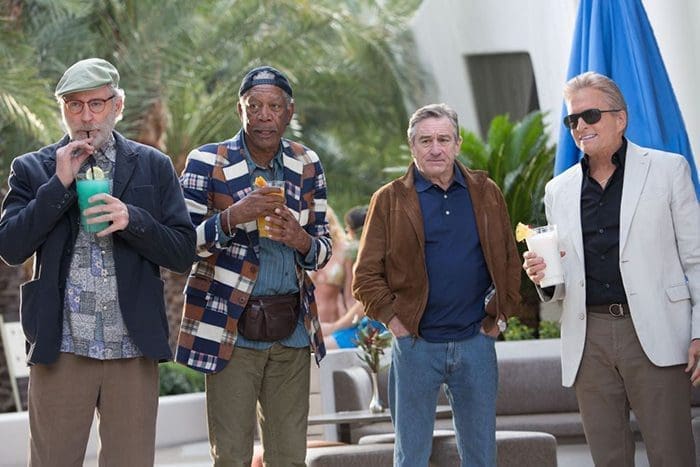 For a movie featuring geriatric jokes that include taking blood pressure medication, making sure this is all covered by Medicare, and being in bed by 9, Last Vegas is a universally funny and accessible film for any seasoned generation. The gags involved are certainly clichéd tropes and jokes, the setting of the film is nothing new, but the script is executed well with heart-warming performances and the whimsy of the story itself is just flat-out entertaining. Thus the film is a win either way.  Aside from obviously targeting a specific age category,  Last Vegas will additionally entertain the children of those adults because they can identify with taking care of their aging parents, such as with the storyline of Freeman's character Archie and his son Ezra who is constantly checking in on his father.
Last Vegas is definitely a charming older-generation comedy; it's sweet, fluffy, and classic fun that leaves the audience with a gentle smile. Even more than that though, Last Vegas is a soft reminder that yes, life is short and it can go by too quickly, but the time we are allotted is best shared with loyal friends, so work out your differences and petty squabbles, and apparently do this in Las Vegas.
Rating: 7 out of 11
Follow Jen on Twitter: @jenmku
[youtube http://youtu.be/VrT-l-VlvAQ]
About Last Vegas

Synopsis: Three sixty-something friends take a break from their day-to-day lives to throw a bachelor party in Las Vegas for their last remaining single pal.
Directors: Jon Turteltaub
Writers: Dan Fogelman
Stars: Robert De Niro, Michael Douglas, Morgan Freeman, Kevin Kline, Mary Steenburgen, Jerry Ferrara, Romany Malco
Rated: PG-13
Runtime: 105min
[SlideDeck2 id=9269]