It's kind of hard for me to get excited for this "R.I.P.D." It's mostly because I'm not a huge fan of Ryan Reynolds and all. However, it stars freaking Jeff Bridges, which has to mean something, right?
"R.I.P.D." is based off a comic book, which I never could really dive into. However, I do like pretty ladies and Jeff Bridges in my movies, so this will be a release day watch for me.
Anyways, enough rambling, below, check out an official featurette for "R.I.P.D.":

http://youtu.be/zyj44O5TIPY
In theaters July 19th; "Jeff Bridges and Ryan Reynolds headline the 3D supernatural action-adventure "R.I.P.D." as two cops dispatched by the otherworldly Rest In Peace Department to protect and serve the living from an increasingly destructive array of souls who refuse to move peacefully to the other side.

Veteran sheriff Roy Pulsifer (Bridges) has spent his career with the legendary police force known as R.I.P.D. tracking monstrous spirits who are cleverly disguised as ordinary people. His mission? To arrest and bring to justice a special brand of criminals trying to escape final judgment by hiding among the unsuspecting on Earth.

Once the wise-cracking Roy is assigned former rising-star detective Nick Walker (Reynolds) as his junior officer, the new partners have to turn grudging respect into top-notch teamwork. When they uncover a plot that could end life as we know it, two of R.I.P.D.'s finest must miraculously restore the cosmic balance…or watch the tunnel to the afterlife begin sending angry souls the very wrong way."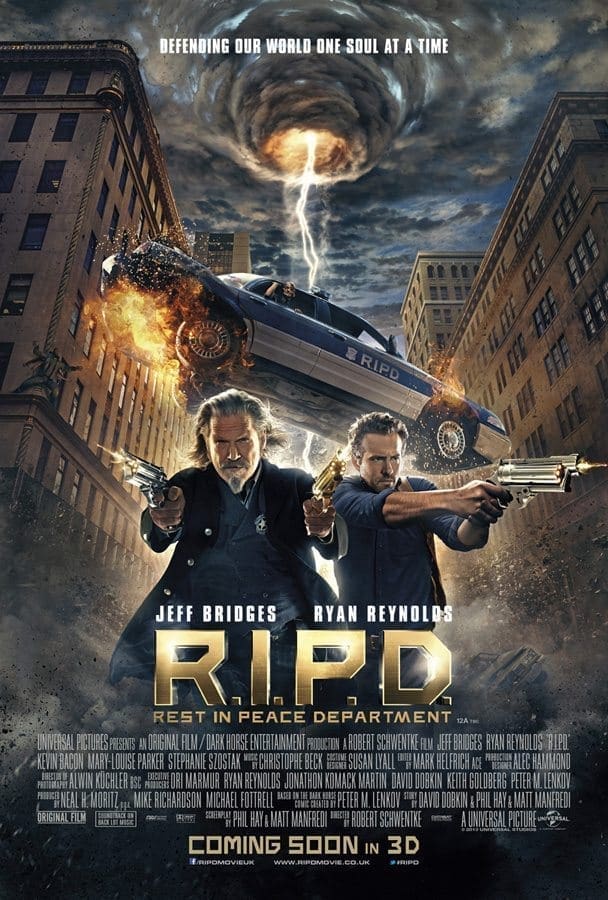 ———————————————-
Chuckie is blogger for fine sites such as Geek News Network and Comic Book Therapy. Burrito enthusiast would be the best way to describe him. Follow Chuckie on twitter, @dweebofthedead.
[SlideDeck2 id=9269]
Lover of Comic books, film, television, fresca and video games. Check out my blog dweebofthedead.tumblr.com to see what kind of shenanigans I got going on, or check out my twitter for up to date ramblings @dweebofthedead.
Email: chuckie.valdez@geeknewsnetwork.net