Check out an exclusive to GNN (huge thanks to Nathan Blackwell!), a behind the scenes look at the production of Voyage Trekkers Season 2!! As you can see for the first time from these photos, Season 2 brings back the villain General Kang (played by Craig Curtis) from Season 1 – Episode 7 ("The Clutches of General Kang").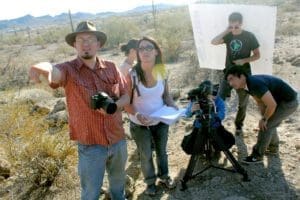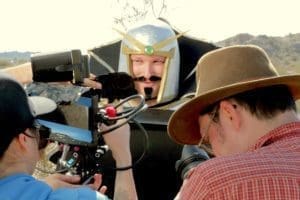 Follow the production from beginning to release of Season 2 at Voyage Trekkers official website: http://www.voyagetrekkers.com
"If you enjoy the movie Galaxy Quest, you'll love this hilarious Voyage Trekkers web series." -The Official Twitter for Saturday Night Live's Weekend Update (@SNLUpdate).
Voyage Trekkers Links:
Official Site – http://www.voyagetrekkers.com
Voyage Trekkers on YouTube – http://www.youtube.com/user/Squishyshark
Squishy Studios Blog – http://squishystudios.wordpress.com/
About Squishy Studios:
Squishy Studios is a Phoenix-based movie production company created by Nathan Blackwell whose stories are populated by such characters as space lizard men, gentleman super spies, ninjas, face-melting nazis, suburban mad scientists, melodramatic role-playing nerds, magic casting teenagers, and, of course, zombies.
http://www.squishystudios.com/
About Inside Creative Minds Media:
Inside Creative Minds is dedicated to promoting and showcasing the work, knowledge, passion and talent of the people engaged in a broad range of creative endeavors throughout the Valley.
http://www.phoenixartspace.com/icm/
Full-time geek. Journalist. Photographer. Martial arts master. Feel free to follow my Instagram/Twitter or contact me directly at my email.