[youtube http://youtu.be/QG4JLhcpqp0]
NetherRealm Studios and WB Games 'Injustice: Gods Among Us' is getting closer and closer to the launch date here in the states and the promotionally train is full force. A new video (now on YouTube) from Amazon Germany listing for IGAU exhibits "Blackest Night" downloadable content pack. Photos below show Batman as a Black Lantern and a exclusive "Zombie Mode" that indicates that most and/or the entire roster could be turned into the undead.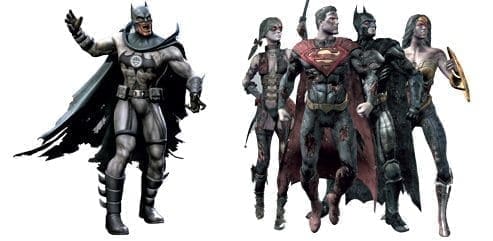 In the states, Best Buy's exclusive downloadable content will be the "Blackest Night" pack, GameStop's will be "Red Son" pack, and Wal-Mart's will be "Arkham City" pack with a bonus copy of "Mortal Kombat vs. Dc Universe."
"Injustice: Gods Among Us" hits stores April 16 for PlayStation 3, Xbox 360 and Wii U.
———————————————-
Chuckie is blogger for fine sites such as Geek News Network and Comic Book Therapy. Burrito enthusiast would be the best way to describe him. Follow Chuckie on twitter @dweebofthedead to read just how much he loves Batman, kind of like a man-crush, but not really.
[SlideDeck2 id=9271]