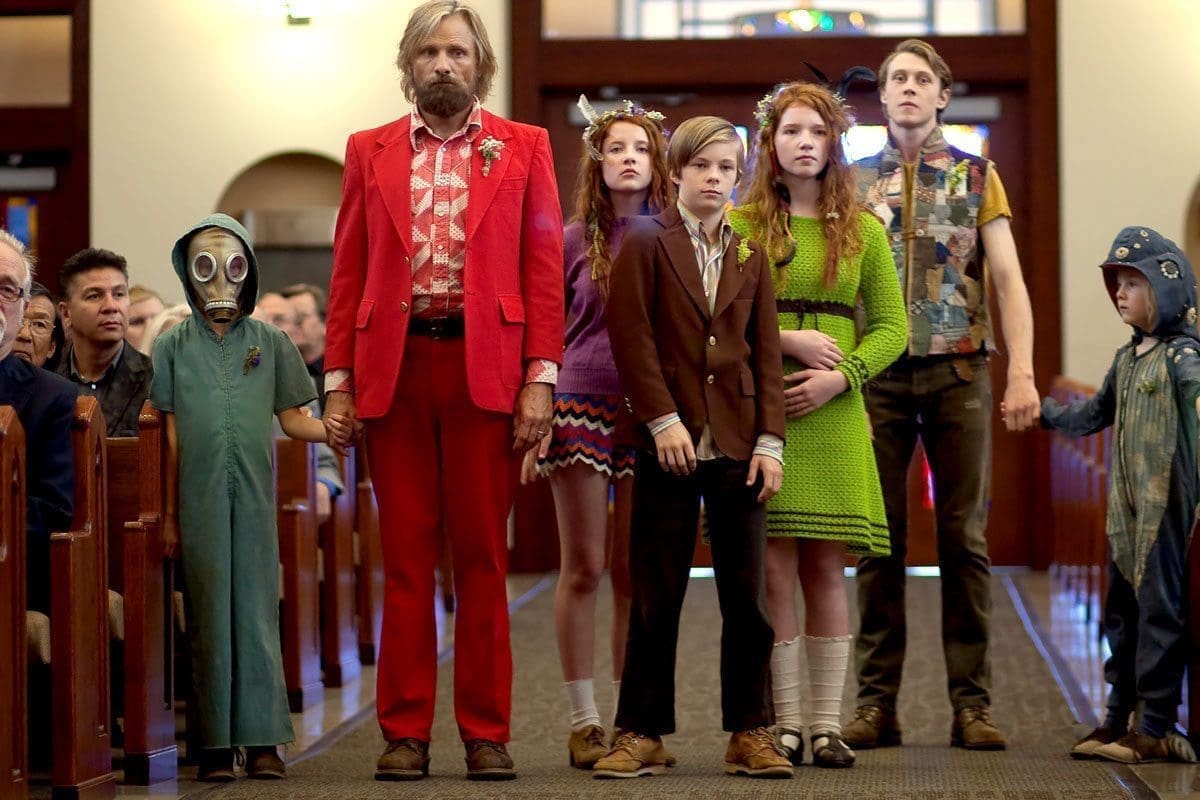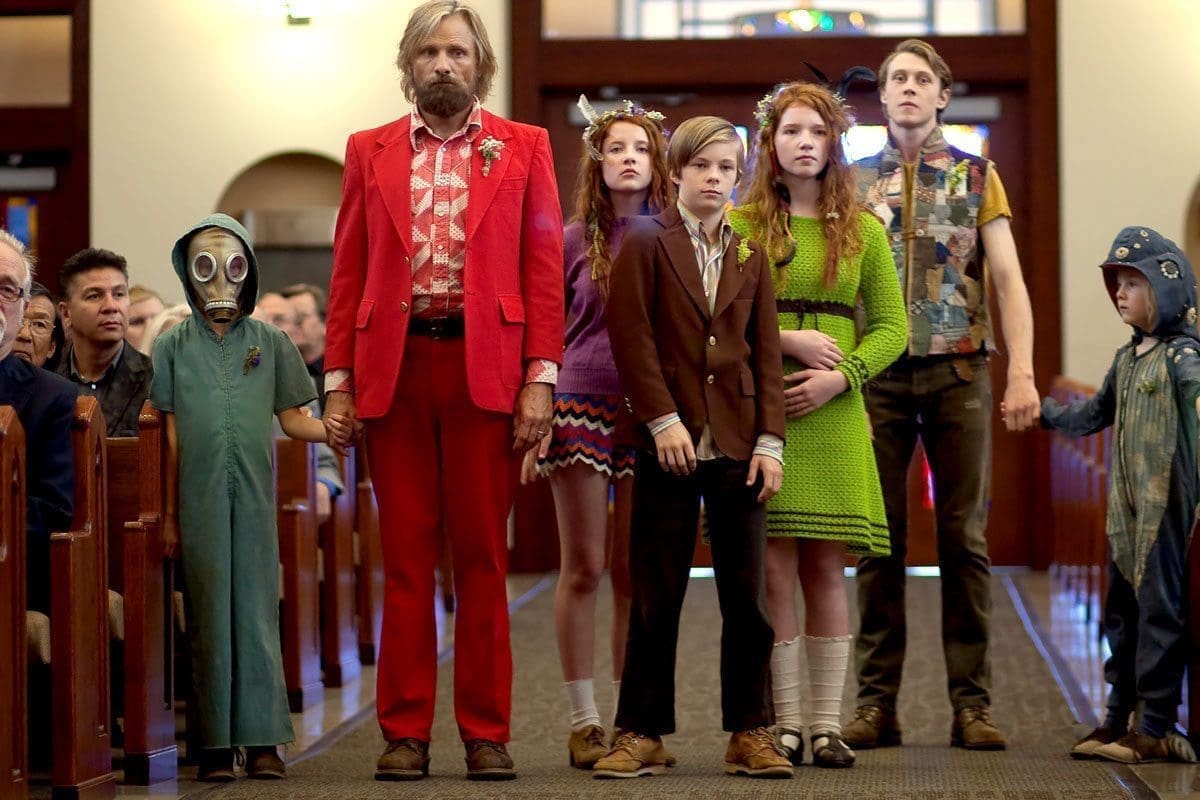 There's something to be said about the simplicity of living off the grid in today's fast-paced, frenetic world. With the minimalism movement and ubiquitous tiny house shows, a simpler life appeals to lots of people. The dichotomy between simplicity and the tumultuous nature of our capitalistic democracy is the backdrop of Bleeker Street Media's Captain Fantastic. Starring Viggo Mortensen, this film examines the lives of a family living in the wilds of Washington where the children have a strict physical and mental education that would rival many collegiate programs. Upon their mother's death, they're forced to reconcile with a world the children (six of them ranging from 8 to 18) have never experienced as they convince their father (Mortensen) to make the 1200 mile journey to their mother's funeral in New Mexico, in a school bus tricked out into a hoppy RV nonetheless.
Their mother Leslie, played by Trin Miller, mostly in flashbacks has left a buddhist will that includes cremation while her capitalistic father, representing everything she and Mortensen have railed against in their parenting lives, demands a Christian burial and resents Mortensen for stealing away his baby girl. The relationship between Mortensen and his in-laws (played perfectly by Jack Langella and Ann Dowd) is full of disappointing looks and uncomfortable, emotionally charged scenes. For example, when the clan arrives at Miller's funeral where Mortensen is forcefully removed from the pulpit or a later scene where Langella demands custody of his grandchildren so they can go to school (even though there's a great scene earlier where Mortensen proves to his sister (Kathryn Hahn) that his 8 year old knows way more than her high school sophomore in terms of traditional schooling).
Going into Captain Fantastic, I expected a journey piece with underlying humor as Mortensen is forced to teach his children of a world opposite from their own. What I discovered was a film that addresses the true complexities of parenthood and how to define oneself not only as a parent but also as a child. His eldest, 18 year old Bo (George McKay), is examining his own self-worth as a man and his relationship with the the world, while his two teen sisters (Samantha Isler and Annalise Basso) are quickly sliding into womanhood. Director and writer Matt Ross (American Pyscho, Aviator, Face/Off) forces Mortensen to strike a balance between what he feels is best for his children and what society dictates for citizens.
The eons old conflicts of children challenging their parents comes to play throughout the entirety of this film, and quickly I realized the true drama of losing parents and children as the conflicts build to this crashing crescendo that I truly wasn't sure how would pan out. Eventually, the situation resolves itself for all parties involved beginning with an odd, unconvincing deus ex machina scene that requires lots of children in a very tiny space and then continues on to a sweetly, resolute scene that ends with a lovely rendition of "Sweet Child O Mine" sung by the family on a seaside cliff.
Speaking of music, this soundtrack is one to own. I'm a Spotify kinda guy so I really do not purchase albums, but I'll be buying this one when it's released on July 22nd. Captain Fantastic is scored by Alex Somers who is a frequent collaborator with Sigur Rós and Jónsi, and Sigur Rós' "Varoeldur" can be heard here.  For me, while this song, I could not breathe. As the father of a young daughter I sat and sobbed through that entire sequence in the film trying to figure out where the story was headed. Then, for all intents and purposes, everything pans out. Parenthood wins over and while Mortensen acquiesces to some societal norms, I think the true meaning of parenthood and doing what's absolutely right for your children does come through.

There were rocky portions of the narrative that award winning actors like Mortensen, Langella, and Dowd couldn't do much with, but all in all the film holds its own. If you're a fan of Into the Wild, Flashback, Little Miss Sunshine, and Mosquito Coast rolled into one, check this one out. Even if you're not, pick up the soundtrack next week.
Captain Fantastic:[usr 4]
[youtube https://www.youtube.com/watch?v=DAIEnDWhzf0]
About Captain Fantastic

Synopsis: Parents (Viggo Mortensen and Trin Miller) raise their 6 children off the grid in the Pacific Northwest until a family tragedy forced the patriarch to examine what it means to be a parent as well as a child while taking the family on a 1200 mile journey to the Southwestern United States.
Directors: Matt Ross
Writers: Matt Ross
Stars: Viggo Mortensen, Flank Langella, George McKay, Ann Dowd, Samantha Isler, Annalise Basso, Nicholas Hamilton, Shree Crooks, Charlie Sotwell, Trin Miller, Kathryn Hahn, and Steve Zahn.
Rated: R for nudity and language
Runtime: 118 minutes
East coast father raising a 16 year old daughter & two bonus teens with my wife deep in the southwest. Photography Instructor // Media blogger