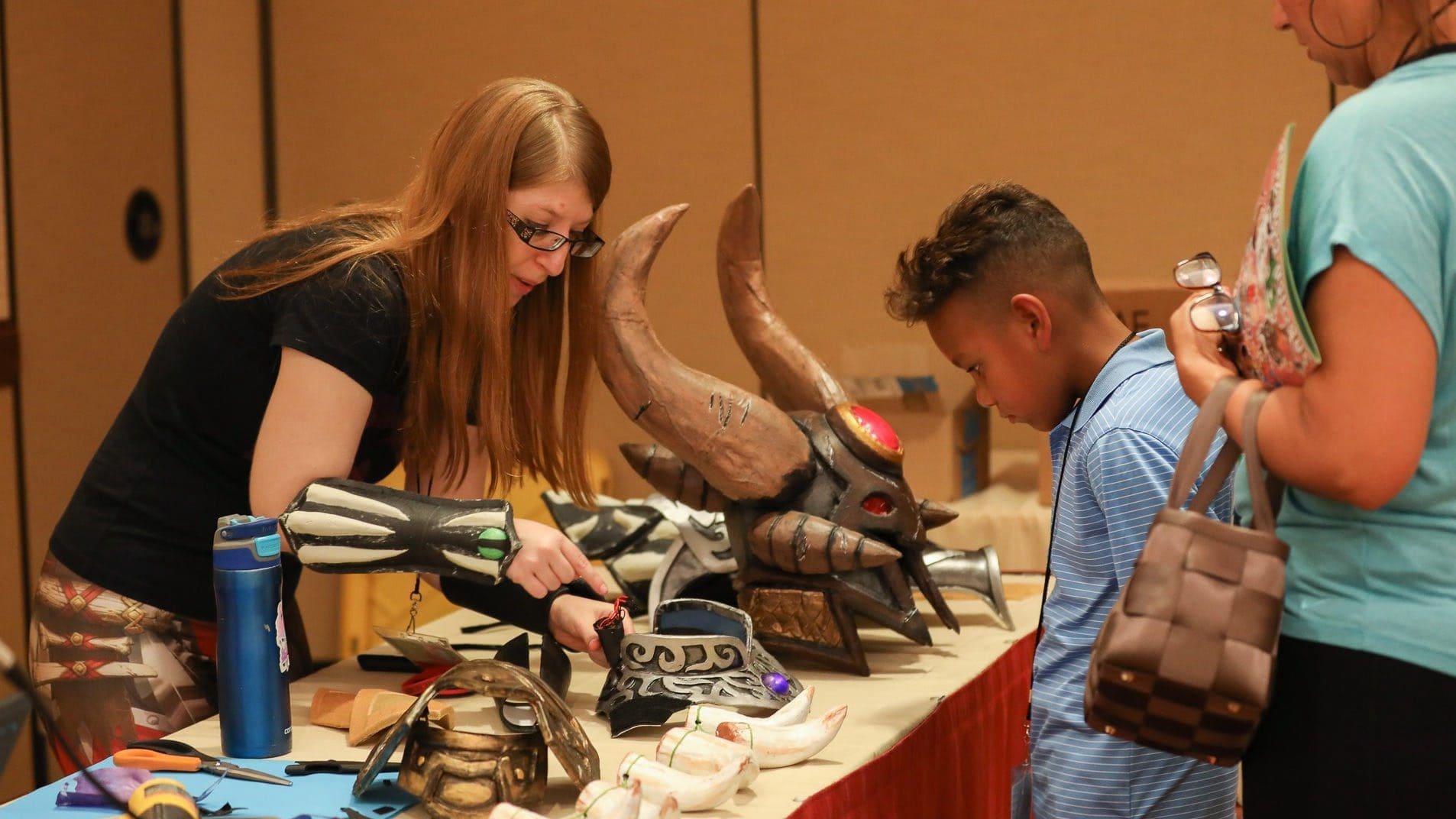 It's countdown time to Saboten Con 2019 here in our lovely hometown of Phoenix, Arizona! With tons of amazing guests and program events to look forward to, let's break down this four-day event happening Friday August 30th – Tuesday September 2nd, so you know exactly what's in store.
Beginning with one of our personal favorites, Saboten Con 2019 has a hefty amount of amazing guests coming into town to answer all of your questions and maybe give you a classic voice line or two. Voice actors such as Rica Matsumoto (voice of Pokemon's Ash Ketchum), Steve Blum (voice of Naruto's Orochimaru and Zabuza, as well as FFVII's Vincent Valentine), and Lex Lang (voice of DragonBall Super's Goku) are just a few of the amazing voice talents coming to Saboten Con! But the guest list doesn't stop there…
To all of our cosplayers out there, do we have a surprise for you – the wonderful and talented Knitecoser will be attending Saboten Con as a featured cosplay guest. With over 9 years of cosplay experience, you won't want to miss stopping by Knitecoser's booth for photos. Or, if you'd like some of his tips and words of wisdom, be sure to stop by his panel "So you Want to Be a Cosplayer?" at 5:30pm on the Saturday afternoon of Saboten Con. Along with Knitecoser, we are so excited to once again see our favorite set of furry four legs, Chiba Cosplay! Interested in the rest of the guest lineup? Check out Saboten Con's guest page for more!
"Hey, GNN, what if I just want to see a cool show with friends?" you might be asking next.
Don't worry. That's where Saboten Con's music guests come in! Executive Producer and composer of the Silent Hill live action film, Akira Yamaoka, will be hosting a Silent Hill Concert with Elizabeth McGlynn at 8:30pm on the Saturday of the convention. Looking for something to do the following day, too? Same time, same place, totally different show. THE SOUND BEE HD will be performing on Sunday evening of Saboten Con at 8:30pm. So, if you're looking for a cool Japanese band with stunning visual kei aesthetic, make sure to write this concert down in your schedule!
Now, let's switch gears for a moment and touch on a different subject… the Sheraton Hotel. For those of you who may not be in the loop, there have been a lot of rumors and speculation going around involving construction on the first floor of the hotel. This is a complete falsity, as Saboten Con has directly released a statement about these rumors, saying "Unfortunately false information is being published that the entire first floor of the hotel will be under construction during Saboten Con. The hotel has agreed to not do any construction on the first floor during our event as we are one of their largest events and they didn't want to impact us."
So, not to worry! You can still hangout with friends at the Sheraton lobby restaurant and bar for your convenience and enjoyment. If this isn't your favorite place to be, though, there are plenty of other bars and restaurants downtown, including just across the street at the Arizona Center, where you and your friends can go to for food and a couple drinks!
Along with this comes more great news! Saboten Con has announced a super convenient and quick way to check-in at registration this year, and it's called "OneCode." Simply log into the Saboten Con website, then in the top righthand corner pull down the menu (small icon that looks like a person). You will now see a new menu item called OneCode. When you click on that, you will be taken to a page that gives you one QR code that can be used for all of your purchases. Easy, right? We think so, too! This will take away all of the hassle of fumbling for papers or even losing your printed tickets! Thanks, Saboten Con!
So, all in all, we are expecting this convention to once again be a fun and exciting experience for you and your friends. Grab your wallet for the vendor hall, adorn your favorite cosplays or Geeky merch, and we'll see you at Saboten Con 2019!