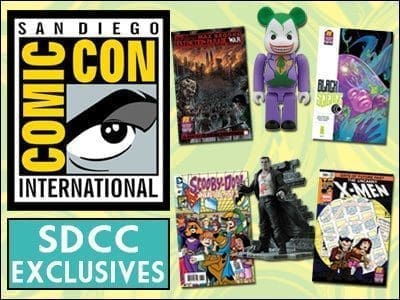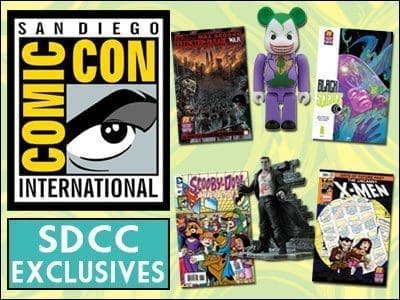 Diamond Comic Distributors is offering 22 extremely limited PREVIEWS exclusives for this year's Comic-Con International: San Diego (July 23-27), including comics with custom covers that celebrate San Diego, an X-Men comic with a Days of Future Past Minimate cover, and the first PREVIEWS exclusives for San Diego from DC Comics and DC Collectibles! Comic con attendees will be able to preview the items at the Diamond PREVIEWS booth #2401 and purchase from retailer booths on the show floor.
The exclusives include a total collection of 22 special edition comics, graphic novels, toys, and collectibles from top publishers and vendors including DC, Marvel, Dark Horse, Image, IDW, Diamond Select Toys, Funko, Medicom and more. The comics and graphic novels feature variant covers made specifically for the San Diego con in addition to exclusive toys and collectibles that comic and pop-culture fans will rave over.
"Diamond will be showcasing the con exclusive items at the PREVIEWS booth, and then we'll guide fans to retailers who have the exclusives available for purchase on the show floor," said Diamond's Director of Marketing, Dan Manser. "These items are extremely limited and a big reason why fans look forward to coming to Comic-Con International: San Diego each year."
For more information and a complete list of SDCC exclusives, make sure you visit the Diamond PREVIEWSworld Booth #2401.
(See Below for Con Exclusive Item Descriptions)  
COMIC BOOKS & GRAPHIC NOVELS
SCOOBY-DOO, WHERE ARE YOU? #47 – SDCC 2014 EDITION
(W/A) Scott Neely
Shaggy gets himself in trouble at the gang's yard sale when he wears a Tiki memento from an old case. Is the Tiki really bad luck, or is something else in play? Shaggy better think fast because Scooby is moving fast — in the opposite direction! This SDCC 2014 edition is limited to 5,000 copies. (APR148206). For a complete list of SDCC exclusives and what retailers on the show floor will be selling them, visit the Diamond PREVIEWS Booth (#2401).
32pgs, FC      SRP: $3.99
TRANSFORMERS VS. G.I. JOE #1 – SDCC 2014 EDITION
(W) Tom Scioli & John Barber (A) Tom Scioli
SPACE WAR I! Earth makes contact with an alien race — and G.I. JOE is on the front lines of first contact! But when the TRANSFORMERS arrive — their version of "peace" does not match our own! This SDCC 2014 edition is available in 3 limited versions: Covers A and B are limited to 3,000 copies each, and the Cover C Incentive Wraparound version is limited to 600 copies. For a complete list of SDCC exclusives and what retailers on the show floor will be selling them, visit the Diamond PREVIEWS Booth (#2401).32pgs, FC      $3.99
(Cover A) APR148301
(Cover B) APR148302
(Cover C) APR148303 (Retailer Variant Version)
BLACK SCIENCE #7 – SDCC 2014 EDITION
(W) Rick Remender (A/C) Matteo Scalera & Dean White
The second arc of the smash sci-fi hit begins here! The mystery of the onion's truth unfolds the deeper one travels. The mythology of the Eververse unveils new truths and new dangers. The team is hurled to a seemingly alien world that holds the key to their true purpose. For what is magic but science that we don't yet understand? This SDCC 2014 edition is limited to 3,000 copies. (APR148437) For a complete list of SDCC exclusives and what retailers on the show floor will be selling them, visit the Diamond PREVIEWS Booth (#2401).
32pgs, FC      $3.50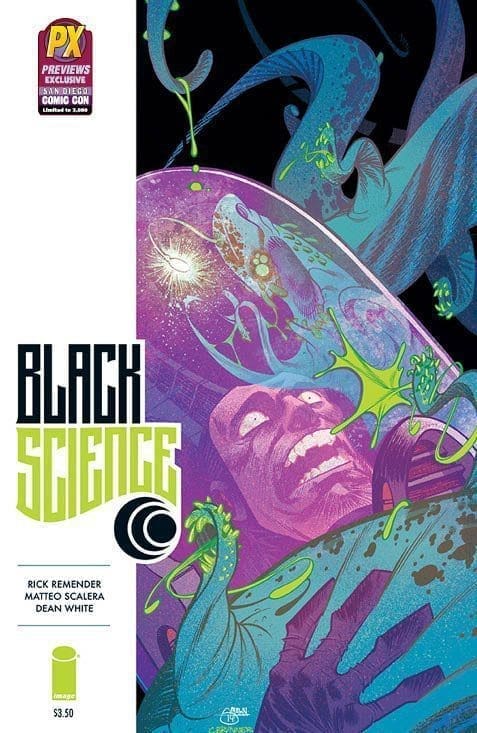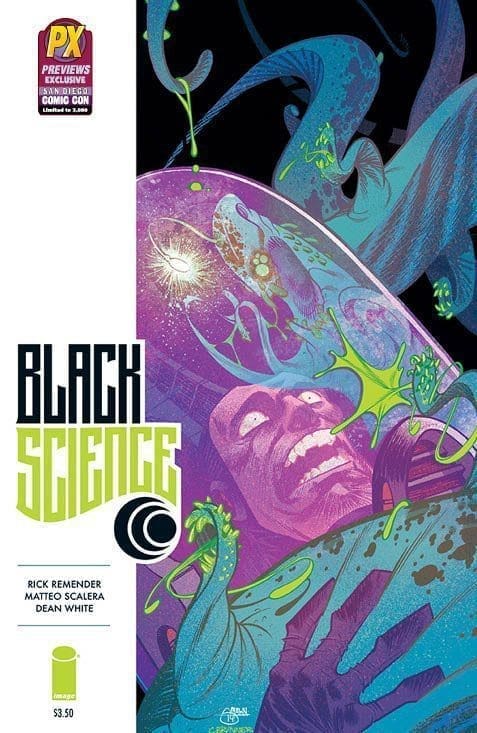 THE LEGENDARY STAR-LORD #1 SKOTTIE YOUNG B&W VARIANT – SDCC 2014 EDITION
(W) Sam Humphries (A) Paco Medina
A brand new series from Sam Humphries and Paco Medina! In this exciting first issue, Peter Quill battles the Badoon, fights to save an orphanage, and still finds time for some flirting with Kitty Pryde — but it's all in a day's work for the Star-Lord! This SDCC 2014 edition is limited to 5,000 copies. (APR148289) For a complete list of SDCC exclusives and what retailers on the show floor will be selling them, visit the Diamond PREVIEWS Booth (#2401).
32pgs, FC      $3.99
ROCKET RACCOON #1 SKOTTIE YOUNG B&W VARIANT – SDCC 2014 EDITION
(W/A) Skottie Young
As defenders of the cosmos go, Rocket Raccoon has faced his fair share of galactic battles. He's been a hero to the weak, a champion of good, a protector of the innocent, a heartthrob to the many intergalactic female species and now — a raccoon on the run?! (I'm sorry, I'm sorry, a "formidable-and-expert-Guardian" on the run. Rocket is NOT a raccoon, okay?) Rocket's high-flying life of adventure and heroism may soon be a thing of the past when he becomes a wanted man — and the authorities are not the only one on his tail! (We'll definitely be overusing that pun!) Superstar creator Skottie Young brings his A-game as writer and artist on the series we've been waiting decades for. Because let's be real, this is the only Guardian of the Galaxy you actually care about. Am I right? This SDCC 2014 edition is limited to 5,000 copies. (APR148290) For a complete list of SDCC exclusives and what retailers on the show floor will be selling them, visit the Diamond PREVIEWS Booth (#2401).
32pgs, FC      $3.99
SPIDER-MAN 2099 #1 B&W VARIANT – SDCC 2014 EDITION
(W) Peter David (A) William Sliney
All-new series from the pages of Amazing Spider-Man! Miguel O'Hara is Spider-Man in the year 2099 but he's currently stuck in the year 2014. He was stranded here by his father who is the head of an evil corporation called Alchemax in 2099. But in 2014, Alechmax has just been formed and Miguel has a chance to stop its corruption before it starts! You'd think being a man out of time would make you a man without enemies, but Spider-Man 2099 is about to discover that he's not the only one hoping for a better tomorrow, one that might be ensured by The Adjustor eliminating Miguel from the time stream altogether! This SDCC 2014 edition is limited to 4,000 copies. (APR148246) For a complete list of SDCC exclusives and what retailers on the show floor will be selling them, visit the Diamond PREVIEWS Booth (#2401).
32pgs, FC      $3.99
UNCANNY X-MEN #23 MINIMATES VARIANT – SDCC 2014 EDITION
(W) Brian Michael Bendis (A) Kris Anka
An Original Sin tie-in! Charles Xavier's last will and testament is discovered. But is something concealed within the pages that might be the X-Men's ultimate undoing? This SDCC 2014 edition is limited to 5,000 copies. (APR148247) For a complete list of SDCC exclusives and what retailers on the show floor will be selling them, visit the Diamond PREVIEWS Booth (#2401).
32pgs, FC      $3.99
EXTINCTION PARADE: WAR #1 – SDCC 2014 EDITION
(W) Max Brooks (A/CA) Raulo Caceres
Max Brooks returns to the frightening world of zombies versus vampires in his groundbreaking follow up series: Extinction Parade: War! The subdead were always a joke to the aristocratic vampire race. Just a speck on the radar of their immortal lives, nothing worth even a moment's notice in their quest for self-gratification through the veins of their host, the human race. But at last they have been pulled from their ignorance into the reality of the world. The human race is facing extinction and should they succumb so too shall the vampires disappear beneath the waves of rotting walking dead. Extinction Parade: War opens the doors to the next violent chapter in Brooks' epic tale with an oversized issue starting the all-out battle for the survival of the races! This SDCC 2014 edition is limited to 1,500 copies. MATURE THEMES (APR148304) For a complete list of SDCC exclusives and what retailers on the show floor will be selling them, visit the Diamond PREVIEWS Booth (#2401).
40pgs, FC      $4.99
ADVENTURE TIME #30 – SDCC 2014 EDITION
(W) Ryan North (A) Liz Prince, Carey Pietsch, Rebecca Tobin, Yumi Sakugawa, Jon Vermilyea
(CA) A: Mike Holmes; B: Nick Iluzada Subscription Cover
It's a rad stand­alone Zine Special! Enjoy this crazy special as the citizens of Ooo create their own zines to share. Marceline has a lot to say about her music, Peppermint Butler has a few life tips for anyone who will listen (and everyone should listen), and Finn creates his very first journal comic. A sick homage to DIY and mini­comics culture printed on uncoated paper and made to look like a zine from the Adventure Time gang! This SDCC 2014 edition is limited to 3,000 copies. (APR148357) For a complete list of SDCC exclusives and what retailers on the show floor will be selling them, visit the Diamond PREVIEWS Booth (#2401).
32pgs, FC      $3.99
DOCTOR WHO: THE TENTH DOCTOR #1 – SDCC 2014 EDITION
(W) Nick Abadzis (A) Elena Casagrande (CA) Alice X Zhang
This diptych variant cover by artist Brian Williamson (Torchwood, Gabba Gabba Hey! The Graphic Story of the Ramones) has been created especially for Diamond and features the Tenth Doctor and the Eleventh Doctor in front of the San Diego Gaslamp District. Day turns to night, and the SDCC crowds turn monstrous in this pair of interlinked variants! In this issue:The tenth Doctor is back, in an all-new ongoing series! Gabriella Gonzalez is stuck in a dead-end job in her family's New York laundrette, dreaming of college and bigger, better, and brighter things. So when a strange man with an even stranger big blue box barges into her life on the eve of the Day of the Dead celebrations, talking about an infestation of psychic aliens, she seizes her chance for adventure with both hands. After Donna's tragic exit, the Doctor thought he was done with companions. But Gabby Gonzalez is going to prove him wrong — if she survives the night! This SDCC 2014 edition is limited to 3,000 copies. (APR148294) For a complete list of SDCC exclusives and what retailers on the show floor will be selling them, visit the Diamond PREVIEWS Booth (#2401).
32pgs, FC      $3.99
DOCTOR WHO: THE ELEVENTH DOCTOR #1 – SDCC 2014 EDITION
(W) Al Ewing, Rob Williams (A) Simon Fraser (CA) Alice X Zhang
This diptych variant cover by artist Brian Williamson (Torchwood, Gabba Gabba Hey! The Graphic Story of the Ramones) has been created especially for Diamond and features the Tenth Doctor and the Eleventh Doctor in front of the San Diego Gaslamp District. Day turns to night, and the SDCC crowds turn monstrous in this pair of interlinked variants! In this issue: The eleventh Doctor returns in an all-new ongoing series, with a time-twisting leap into the unknown! Geronimo! Alice Obiefune has just lost her mother when the Doctor explodes into her life. But what does a grieving young woman have to do with the career of a 70s musician, an amnesiac alien time traveler, and a terrifying cosmic threat? In the wake of the second Big Bang, discover what the Doctor gets up to when Amy and Rory aren't around! Plus, every issue includes a "Titans" strip and a brand-new humor strip. This SDCC 2014 edition is limited to 3,000 copies. (APR148295) For a complete list of SDCC exclusives and what retailers on the show floor will be selling them, visit the Diamond PREVIEWS Booth (#2401).
32pgs, FC      $3.99
TOYS & COLLECTIBLES
BATMAN: ARKHAM CITY: HARLEY QUINN STATUE – SDCC 2014 EDITION
What's black and white and red all over? This beautiful new statue based on Arkham City's Harley Quinn! Harley's stunning design and edgy new costume is perfectly complimented by the statue's minimalist color scheme, so order one today before it's too late! This hand-painted, cold-cast porcelain statue is packaged in a 4-color box. Sculpted by Jack Mathews, the statue measures approximately 9.25″ tall. This SDCC 2014 edition is limited to 1,000 pieces. (APR148205) For a complete list of SDCC exclusives and what retailers on the show floor will be selling them, visit the Diamond PREVIEWS Booth (#2401).
Statue $124.95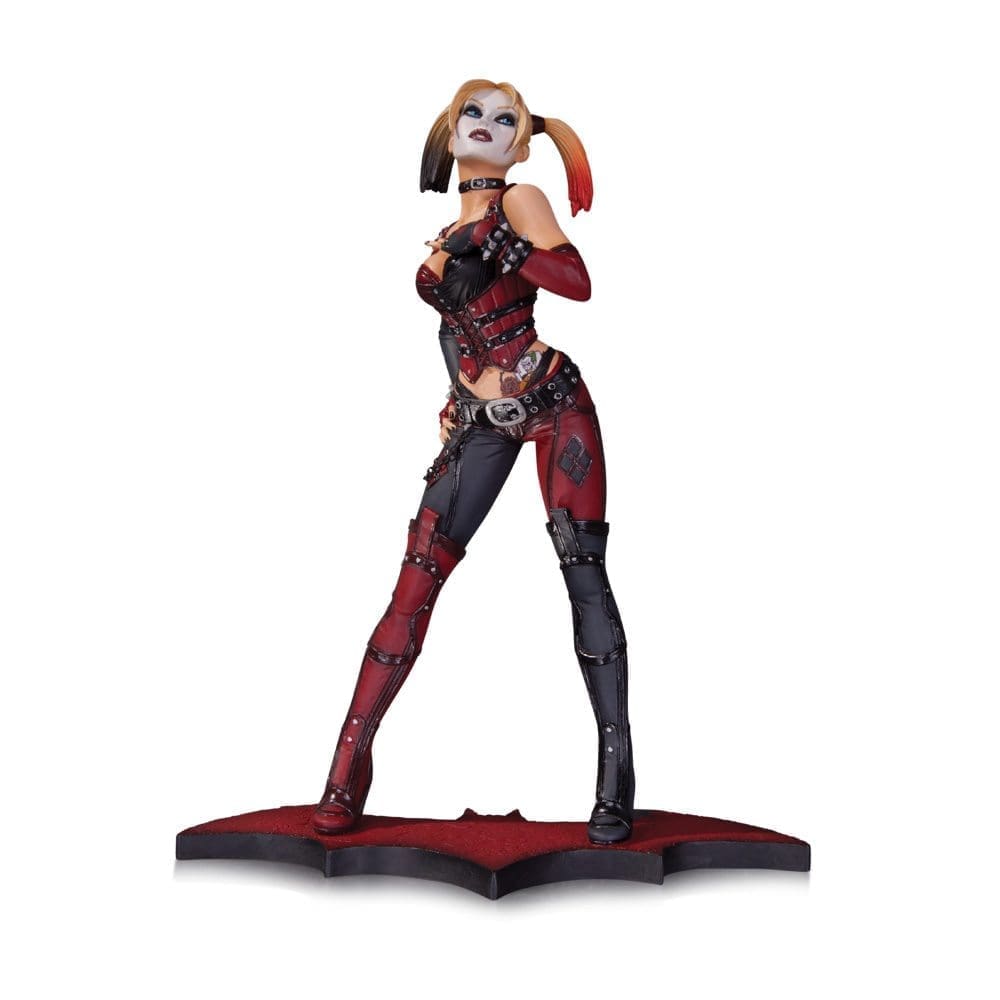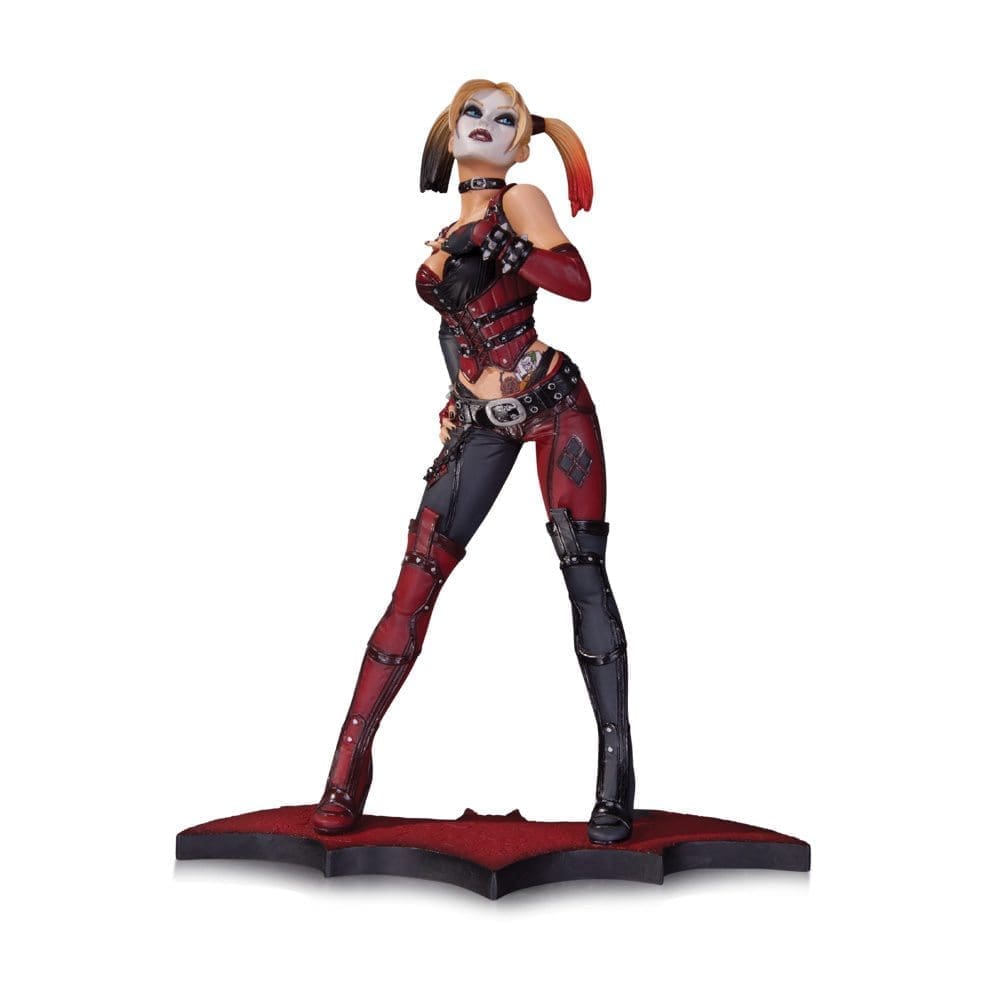 DIAMOND SELECT TOYS & COLLECTIBLES
GODZILLA: BURNING GODZILLA SDCC 2014 EXCLUSIVE VINYL BUST BANK
A Diamond Select Toys Release! Sculpted by Gentle Giant! Godzilla is more than just a giant lizard – he's also a walking nuclear reactor! This new, limited-edition vinyl bank of the King of All Monsters depicts him as he appeared in 1995's Godzilla vs. Destoroyah, when his atomic heart began to overheat. With an all-new black-and-orange color scheme, this 8-inch bust bank features collectible-quailty paint applications, as well as a coin slot on his back and an access door in the base. Packaged in a clear polybag. This SDCC 2014 edition is limited to 1,000 pieces. (FEB148247) For a complete list of SDCC exclusives and what retailers on the show floor will be selling them, visit the Diamond PREVIEWS Booth (#2401).
Bank  $29.99
MARVEL MINIMATES: X-MEN DAYS OF FUTURE PAST COMIC SDCC 2014 EXCLUSIVE BOX SET
A Diamond Select Toys Release! Designed by Art Asylum! The newest X-Men movie is blowing minds and setting records with its time-travel storyline, and now DST is going back in time to 1981! That's when the original "Days of Future Past" story line came out in Uncanny X-Men, and this 4-pack of Minimates captures four of the storyline's most important characters! Future Wolverine, Future Kitty Pryde, Mystique, and a Future Sentinel each stand 2 inches tall and feature interchangeable parts and accessories. Packaged in a full-color window box. This SDCC 2014 edition is limited to 3,000 pieces. (FEB148243) For a complete list of SDCC exclusives and what retailers on the show floor will be selling them, visit the Diamond PREVIEWS Booth (#2401).
4-Pack SRP: $19.99
SIN CITY SELECT: BLOODY MARV SDCC 2014 EXCLUSIVE ACTION FIGURE
A Diamond Select Toys Release! Sculpted by Jean St. Jean! With a new line of figures based on the groundbreaking film hitting stores soon, DST is pleased to present their limited-edition exclusive Sin City figure for SDCC: Bloody Marv! This version of Marv features a unique paint scheme, with a bright red spatter of blood standing out against his black-and-white face and clothes. Marv also comes packaged with a sculpted diorama display base and a variety of deadly accessories he'll need on the streets of Sin City, all packaged in the famous Select display packaging, complete with spine reference artwork. This SDCC 2014 edition is limited to 1,300 pieces. (FEB148221) For a complete list of SDCC exclusives and what retailers on the show floor will be selling them, visit the Diamond PREVIEWS Booth (#2401).
Figure SRP: $24.99
STAR WARS: SPIRIT YODA SDCC 2014 EXCLUSIVE QUARTER SCALE VINYL BANK
A Diamond Select Toys Release! Sculpted by Oluf Hartvigson! Toys, exclusives… a Jedi craves these things! DST's 7-inch Yoda bank returns in spirit form, as a translucent blue vinyl figure exclusively available at SDCC! In scale that matches previously released Ultimate Quarter Scale action figures and banks, this new limited edition of the original Yoda bank includes a separate cane accessory, and has a coin slot on the back as well as an access door in the base. Packaged in a clear polybag. This SDCC 2014 edition is limited to 1,500 pieces. (FEB148245) For a complete list of SDCC exclusives and what retailers on the show floor will be selling them, visit the Diamond PREVIEWS Booth (#2401).
Bank  SRP: $22.99
THE WALKING DEAD MINIMATES: DAYS GONE BYE B&W SDCC 2014 EXCLUSIVE BOX SET
A Diamond Select Toys Release! Designed by Art Asylum! The Walking Dead has reached its 125th issue, and is still one of the top-selling comic books in America! DST is commemorating the anniversary with a four-pack of key characters and zombies as they appeared in the very first story arc, "Days Gone Bye." Rick, Shane, Glenn, and a Zombie all appear for the first time in glorious black-and-white, just like the comic book! Each fully poseable Minimate mini-figure stands 2 inches tall and features interchangeable parts and accessories. Packaged on a full-color blister card. This SDCC 2014 edition is limited to 3,000 pieces. (FEB148244) For a complete list of SDCC exclusives and what retailers on the show floor will be selling them, visit the Diamond PREVIEWS Booth (#2401).
Box Set  SRP: $19.99
POP! DC HEROES: DEATHSTROKE "UNMASKED" VINYL FIGURE – SDCC 2014 EDITION
Longtime Teen Titans arch-villain and current foil to TV's Arrow, Deathstroke, is captured as this cute POP! vinyl figure, available in a new "Unmasked" version exclusive to San Diego Comic-Con 2014. Funko's POP! vinyl figures stand 3 3/4 inches tall and feature a unique urban and stylized design that have made them fan-favorites. This SDCC 2014 edition is limited to 1,500 pieces. (JAN148307) For a complete list of SDCC exclusives and what retailers on the show floor will be selling them, visit the Diamond PREVIEWS Booth (#2401).
Vinyl Figure   $11.99
SDCC 2014 DC SUPER POWERS: GREEN LANTERN BE@BRICK – SDCC 2014 EDITION
From Medicom Toys! In brightest day, in blackest night, the Green Lantern Be@rbrick shall not escape your sight! Available exclusively at the San Diego Comic-Con 2014, this 2" tall figure features Medicom's Be@rbrick platform redone in a Green Lantern uniform. This SDCC 2014 edition is limited to 1,500 pieces. (NOV138233) For a complete list of SDCC exclusives and what retailers on the show floor will be selling them, visit the Diamond PREVIEWS Booth (#2401).
Bearbrick      $14.99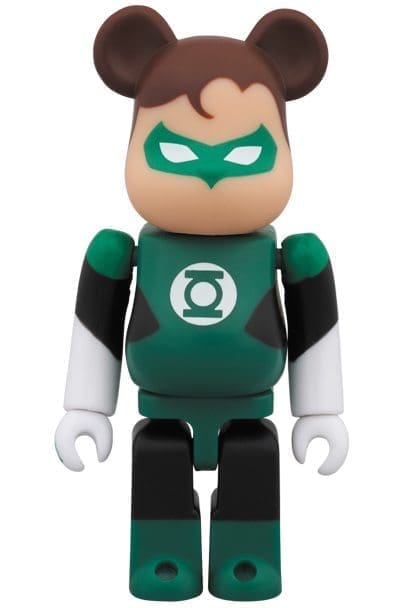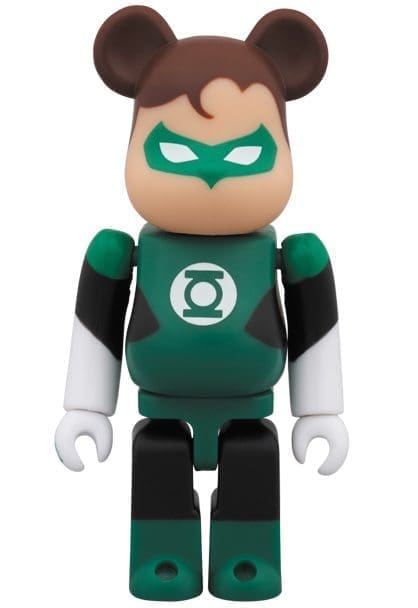 SDCC 2014 DC SUPER POWERS: THE JOKER BE@RBRICK – SDCC 2014 EDITION
From Medicom Toys! Gotham City's Clown Prince of Crime joins Medicom's fan-favorite Be@rbrick line in a new piece exclusive to San Diego Comic-Con 2014! This figure stands roughly 2" tall and gives The Joker a makeover in Medicom's Be@rbrick platform. This SDCC 2014 edition is limited to 1,500 pieces. (NOV138234) For a complete list of SDCC exclusives and what retailers on the show floor will be selling them, visit the Diamond PREVIEWS Booth (#2401).
Bearbrick      $14.99