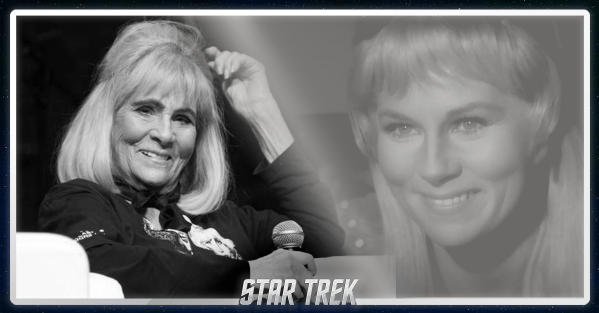 Startrek.com broke the news tonight that Grace Lee Whitney, the lovely and vivacious actress who portrayed Classic Trek's Yeoman Rand has died.
According to her family, the actress and singer died on May 1 at the age of 85, passing away peacefully in her home in Coarsegold, California.
She played Yeoman Rand on 8 episodes of Star Trek and then returned for The Motion Picture, The Search for Spock, The Voyage Home, and The Undiscovered Country, as well as in the "Flashback" episode of Voyager and the fan films "World Enough and Time" and "Of Gods and Men."
Born Mary Ann Chase in Ann Arbor, Mich., she started out as a singer and dancer who opened in clubs for performers including Billie Holliday and Buddy Rich.  She was also known as the inspiration for the first "Chicken of the Sea" mermaid.
She wrote her autobiography "The Longest Trek: My Tour of the Galaxy" in 1998 which included details of her leaving Star Trek after the first season and her subsequent battle with drugs and alcohol.