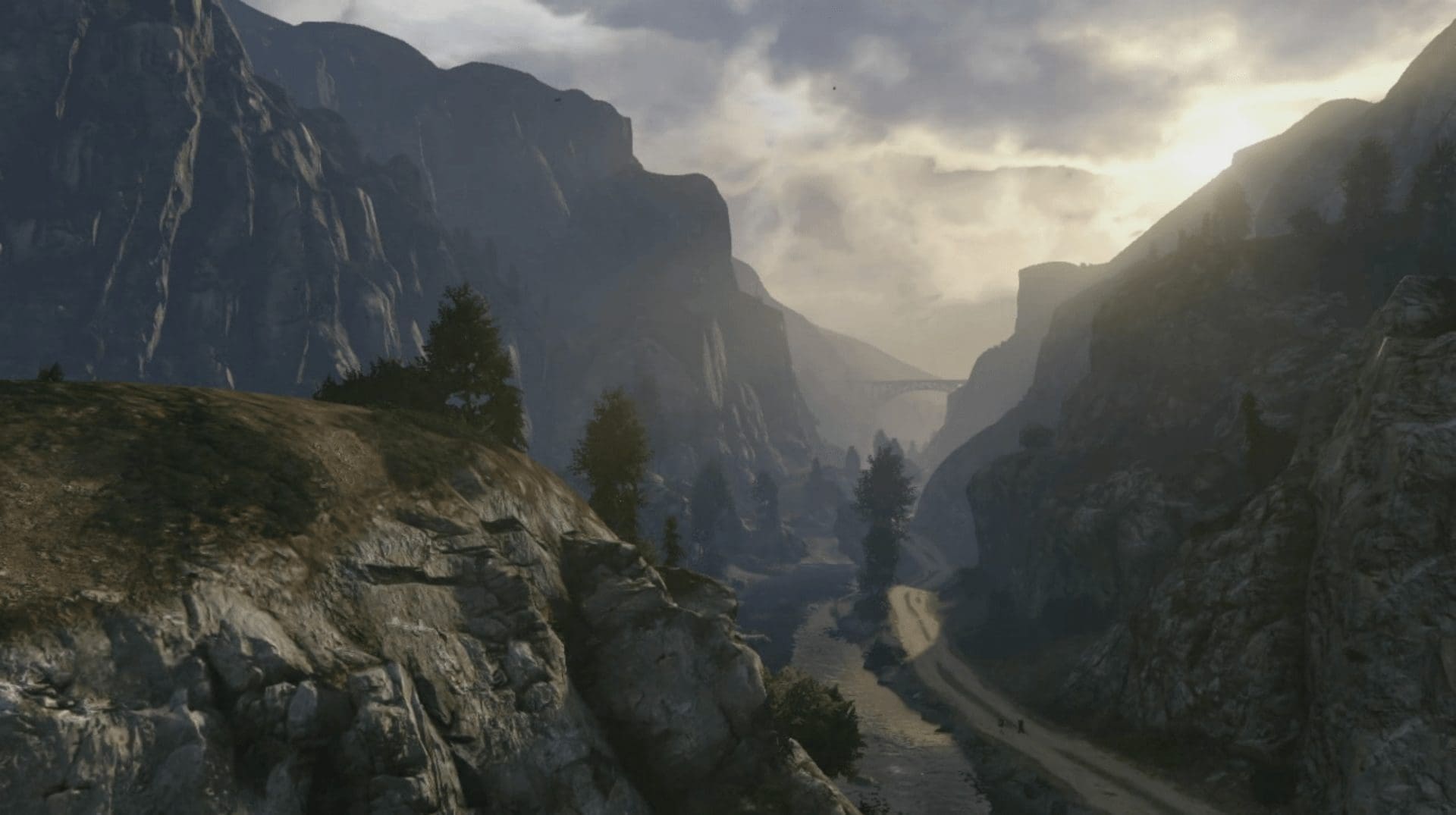 The morning of reckoning has arrived, as today Rockstar Games handed down the first gameplay trailer for arguably this fall's most anticipated game: Grand Theft Auto V. Up until this point we've only had brief sojourns into the world of GTA V, mostly in the form of character trailers and a look at the cover art. Now we get to see the world of Los Santos in all its glory, or you will if you look below:
The folks at Rockstar Games sure have aimed to impress with that in-depth look at GTA V and the world our soon to be 'heroes' inhabit. In an effort to help you figure out what you just witnessed, I'll break down some of the gaming features shown off.
Mini-Games and Side Quests
Golf – Michael can be seen enjoying a nice round of golf.
Parachuting – In a world that now includes planes — did you see those beautiful birds – it's no surprise that parachuting has been added. Nice to see some base-jumping as well.
Biking – No, I'm not talking about simply riding around a neighborhood on a bike from Grand Theft Auto: San Andreas, but full-on cross-country style races. Though, it is safe to assume day-to-day bike use is available as well.
Tennis – Another favored pastime of country club elite, Tennis makes its debut in the world of Grand Theft Auto.
Hunting – Trevor, the more unstable member of the game's trio, lives outside the grind of the city, which means plenty of game to hunt. Equip your favorite rifle and hit the wilderness for some hopefully Red Dead Redemption style of hunting. (Please, no random cougars!)
Gun Range – Always a feature in Grand Theft Auto games, it seems AmmuNation's indoor gun range is making a return.
Bounty Hunting – Outside of the main story missions it seems at the very least that Trevor can partake in an array of bounty hunting tasks. The art of finding people in the world and turning them in for profit has never looked more desirable.
Scuba Diving – Here's a feature that is sure to entertain, or at the very least relax players. Now, my question is how will scuba diving factor into the main story missions? It should be safe to assume that at some point we'll be committing a heist incorporating aquatic elements, right?

Stock & Real Estate – Real Estate — my personal favorite feature of past GTA games — is making its return in GTA V. It's not coming alone, as it is venturing out with a friend known as stock trading. How will these two features work in the world of GTA V? We'll find out in just a couple short months.
There are two other major takeaways from this trailer: Character stats and setting up the perfect (imperfect) heist.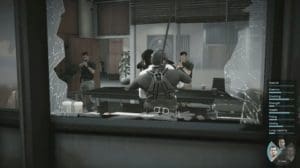 First off, we're given a nice look at an often written-up part of the games, featuring the character-switching dynamics mid-mission. Michael is seen rappelling down the side of a building from a Trevor-piloted helicopter. He crashes through the window of an office building, grabbing someone inside. The player then switches to Franklin, still in the helicopter, to use his marksman skills to pick off Michael's harassers. We then jump back to Michael as he's dangling out the window of the building. During the brief pauses as the characters switch we can see a series of stats (Special, Stamina, Shooting, Strength, Stealth, Flying, Driving, Lung Capacity) depicting tasks each character should likely focus on. Note: In that same picture (top-left) there is also a pie-chart area showing off each character's portrait. Of note is the bottom-slice which shows a silhouette overlaid with the "83 days". I'm not sure what this means exactly, but it's curious to say the least.
We can do things the smart way, or the dumb way.
Heists are an idea not wholly unfamiliar to players of Grand Theft Auto. Each game has had some sort of heist mission thrown in, as a way of adding a classic gangster film element to the fold. This was done with the greatest success in Grand Theft Auto IV with the mission "Three Leaf Clover". In Grand Theft Auto V the idea of the heist is being expanded upon as part of the actual gameplay story, not just a single story mission. Based on the video, we're given complete control over how to pull off our robbery attempts, from hiring a crew to tactics to how to enter the building. Tactics can consist of deciding whether to drop gas grenades and go in quietly, or to go in full-steam, threatening people and waving guns around. It's safe to assume that your tactical choice will determine what, if any, resistance the player comes across and perhaps affect the take at the end of the mission.
Grand Theft Auto V is shaping up to be a real Game of the Year contender, which should come as no surprise to anyone. GTA V will be releasing on Xbox 360 and Playstation 3 on September 17th, so mark your calendars, assuming you have calendars.
[SlideDeck2 id=9271]
"A man of many talents; Joshua is a gamer, writer, Sith Lord in training and a wannabe Time Lord. Assuming the mantle of Director of Gaming for Geek News Network, Joshua has made it his goal to bring the gaming division of GNN forward.
Will he succeed? Well, only by keeping up to date with the GNN gaming division will you be able to find out.
You can read more of Joshua's semi-regular thoughts on Twitter @BearPunch. He also co-hosts the GNN Gaming Podcast and the "Constantly Calibrating Podcast.
Joshua can be contacted at Joshua.Silverman@geeknewsnetwork.net for more information on GNN Gaming."