It's been seven years since we've delved into the intergalactic universe of the Men in Black, and the last entry was a bit stale at the box office. It certainly seems time for a reboot with a fresh coat of paint and shiny new actors. Men In Black: International injects some new energy into this franchise while keeping the same charm and humor from its predecessors.
The new film stars Chris Hemsworth and Tessa Thompson as Agent H and Agent M, who pair up together on a mission to keep an alien ambassador safe while he hits the town. But things go south when they are attacked by a mysterious set of twins with incredible and unusual powers and the two agents find themselves stranded and on the run from their own organization. As they try to uncover clues and elude other agents, they uncover a terrible secret that could destroy all of the galaxy.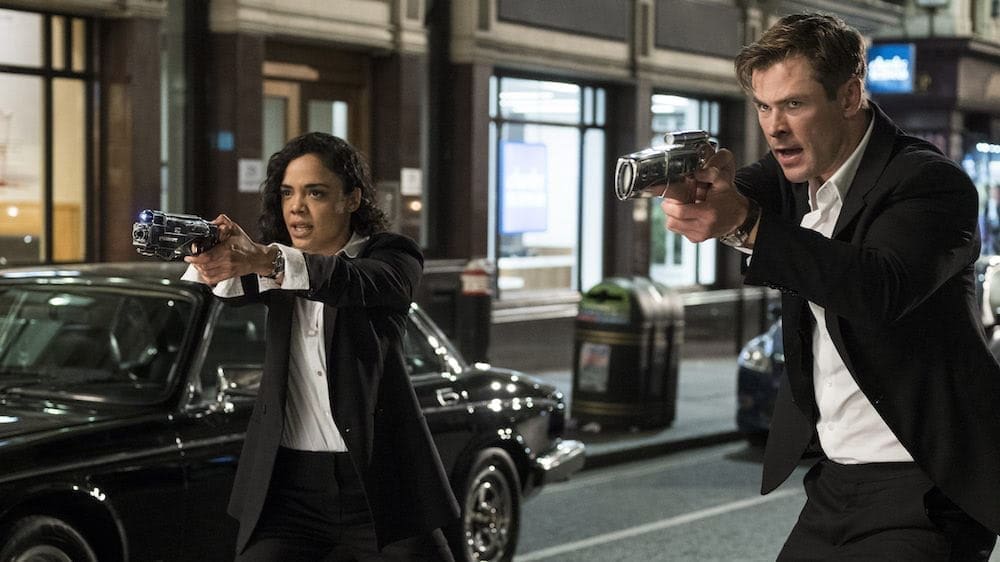 Tessa Thompson stars as the rookie agent who spends her life trying to find the Men in Black after encountering them as a child. When she is given the chance, she teams up with Agent H, who seems to be a washed up agent who's only saving grace is that he saved the world years earlier.
Thompson and Hemsworth's chemistry on screen is very apparent and fun, but often times it's used as a crutch in scenes where the dialogue is a bit on the nose. This movie is pure brain candy, and even it's more serious scenes are pretty shallow in comparison to say the first two Men in Black movies. Instead of pondering on the existence of life outside of Earth, the two agents heart to heart moments consist of asking why Agent M has never fallen in love. While it's not the most thought provoking, it's still charming and sweet.
Men in Black: International is a pretty by-the-books action adventure, but it's entertaining and fun. The jokes are casual but hilarious and the villainous aliens, played by Les Twins – a hip hop dance duo from France, are scary in the best way. This film is a good way to beat the summer heat and you don't even have to get neurolized afterward.
About Men In Black: International
Synopsis: A curious young girl has an encounter with an alien that sets her on a journey to find the mysterious "Men in Black." When she finds the organization and becomes an agent, her first assignment is with a seasoned agent who has lost his touch.
Director: F. Gary Gray
Writer: Matt Holloway, Art Marcum, Lowell Cunningham
Stars: Chris Hemsworth, Tessa Thompson, Liam Neeson, Emma Thompson, Kumal Nanjiani
Rated: PG-13
Runtime: 1 Hour, 55 Minutes