Throughout the press junket for The Boys during San Diego Comic-Con 2019, I watched and paid attention to what the actors and the showrunner were saying about the show. Their synopsis got me a little more excited about the show than I previously was. Being an avid viewer of Preacher and Supernatural and knowing that Seth Rogen, Evan Goldberg, and Eric Kripke were at the helm of The Boys, something told me that they were going to do their best to give the viewers a show that felt like it came from a comic book while also adding a sense of realism to it. The streaming series is adapted from the comic book series of the same name by comic book writer Garth Ennis (co-creator of the Preacher comic series) and Darick Roberston.
After learning that The Boys comic series also came from Ennis, my gut told me that the show would have the same gory and dark feel like Preacher has had during its run. I started the show immediately when it premiered and instantly got hooked. Unlike other shows that have come out on streaming services, I took my time with this one. There's an unwritten law that we're supposed to binge a show in one sitting in today's streaming culture but there was a desire to make this one last a little longer than others. The universe of The Boys is rich and complex and it required some additional research about the show's origin.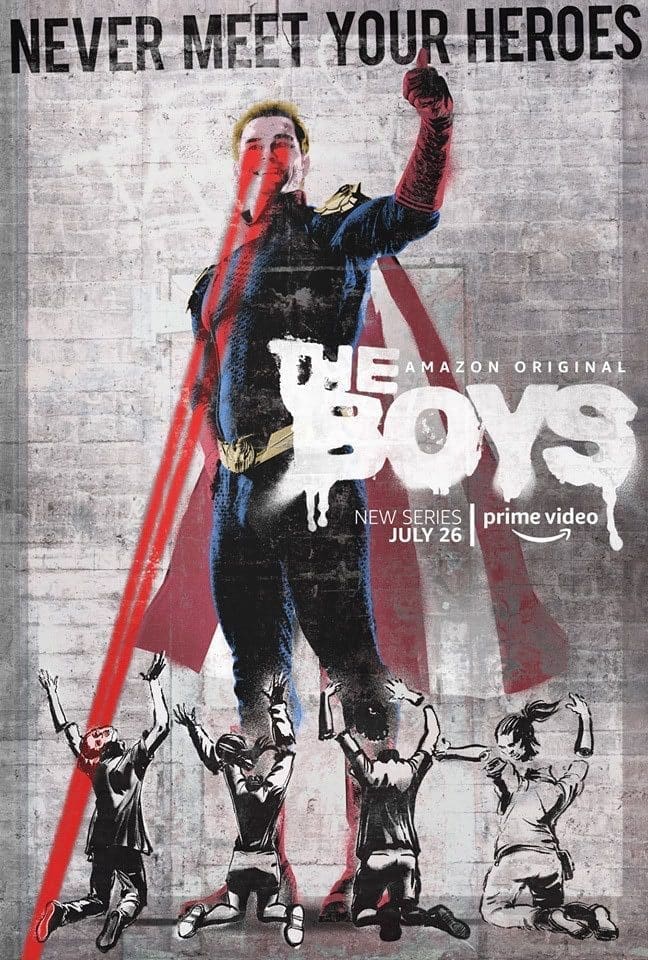 Usually, in these shows, they have a lot of character development when it comes to superheroes or the other characters involved with them but this one was a slow burn on the character development. It was surprising that there were characters on both sides of this story that evolved throughout this first season. The show mentions and shows a lot of characters that we do not get to fully see in action. While hearing about these characters and not seeing them use their powers that are talked about made it a little disappointing that they were not on screen. Hopefully, in the next season, the writers and showrunners can give us more of Black Noir and Lamplighter. Amazon Prime gave us some background on Lamplighter's powers with the X-Ray feature and it sounded really cool to see on screen.
The characters that stood out the most were Frenchie, Queen Maeve, and The Deep. Seeing the layers of Frenchie's story throughout the season with how he ticks and what makes him the way he is as well as learning more of his childhood when he was connecting with The Female made it easy to sympathize with him. Maeve seemed liked a cold-hearted hero when we first meet her but thankfully, that changes as the show goes on and the writers give us a deeper look into her origins. Having us sympathize with her as the season progresses was a good move and had me wanting more of her backstory. We learn what her weakness is and how hard it is for her to deal with said weakness. It was nice to see that she actually has problems with how certain things are done when rescuing/helping civilians but she can't do anything about it at this point in her career as a hero. The Deep was another one of the more interesting heroes that we have the fortune to watch. He starts the series as a horrible person/hero and that comes back to hurt him in ways that we expect to happen. Vought International, the corporation that markets and monetizes our heroes, tells him to make amends. He reluctantly goes along with his commitments even though he does not fully support it. There's a sequence where he wants to do more with animals and activism with the environment and we see that play out in an interesting and hilarious way.
The Boys has only been available since the end of July but Amazon already renewed the show for a second season before it even premiered. And for good reason since it is something different in the superhero genre. A lot less gloss and plenty of grit and realism. With shows like The Umbrella Academy and Preacher, the genre has been getting a new audience of tv fans and non-comic fans. If you have already finished the show, do not worry because they are currently working on next season and it should be back again sometime next year.
About The Boys
Synopsis: The superheroes have become corporate entities that do not answer to anyone except for Vought International. The Boys intend to change that through any means necessary.
Series Creators: Seth Rogen, Evan Goldberg, and Eric Kripke
Based on: The Boys by Garth Ennis & Darick Robertson
Starring: Karl Urban, Jack Quaid, Antony Starr, Erin Moriarty, Dominique McElligott, Jessie T. Usher, Laz Alonso, Chace Crawford, Tomer Kapon, Karen Fukuhara, Elisabeth Shue, Simon Pegg
Details: 1 season (8 Episodes), currently streaming on Amazon Prime
Website: https://www.amazon.com/gp/video/detail/B07QMKXRFL/ref=atv_hm_hom_1_c_iEgOEZ_2_2