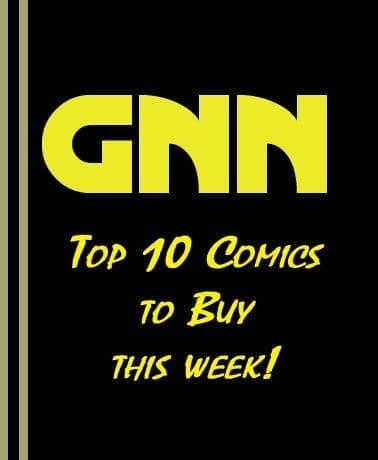 1.The Rocketeer Cargo Of Doom #1
– Writer Mark Waid killed it at the Eisner Awards this year–Best single issue (or one-shot), Best continuing series, and Best writer. So when I heard he would be doing a Rocketeer mini-series with Daredevil artist Chris Sammnee, I was ecstatic with the news. I love The Rocketeer and Mark Waid, so all I can say to IDW is "SHUT UP AND TAKE MY MONEY".

2. Swamp Thing Raise Them Bones TPB Vol .01
– This trade collects issues #1-7 of Alec Holland as Swamp Thing as the green fights against the rot! Created by Len Wein and Bernie Wrightson back in the 1970's. Many great writers have tackled this great character and I am happy to say that writer Scott Snyder (Batman, American Vampire) only adds to this great list. Additionally Yanick Paquette artwork is just outright beautiful. Fill-in artist Marco Rudy has done a good job as well. This book is a must have if you are a Swamp Thing fan!

3. Deadpool Kills Marvel Universe #4
– This is the last issue of a somewhat fun series. Literally Deadpool has gone mad and killing all the heroes and super villains of the marvel universe. However, the great thing about all this madness is that there is actually a good story here that fits. If you can't pick this up make sure and pick the trade if you can for a violent good time!

4. Batman The Dark Knight #12
– We are two issues in with new writer Gregg Hurwitz and god what a difference, a good difference. Scarecrow is reeking havoc and kidnapped the Dark Crusader. We can only hope he makes it out alive! Lastly, I freaking love David Finch's artwork but man he isn't made to be a writer. Glad he is working full-time on art duties and letting an acclaimed novelist Hurwitz shine here!

5. Amazing Spider-Man #692
– Didn't we get an ASM last week?? Well now Marvel is celebrating 50 years of Spidey! Special over-sized issue this week and we also will get  introduced to Alpha, Spider-Man's new SIDEKICK?? Also how about all the sweet variant covers?

6.  Mars Attacks #3
– The invasion has begun! If you're into dark humor, fantastic action and Eisner-Winning writer and artist behind the Martians, then this book is for you. Lastly, I am super jazzed about the mutant insects they will bring with them!

7. Batman Incorporated #3
– This book was actually slated to come out almost a month ago but due to the shooting that happened in Aurora, DC Comics decided to hold back due to the content. Writer Grant Morrison and artist Chris Burnham have been continuing their leviathan story, where Bruce is determined find out who is trying to kill Damien. But we welcome Matches Malone back with open arms! I will be sad when Grant Morrison leaves superhero comics forever….

8. Invincible Iron Man #523
– I haven't read much of this series mainly because I wasn't a huge fan of Matt Fraction. This issue will be part three and I am truly enjoying the story. Tony Stark is captive thanks to Mandarin and Tony is under command to build Titanomechs. The artwork by Salvador Larroca is amazing and the colors by Frank D'Armata are magical. Jump on this before Greg Land takes over in November!

9. The Punisher #14
– Greg Rucka's time with Frank Castle will be coming to an end soon, which is a mad bummer. His run has been one of my favorites and I can't wait till October when Punisher: War Zone starts. Castle has a kill list and The Avengers are on it!

10. Untold Tales Of Punisher Max #3
– This is a one-and-done story/issue but the only reason this is on the list is one reason- Megan Abbott. She is an acclaimed crime novelist AND film noir historian tackling comics this time around. Time Magazine even named her one of the "23 Authors That We Admire" in 2011. Needless to say I am excited to see her take on Frank Castle. However, I bet Esad Ribic's artwork will do the book more justice!
Lover of Comic books, film, television, fresca and video games. Check out my blog dweebofthedead.tumblr.com to see what kind of shenanigans I got going on, or check out my twitter for up to date ramblings @dweebofthedead.
Email: chuckie.valdez@geeknewsnetwork.net