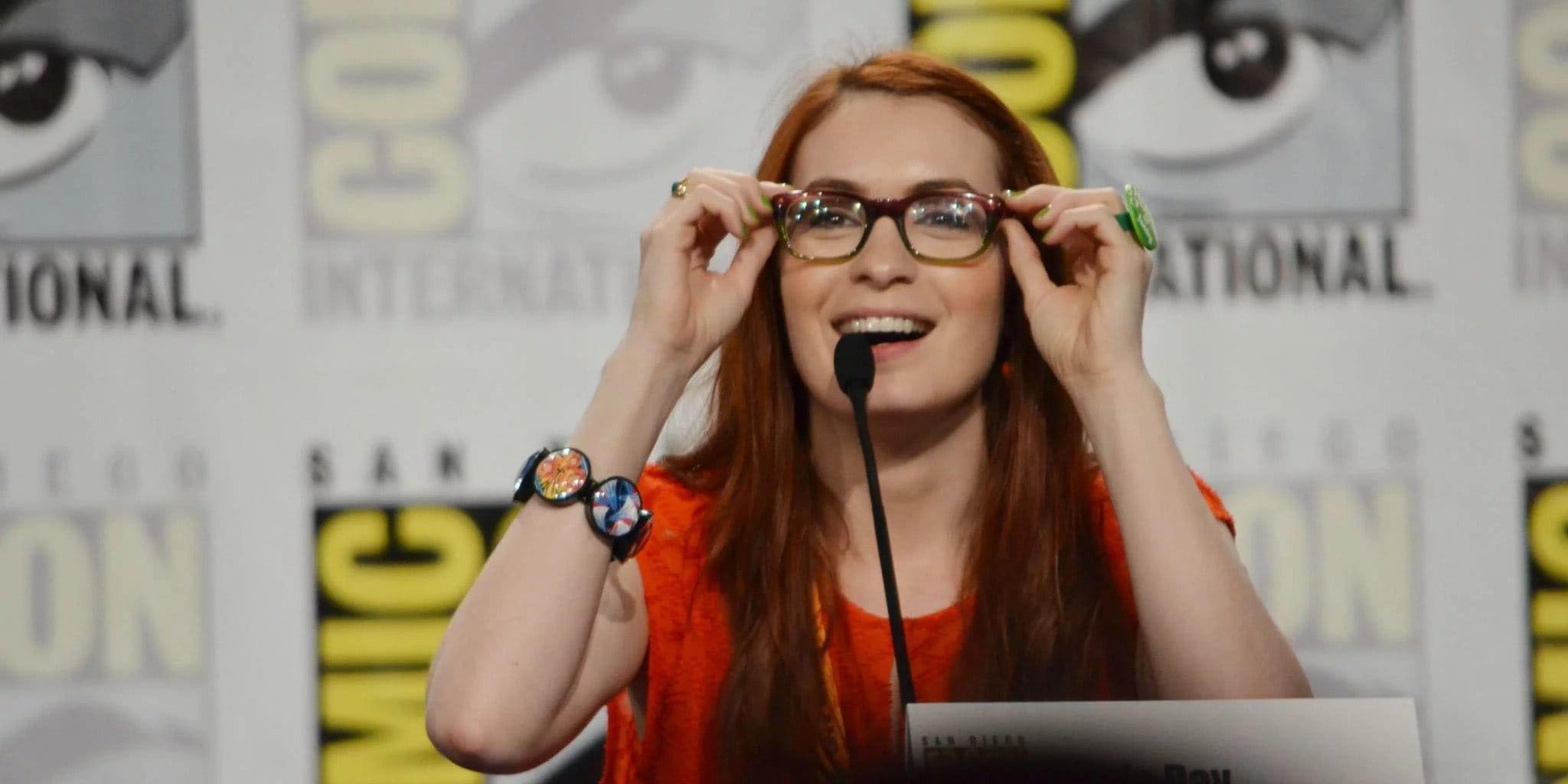 This past Friday the 13th, we got the chance to chat with Felicia Day about a couple of upcoming projects she has releasing this fall. Season 2 of Voyage to the Stars, a sci-fi improv comedy podcast with the addition of a new cast member along with a star studded line up of guests, and her new book "Embrace Your Weird" which is geared towards helping people overcome creative struggles and get you back on track to being the best version of yourself you can be!
---
GNN: So, starting out, season two of Voyage to the Stars. The first season was like a smash hit, so everybody's super excited for the second season coming. So I did kind of want to break into that first and just see, was the creative process any different with this season, as opposed to the first? Coming in now, you've got some base material to go off of, so how was the process different from the first time around?
Felicia Day: Yeah, uh, well, the first time, the first season was great, its a sci-fi improvised podcast, so me and Colton Dunn, Janet Varney, and Steve Berg, we make up all the dialogue in between story points that we get from the creator, Ryan Copple. So we kind of know point A and point B in a scene, but we don't know how to get there, which is the fun part. And season two kind of took all of that and put it on steroids a little bit. We have a brand new cast member, Kirsten Vangsness. She was on Criminal Minds for many years, and she plays kind of a lesbian cat alien character who's super funny, and is kind of an antagonist to some of the group, but a friend to others. And so, this season, you know, not only has funny moments as we're trying to get back to Earth to be able to save the planet and everything like that, which is great. We're still doing our shenanigans where we, like, blow up planets sometimes, but we also have some really nice character moments between the characters. There's great character arcs that kind of go through the season, and as you see kind of characters go in and out of each other's lives, I think it's really awesome. The writing is great, and being able to play with these awesome actors is a delight.
GNN: Leading up from that, you know, as far as adding a new cast member, there's also like a stellar lineup of guest stars this season, too. Who was the most fun to kind of have on the show for those guest spots?
Felicia Day: Oh, wow, they are all so funny! Like, we have a couple of people from The Office this season, which was a huge thrill. Angela Kinsey, Oscar Nunez, I personally loved my friend Jesse Cox, who is really funny. He's a big YouTube streamer and writer, and just one of my very good friends. Um, I mean, I, I have to tell you, everybody who came in, whether they were friends of mine or not, made me laugh so hard. We have so much stuff on the cutting room floor that we couldn't fit in, and I'm excited to see what actually made the cut.
GNN: It's been about three years since your last book release, and with that one, it was kind of more a biography, but "Embrace Your Weird" seems more of a self-help sort of thing. So I did kind of want to ask, what made you want to try and write this book to help this new generation of creative minds try and find that creative expression that the world nowadays kind of frowns upon? And what made you want to help them try and find that spark?
Felicia Day: Yeah, after I wrote my last book, and, you know, just in general in my career, I'm kind of a DIY person. I figured out how to get my voice out there, despite not fitting into the system very well. And people have said that that inspires them a lot, and it made me realize that my creativity isn't just about me, it's about the way I affect other people, and I want to encourage people to have that kind of fulfillment that I have in my life through their own creativity. There are a lot of things that keep us from getting our voice out there, and they're not important, or they are things that got put there for the wrong reasons. And I think, inherently, we're all creative, we just have to figure out how, and why, and when we can let that voice out there into the world. So this book was kind of designed to, in a fun, whimsical way, do that self-help thing to kind of get you that boost to get over the hump and started on the road to, you know, expressing yourself.
GNN: How did writing this book differ from other past experiences with other written projects that you've done?
Felicia Day: You know, every project is different. They all have their things that you'll take away from them, as far as victory and failures. This one right here is really one of those things. It was one of those things where I really learned more about myself through this process, and got over a lot of creative blocks that I had put in my way, or had been put there over the years. After leaving my company, Geek & Sundry, I felt kind of lost a little bit, and the process of putting myself back together and prioritizing my life was kind of a long process that I kind of tried to infuse in this book. As well as just kind of confronting things I hadn't confronted before in my life in a more aggressive way, like dealing with anxiety, procrastination, and fear of failure. All of these things pop up in all of our lives for one reason or another. It's going to happen, it's just, we just need tools to get over them. And I kind of got to the point in my life where I'm like, I just want to be able to battle these things more aggressively. And so, I put a lot of these things in the book. I do it in a funny way, but always with a mind of just allowing people to be themselves more.
GNN: Leading off of that question, is there any particular subject in the book that you feel the most connection to, or you felt might be the most important for you?
Felicia Day: I mean there's a big section about anxiety, and the techniques that I have developed to deal with that. The analogy is a six-sided dice. Each of the six different techniques that kind of work with me, or work for me, in one way or another when I'm kind of confronting a situation or a scenario where I'm kind of feeling a little out of control with my anxiety. I'm a very anxious person, it's something I battle daily. If I have too much sugar, or I have too much caffeine, or I just put myself in a dangerous situation, I kind of go crazy. And so, I wanted to kind of enable other people to be able to fight those things back the way I have been able to, somewhat successfully. So yeah, that one is something that I've put a lot of time into. The enemy section is really the biggest one because, I've been silent a lot in my life because of things that got in my way, and I let them get in my way, because I didn't know that I could get the tools to deal with them. And I think, the thing I take away from it is that, whatever springs up that prevents me from kind of achieving my dreams or my goals, or just getting my voice out there, or being proud of who I am, those are things that automatically I need to take down. Because if I just let them linger, they grow stronger and stronger and stronger.
GNN: Kind of just as a, as a closing question, I did just kind of want to ask, what can we kind of expect with Elsa in Voyage to the Stars on the second season as far as how did all the experiences in the first season kind of change her as a character?
Felicia Day: We learn a lot more about Elsa's, I don't want to spoil anything, but we learn a lot since we're going back to Earth. We learn a little bit more detail about kind of the way she was raised, and we've learned funny things, but also there's some heartfelt moments in this season that I think people will enjoy. Like, everything doesn't need to be 1000 miles per hour funny. I think, when we get those quiet moments with characters, where they kind of share something that's not glib about themselves, then we can laugh at them later even more because we know them better. And I think that's what I really love about this new season.
---
Be sure to check out the second season of Voyage to the Stars hitting streaming platforms this fall wherever you listen to podcasts! Felicia is also going to be on a two week book tour for "Embrace Your Weird", so be sure to check out feliciadaybook.com for dates and times of when you can see Felicia speak in person, and pick up a copy of her new book when it hits shelves this October!
---
About Voyage to the Stars Season 2
The year is 2263. A group of loveable misfits mistakenly board an alien spacecraft and find themselves transported through a wormhole to the far side of the universe. Despite the universe's best efforts, they somehow survived season one – but will they survive the second season of Voyage to the Stars?
The second season follows the crew as they attempt to find their way back to Earth before it is devoured by the all-consuming force known as the Nothing. Season one detailed the misadventures of our group of bumblers played by Felicia Day (The Guild, Buffy the Vampire Slayer) as scatterbrained scientist Elsa Rankfort, Janet Varney (You're The Worst, Stan Against Evil) as the misanthropic A.I. aptly named Sorry, Steve Berg (The Good Place, The Goldbergs) as apathetic technician Stew Merkel and Colton Dunn (Superstore, Key & Peele) as a wholly unqualified Captain Tucker Lentz, who accidentally find themselves on the wrong side of a wormhole.
Kirsten Vangsness (Criminal Minds) joins this season playing Nico, a lesbian space alien who finds herself in a complicated love triangle with fellow crewmembers. Also set to guest star in the sophomore season are Angela Kinsey (The Office), Paul F. Tompkins (BoJack Horseman), Erinn Hayes (Childrens Hospital), Jesse Cox (Good Game), Phil LaMarr (Futurama) and Harvey Guillén (What We Do in the Shadows) among others.
As this pop-culture-reference-laden improvised space comedy unfolds, each planet visited is more outrageous than the last. The universe will never be the same as our crew comes together to tell a larger story about finding your place in the world… even if it takes getting hopelessly lost in space and destroying several alien civilizations along the way.
Season two is set for liftoff September 17, 2019 with 26 episodes rolled out on a weekly basis. In addition, a Voyage to the Stars comic book is in the works and currently set to debut in 2020.
---
About EMBRACE YOUR WEIRD: Face Your Fears and Unleash Creativity!
Don't you hate when you just can't get yourself motivated to do something? Felicia Day (New York Times bestselling author, producer, actress, TV writer, and award-winning web series creator) wants to help by motivating the WORLD with her new book EMBRACE YOUR WEIRD: Face Your Fears and Unleash Creativity! The book comes out October 1, 2019 and will be available everywhere books are sold.
In EMBRACE YOUR WEIRD Felicia threads personal anecdotes and plenty of personality through a practical, hands-on guide to finding, rekindling, and enhancing creative passions. Part guided journal, part imaginative workbook – think of this as Wreck This Journal meets You Are a Badass meets Felicia's inimitable blend of hilarity and hard-earned wisdom.
Including Felicia's personal stories and hands-on experience, Embrace Your Weird offers:
Entertaining and revelatory exercises that empower you to be fearless, so you can rediscover the things that bring you joy, and crack your imagination wide open
Unique techniques to vanquish enemies of creativity like: anxiety, fear, procrastination, perfectionism, criticism, and jealousy
Tips to cultivate a creative community
Space to explore and get your neurons firing
Whether you enjoy writing, baking, painting, podcasting, playing music, or have yet to uncover your favorite creative outlet, Embrace Your Weird will help you unlock the power of self-expression!