Injustice: Gods Among Us is a mere couple of days away and NetherRealm Studios was kind enough to release a new Harley Quinn trailer, which rules and can be viewed below:
[youtube http://youtu.be/DzCwQquM1ao]
From that trailer you can tell she isn't too happy with the Joker lately and plans on letting him know why. Lastly, how about that ending?!
Also, NetherRealm Studios announced a "Season Pass" DLC pass, were you will be able receive four characters for the price of three, as well as Flashpoint skin pack. Check out all the details below: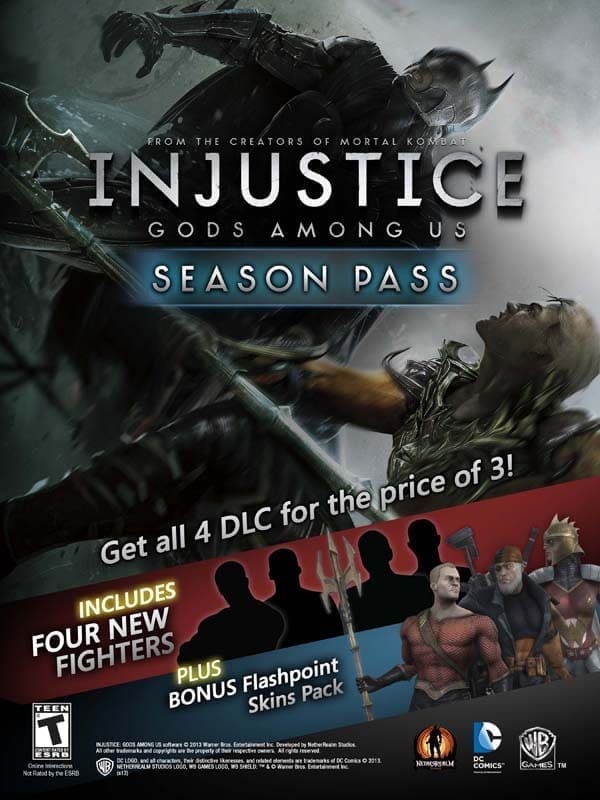 Press Release:
Warner Bros. Interactive Entertainment and DC Entertainment today announced a Season Pass for the upcoming DC Comics fighting game, Injustice: Gods Among Us. Available for purchase at launch for the Xbox 360® video game and entertainment system from Microsoft and PlayStation®3 computer entertainment system, the Injustice: Gods Among Us Season Pass grants purchasers access to four of the game's upcoming downloadable characters for the price of three.

The Injustice: Gods Among Us Season Pass will be available in North America when the game launches, April 16, for $14.99 (PlaySation®Network) or 1200 Microsoft Points (Xbox LIVE® online entertainment network) and offers exclusive access to the Flash Point Skin Pack featuring alternate costumes for Wonder Woman, Aquaman and Deathstroke.

Accompanying this piece of news is the recently confirmed playable characters: Black Adam and Raven.

Injustice: Gods Among Us is an all-new game in development by award-winning NetherRealm Studios. The title debuts a bold new fighting game franchise that introduces a deep, original story featuring a large cast of favorite DC Comics icons such as Batman, Green Arrow, Cyborg, Harley Quinn, Nightwing, Solomon Grundy, Superman, The Flash, Wonder Woman, Green Lantern and many others. Set in a world where the lines between good and evil are blurred, players will experience heroes and villains engaging in epic battles on a massive scale.
"Injustice: Gods Among Us" hits stores April 16 for PlayStation 3, Xbox 360 and Wii U.
———————————————-
Chuckie is blogger for fine sites such as Geek News Network and Comic Book Therapy. Burrito enthusiast would be the best way to describe him. Follow Chuckie on twitter @dweebofthedead to read just how much he loves Batman, kind of like a man-crush, but not really.
[SlideDeck2 id=9271]