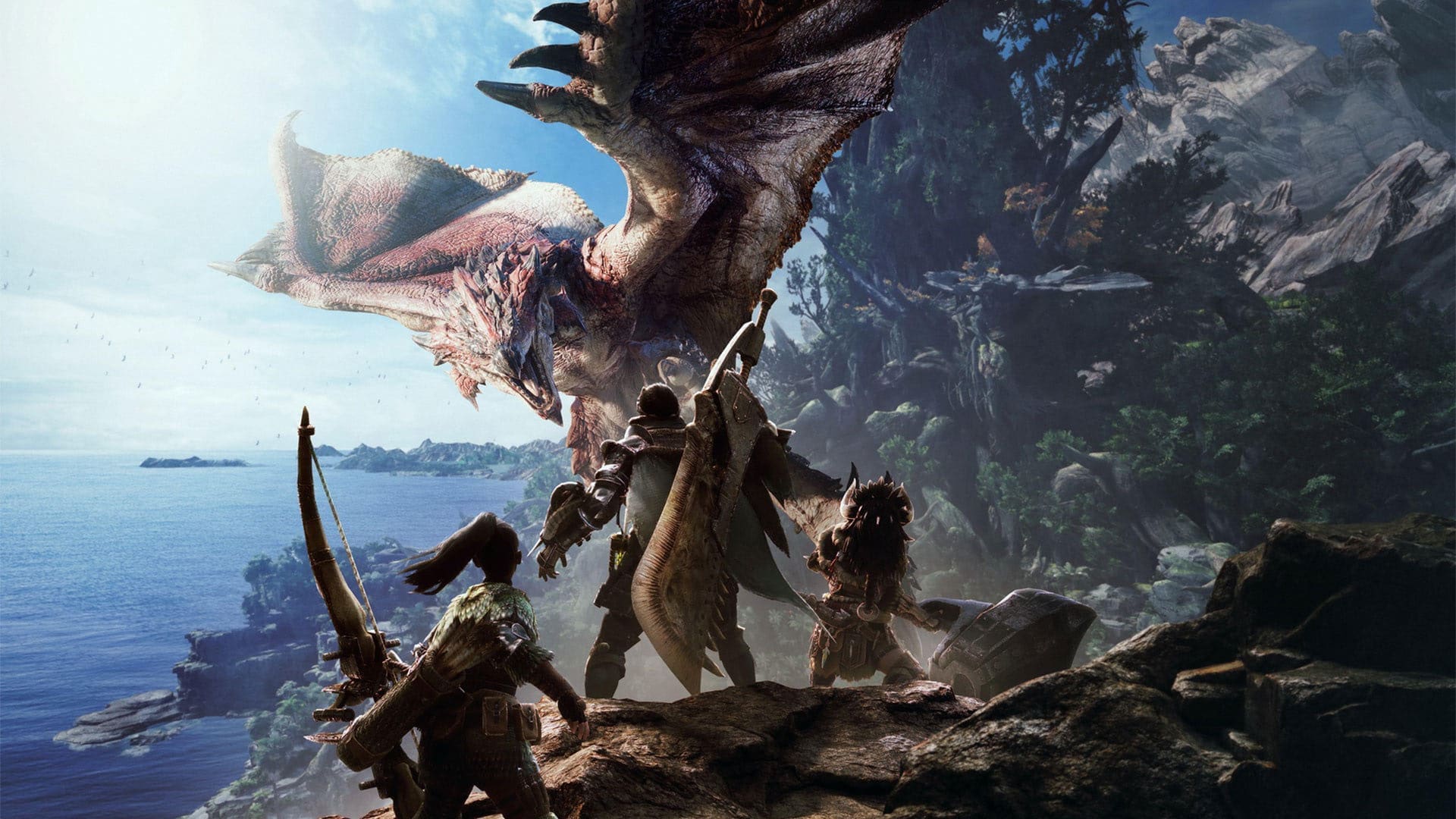 The original Monster Hunter debuted on the PlayStation 2 back in 2004 and has jumped platforms multiple times, from the PSP to the Wii, Wii U, and 3DS. Well here we are, 13 years later, and the mainline series finally returns to a Sony platform, the PlayStation 4 (alongside the Xbox One and for the first time, PC). Monster Hunter World is a bit of a reimagining of the series, and as a longtime fan of the franchise, I was admittedly skeptical of the initial reveal of the game at Sony's press conference. I'm happy to say that now, after watching two separate behind closed door demos of the game in action, my skepticism has turned into excitement. This is, by all means, the Monster Hunter we all know and love. With it comes a nice new coat of paint, some quality of life improvements, and more of an emphasis of on actual hunting instead of the usual game of extreme hide-and-seek.
I watched both a single player and multiplayer focused demo of the game, both taking place in the same new area shown in the trailer, the Ancient Forest. This map has a sense of scale well beyond anything in the series history and an unmatched sense of verticality. Hunters can traverse the map pretty much any way they please as the entire thing is now interconnected. Zones still exist, indicated by numbers as usual, but there are no longer loading screens separating them. I was concerned this may make running back to the objective a bit tiring, but Capcom has added multiple camps to each map that can be fast traveled to by calling in a personal flying monster. A wonderful addition in my opinion.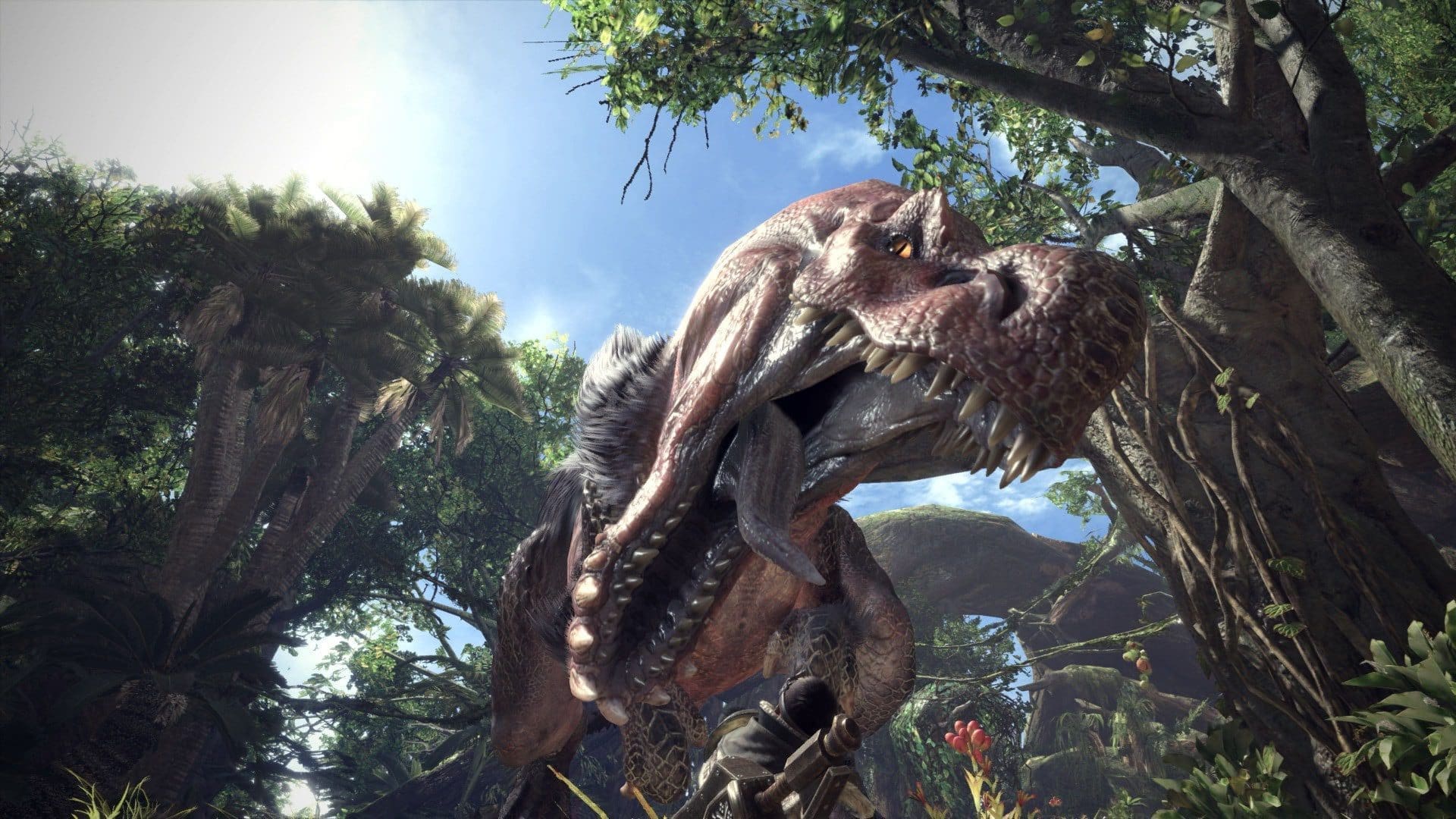 After talking to a fully voice-acted NPC, the hunter took off to find his prey. Upon entering a clearing in the forest with a number of grazing Aptonoths, a new monster known as the Great Jagras appeared and proceeded to unhinge its jaw and eat an unsuspecting Aptonoth whole. This was both hilarious and frightening all at once. The hunter then released a swarm of creatures known as scout flies to scour the area in search of anything that could be used to track the target. The flies eventually lead him to a glob of sticky mucus on the side of a tree giving the scouts a better idea of where to find the target. After collecting enough mucus, the flies led the hunter right to his target, the Anjanath, the weird T-Rex looking monster from the trailer.
All hunters have been given a slingshot-like apparatus used to launch items wherever they please. The sling was used to throw rocks to lure the Anjanath out of the cave it was sleeping into a more open area, and the fight was on. Also added to the hunter repertoire is a grappling hook with multiple uses such as pulling objects in the newly destructible environments to latching on to the back of a monster to mount it. There were a good number of new mechanics and details revealed during both gameplay demos so let's take a look: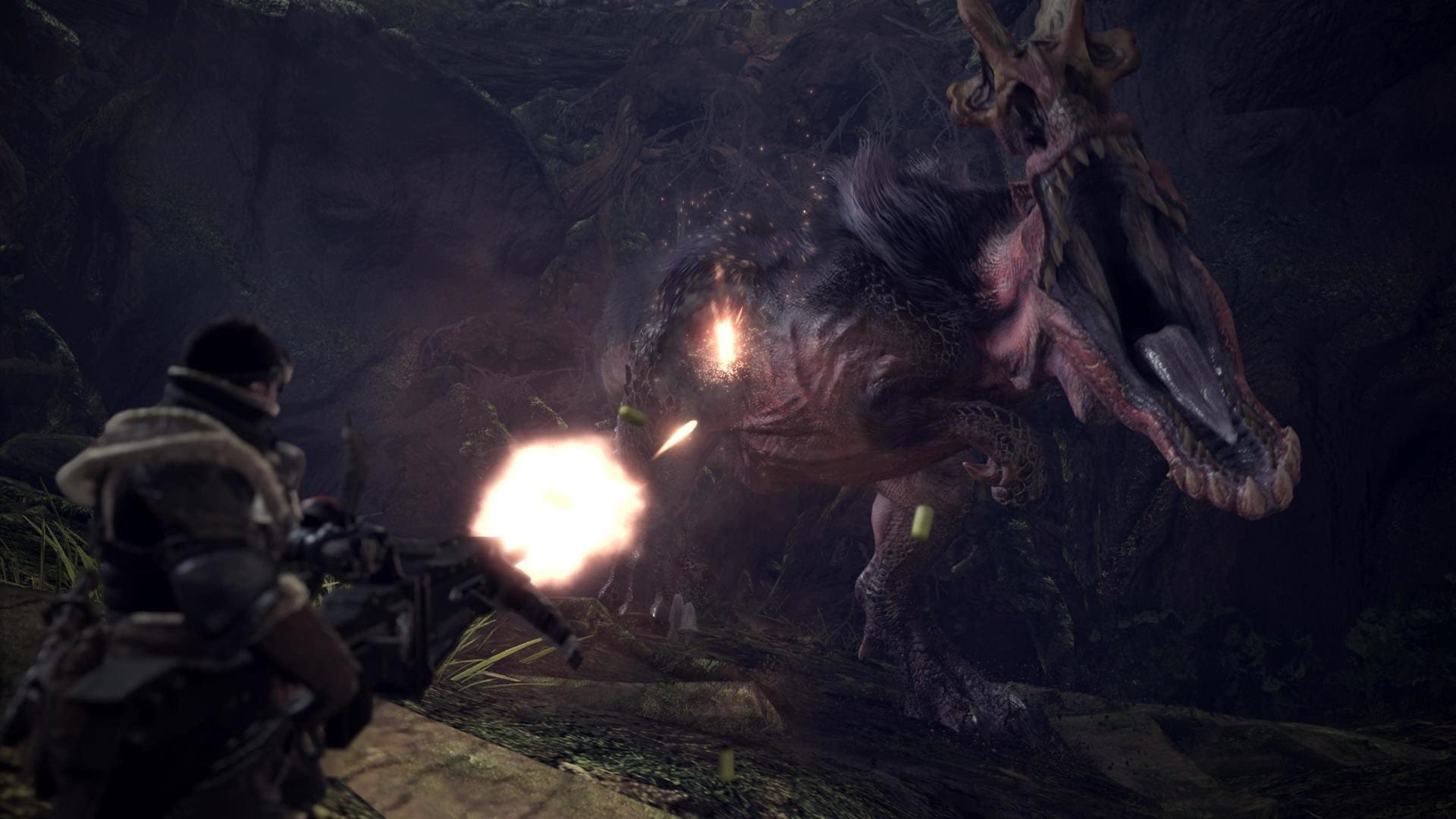 The world features a living, breathing ecosystem. Monsters will follow their own routines and even fight other monsters if they intrude on their territory. Both demos had a Rathalos pop out of the sky and start flinging the Anjanath around like a chew toy dealing massive damage in the process.
At one point the Anjanath attempted to run away by climbing a cliff wall and nearly reached the top. The Rathalos responded "Come back sir, for I would like to subscribe to your newsletter", and proceeded to blast it off the wall with a fireball and send it falling back to the ground. I laughed pretty hard at that one.
Destructible environments allow you to send a pile of debris on top of a monster's head to do damage. Monsters can also create new openings and destroy walls as you fight them.
One example was a dam at the top of the forest that unleashed a torrent of water when the Rathalos threw the Anjanoth right through it. Unfortunately, one of the hunters was swept away in the process.
There are now visible damage numbers that appear when attacking. I believe these can be turned off.
You can now move (slowly) while consuming items like steak and potions.
Potions heal damage as you drink them in real-time. There appears to no longer be an animation lock after drinking.
Items are collected immediately instead of playing an animation. Mining may be an exception to this rule.
There is a day-night cycle now. Some objects in the environment can be used to take advantage of this fact, such a fireflies that explode into a bright light that can be used to daze monsters if they happen to be looking in that direction.
Mounting has been improved, allowing you to switch your position on the monster's body to avoid being thrown off.
Mounting also allows you to use a special skill that can topple the monster if done correctly.
If you do get thrown off, you can use the grappling hook to correct that mistake.
Palicoes are still in the game and have some pretty snazzy looking armor.
Speaking of armor, you can now change it and your weapons mid-mission. Maybe people will start using both blademasters and gunners again!
Movement options have been improved, as climbing, swimming, and jumping appear to have been overhauled. You can also perform a slide downhill which has it's own special attack as well.
All 14 weapons from the main series are represented here. The only thing missing is the Tonfa from the Frontier series.
The Greatsword, Bow, Sword and Shield, and Heavy Bowgun were all shown off. I'm a Switch Axe diehard, so yes, this made me sad.
The Bow looks really fun and a lot easier to control with the second analog stick.
The Heavy Bowgun has a rapid fire machine gun mode that appears to have limited use. No going pure Rambo this time, sorry.
Multiplayer is drop-in, drop-out, completely seamless, and a great addition.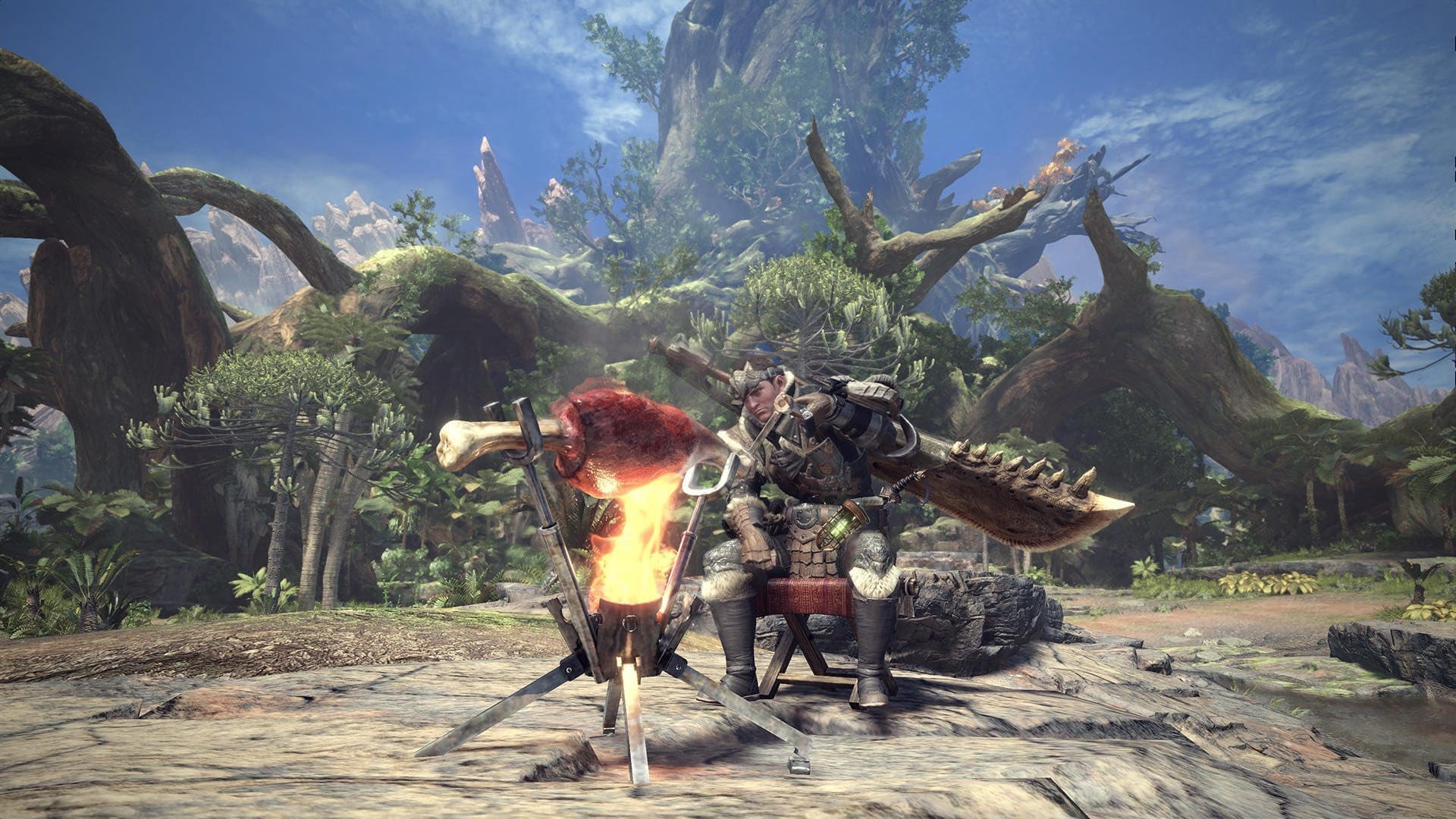 I'm pretty sure there were multiple other details I missed, but this is just a glimpse into how much more in-depth and unpredictable this game is. Monster Hunter World is slated for release in early 2018 for PS4, Xbox One, and PC. I'm looking forward to hunting with the rest of you!