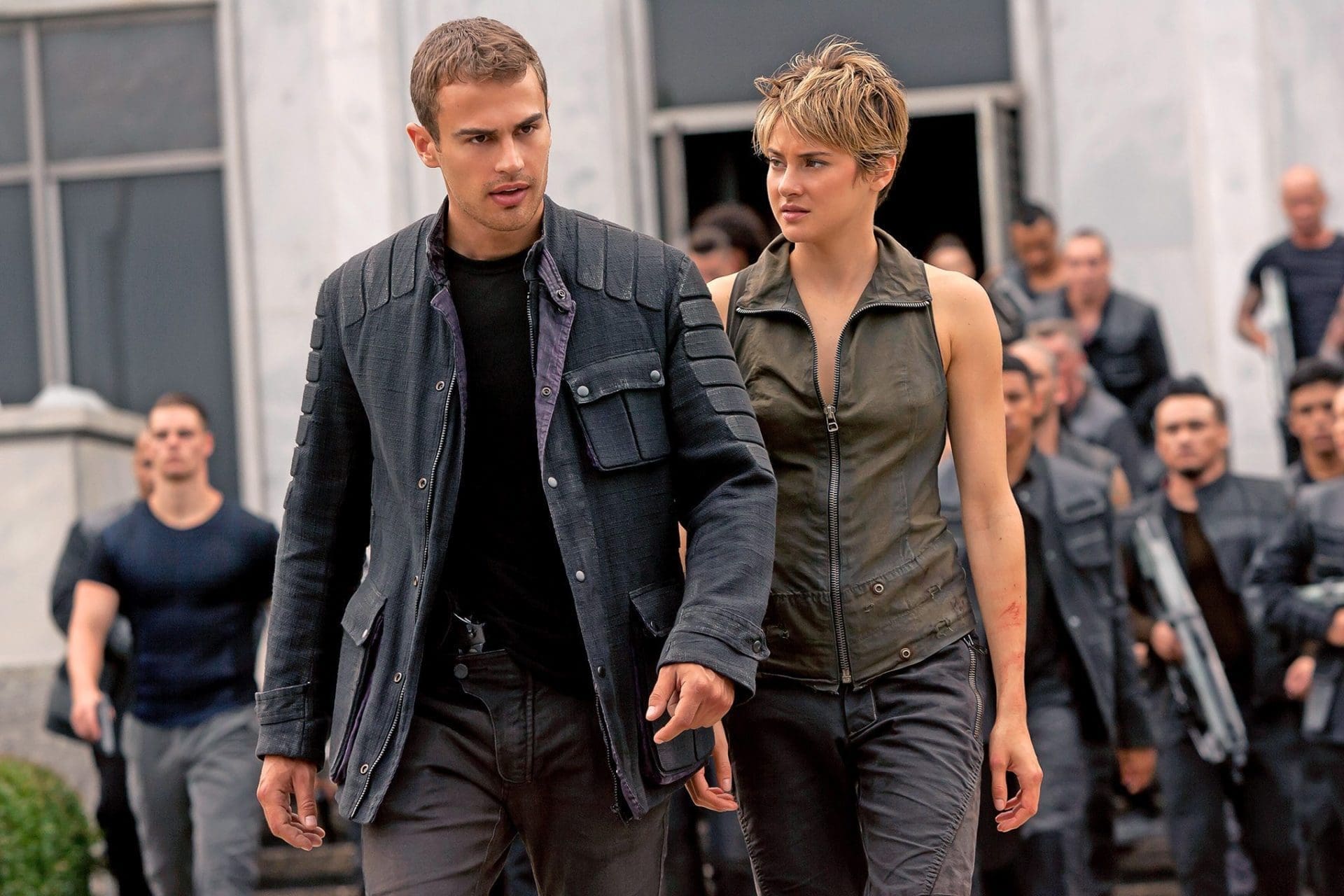 Insurgent, the second adaptation of Veronica Roth's Divergent YA novel series carries us back to a dystopic Chicago where the societal factions of Abnegation, Erudite, Candor, Amity and Dauntless attempt to rule a balanced world under Kate Winslet's Jeanine who, in this installment, attempts to unlock a long-lost pandora-like box left by the ancients. Tris Pryor, played by Shailene Woodley, along with her man hunk in a romantic lead role, Four, played by Theo James, attempts to discover the reason behind the Capitol, er, I mean Erudites, killing her parents in the first film.
As with most middle filler trilogy films, there's a lot to be desired as we slouch towards Allegiant, the final, and hopefully, best story of the series. All of the world building and conflict from the first film is vomited through a staccatic flashback in the first few minutes of this film, and viewers, like the reviewer next to us who had no knowledge of Divergent, felt left behind by the filmmakers.
In Insurgent, while Tris tries to escape the sins of her past, Four runs smack dab into his and familial conflicts make him choose sides. These choices includes a continued forced romantic coupling between him and Woodley, to the point where this reviewer groaned every time Schwentke directed the actors in what should've been on-screen passion but came off as simply nauseating.
A few gems held together this bloated film. Daniel Dae Kim's Jack Kang, the leader of Candor, is a snappy dresser who delivers a wealth of emotion and action by simply cocking his head.  I've loved him ever since he washed up on shore in Fox's Lost. Most of the other faction's leaders are strong women. Winslet's Jeanine did her best with a tired, dull script, and both Naomi Watts, Evelyn, and Octavia Spencer's, Johanna, brought energy to their dim scenes. I'm actually excited to see more of Watt's in the final installment, but I couldn't stop comparing her to Julianne Moore's President Coyne in the Hunger Games.
Woodley's role in this series is difficult. I'll admit, in a world ruled by Katniss Tris is second fiddle, but I don't believe Woodley tries to accomplish much with her role. I see an actress who could be very good, going through the motions without giving us much girl-power hoorah awesomeness. She relies heavily on her boyfriend, and when things go poorly, Woodley takes the weight of the world upon herself. Her unfounded guilt and angst is the impetus for much of her action in the film.
It is difficult to write a fresh post-apocalyptic, dystopian narrative after flooding the market since atomic culture took root in the American psyche over 60 years ago, and Insurgent adds nothing new by regurgitating worn out tropes and weary exposition expressed through dialogue rather character action. Some modern day, post-apocalyptic narratives feel fresh, but Insurgent takes what we love about narratives like The Matrix & Hunger Games and attempts to wrap them around a weak script. Save your $18 this weekend and spent it with Neo and his spoon.
[Insurgent]:[usr 3]

https://www.youtube.com/watch?v=QzlDGzvI8yI
About Insurgent

Synopsis: The second adaptation in the Divergent series finds Tris and Four on the run from Jeanine and the Erudites as they attempt to find allies to help them fight against a factioned society that is run by guilt and greed.

Directors: Robert Schwentke

Writers: Brian Duffield, Akiva Goldsman, Mark Bomback, and Veronica Roth (novel)
Stars: Shailene Woodley, Theo James, Kate Winslet, Ashley Judd, Octavia Spencer, and Naomi Watts

Rated: PG-13

Runtime: 119 minutes
Opens: March 20, 2015

East coast father raising a 16 year old daughter & two bonus teens with my wife deep in the southwest. Photography Instructor // Media blogger