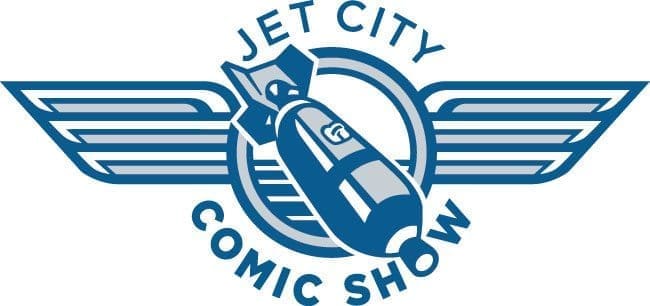 Tacoma, WA – The Jet City Comic Show will streak into Tacoma Saturday, November 2, with tens of thousands of comic books and toys, costume contests, and the chance to meet and talk with 100 comic book creators.
It is the first comic book convention in Tacoma in 16 years, and will be held from 10 a.m. to 5 p.m. in the Exhibition Hall at the Greater Tacoma Convention and Trade Center.
"We are thrilled at the opportunity to bring the Jet City Comic Show to Tacoma," said co-promoter James Taylor. "The excited reaction from the local community has been amazing."
"Tacoma has a thriving comic book scene," said Shane Ziemer, owner of Atomic Comics in Tacoma.  "It will be cool to have a place to celebrate it."
Renowned animator Michel Gagné, whose works include, "The Iron Giant," will be a featured guest. The first 200 attendees will receive a free Bomber Girl art print from Gagné. He also will discuss another of his creations in a presentation entitled, "The Saga of Rex: from Storybook to Graphic Novel to Animated Film."
This will also mark one of the first public appearances of Amazon's new comic book publishing imprint, Jet City Comics. "There's an excitement with their entrance into the comic book industry and we are proud to have them as sponsors in addition to being part of the show." Said co-promoter James Taylor.
A number of prominent comic book writers and artists will be on hand to meet and talk with fans, and there will be activities for the whole family. The Tacoma Art Museum will put on a kids workshop, and the Sealugs will present a giant Lego display.
Separate costume contests for children and adults will award prize money. There will also be prizes with Magic the Gathering gaming tournament.
Tickets, priced at $8, are available online at jetcitycomicshow.com and at various retailers. Children 10 and under will be admitted free if accompanied by an adult. Those who purchase tickets in advance of the show will be entered in a drawing for a Kindle Fire HD.
Some of the comic book writers and artists scheduled to appear include:
Chris Roberson: iZombie, Masks, Superman
Matthew Clark: Superman, Outsiders, Ghost Rider
Colleen Coover: Eisner Award Winning Bandette
Clayton Crain: Ghost Rider, Spider-Man
Michel Gagné:  Zed: A Cosmic Tale, Saga of Rex, The Iron Giant
Rebekah Isaacs: Angel & Faith, DV8
David Lasky: Eisner Award Winning The Carter Family: Don't Forget This Song
Erika Moen: Strip Search, DAR!
Mike Royer: Tarzan, Our Fighting Forces, Mister Miracle
Jen Vaughn: Avery Fatbottom: Renaissance Fair Detective, Adventure Time
Shane White: North Country, The Overman, Things Undone
Tickets are available at these retailers:
Action City Comics & Toys
2120 S 320th St # C12, Federal Way, WA 98003
253-529-9710
Atomic Comics
4020 S Steele St
Tacoma, WA 98409
253-472-1908
Comic Stop – Everett
1402 SE Everett Mall Way #160
Everett, WA 98208
425-438-9718
Comic Stop – Lynnwood
3333 184th St SW, Suite G
Lynnwood, WA 98037
425-744-2767
Comic Stop – Redmond
16444 NE 74th St #B-135
Redmond, WA 98052
425-881-0291
Comic Stop – U District
1307 NE 45th
Seattle, WA 98105
206-632-0989
Everett Comics & Cards
2831 Wetmore Ave
Everett, WA 98201
425-252-8181
Nerdy Stuffs
12223 Pacific Ave S,
Tacoma, WA 98444
253-537-1782
Olympic Cards & Comics
4230 Pacific Ave SE
Lacey, WA 98503
ABOUT THE JET CITY COMIC SHOW
The Jet City Comic Show was founded by James Taylor, an accomplished artist and publisher of Rorschach Entertainment, and Brian Meredith, the exhibits director of Emerald City ComiCon. The show, now in its fourth year, was previously held in Seattle. For information, contact the organizers at info@jetcitycomicshow.com or visit jetcitycomicshow.com and click on "Contact Us."
[SlideDeck2 id=9578]
Gamer and comic book lover, I try to stay up to date with news for my loves. I love FPS as well as the Assassins Creed Series. I'm heavily into DC comics and love Catwoman, Nightwing, Batman, Harley and the Joker. I'm also a Raven cosplayer from Teen Titans and am working on my Harley and Nightwing costumes. I do love Marvel, and enjoy reading the NEW Captain Marvel comics. Aside from DC and Marvel though, I LOVE indie comics. I love finding the ones with strong female characters and so far I haven't been let down. I'm also an avid book reviewer so I welcome any author that would like a book review . I also do game reviews, both video and board games. You can find me on Facebook (facebook.com/TheLilithFaire), Twitter (@LadyLilithFaire), http://lilithfaire.com/ as well as check out my blog http://thelilithfaire.wordpress.com/