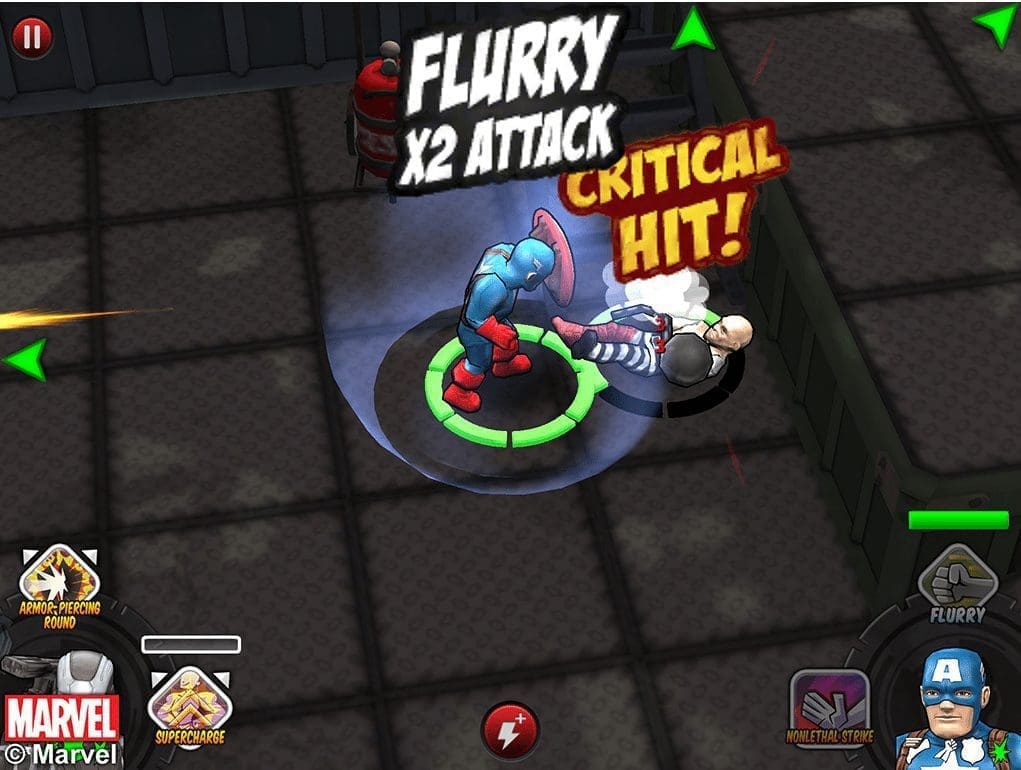 HeroClix TabApp™ is getting a huge upgrade with the introduction of Marvel Heroes. Find out what you can expect, and see them in action below!
WIZKIDS/NECA ADDS MARVEL SUPER HEROES TO TABAPP™ ELITE
New Update and Physical Figures Out Now, Featuring Invincible Iron Man
Hillside, NJ & Cary, NC – August 1, 2013
– Get ready for a heroic expansion as WizKids/NECA and MFV, developers of the recently launched
TabApp™ Elite
, today released a new update adding famed Marvel Super Heroes to the app. Three new physical figures featuring The Invincible Iron Man have hit store shelves, available as a
TabApp™ Elite
Starter and Booster Pack. The free update for
iPad
® and
Android
™ tablets is available now.
Accompanying the three new physical figures, Iron Man, War Machine and Iron Patriot, the content update includes 13 Marvel Super Villains, such as Iron Monger, Red Skull, M.O.D.O.K. and Magneto. Also with the new update, the action now takes place in exciting new 3D Isometric perspective.
With the integration of Marvel Super Heroes to TabApp™ Elite, original HeroClix TabApp™ physical figures (which include the Marvel Super Heroes pack and Wolverine & the X-Men pack) are also fully compatible and can be used in game by placing them directly on the mobile device.
All figures are 100% compatible with the HeroClix tabletop game and come with a free code to unlock their HeroClix Online counterpart.
For ages 8 and up, TabApp™ Elite takes players on a heroic adventure, unleashing powers of legendary Super Heroes right on their iPad® or Android device! Heroes are invited to play their way, choosing from a selection of widely popular Super Heroes, variety of play styles, 3D isometric maps and more!
For more information on TabApp™ Elite, visit www.tabappelite.com.
For updates, follow TabApp™ Elite on Facebook and Twitter.
About WizKids
WizKids/NECA, LLC, a wholly-owned subsidiary of NECA, is a New Jersey-based game developer and publisher dedicated to creating games driven by imagination. WizKids first pioneered the Combat Dial system featured in HeroClix, the most successful collectible miniatures game on the market today, with over 400 million miniature game figures sold worldwide. WizKids continues to produce new proprietary game platforms and properties including the award-winning board game Mage Knight, the groundbreaking Dice Building Game engine used in the critically-acclaimed game Quarriors, as well as the innovative Connect with Pieces puzzle building game platform. For additional information, visit www.wizkidsgames.com.
About Marvel Entertainment
Marvel Entertainment, LLC, a wholly-owned subsidiary of The Walt Disney Company, is one of the world's most prominent character-based entertainment companies, built on a proven library of over 8,000 characters featured in a variety of media over seventy years. Marvel utilizes its character franchises in entertainment, licensing and publishing. For more information visit marvel.com.
"A man of many talents; Joshua is a gamer, writer, Sith Lord in training and a wannabe Time Lord. Assuming the mantle of Director of Gaming for Geek News Network, Joshua has made it his goal to bring the gaming division of GNN forward.
Will he succeed? Well, only by keeping up to date with the GNN gaming division will you be able to find out.
You can read more of Joshua's semi-regular thoughts on Twitter @BearPunch. He also co-hosts the GNN Gaming Podcast and the "Constantly Calibrating Podcast.
Joshua can be contacted at Joshua.Silverman@geeknewsnetwork.net for more information on GNN Gaming."