[Update]: It has been confirmed today that Final Fantasy X/X-2 HD Remaster is a real thing and that it will be coming to both Playstation 3 and PS Vita. These will be the international versions, though no release date has been announced at this time.
Check out the updated images above and below.
Original article featured below
Late last night Kotaku unveiled a rumor that Final Fantasy X HD would be releasing on the PS3 with a remastered version of "Final Fantasy X-2, the often maligned first Final Fantasy sequel. Both of these will supposedly be the "international versions" of the game, which means they'll have assorted bonus content like concept art, trailers, and interviews.
Both games are 'expected' to be sold for Vita as well, but separately.
The leaked article image is attached below.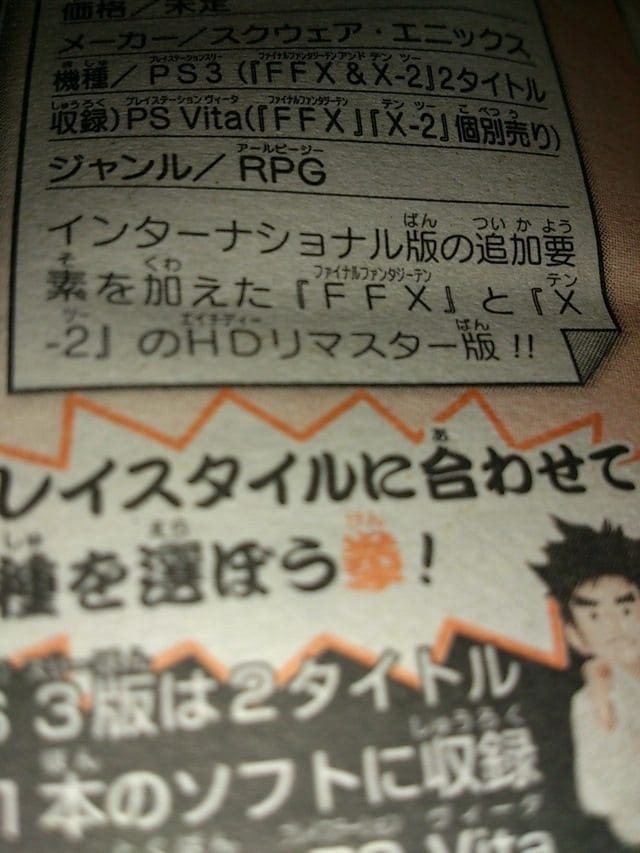 Source: Rumor: Final Fantasy X HD Comes With Final Fantasy X-2 HD on the PS3 (Kotaku)


[SlideDeck2 id=9271]
"A man of many talents; Joshua is a gamer, writer, Sith Lord in training and a wannabe Time Lord. Assuming the mantle of Director of Gaming for Geek News Network, Joshua has made it his goal to bring the gaming division of GNN forward.
Will he succeed? Well, only by keeping up to date with the GNN gaming division will you be able to find out.
You can read more of Joshua's semi-regular thoughts on Twitter @BearPunch. He also co-hosts the GNN Gaming Podcast and the "Constantly Calibrating Podcast.
Joshua can be contacted at [email protected] for more information on GNN Gaming."