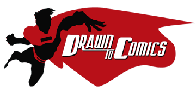 Forget Wednesday, it's AWESOMEDAY at Drawn to Comics in Historic Downtown Glendale!
DTC opens early every "Awesomeday" as new comics arrive each week. A line of regulars gather outside the front door before 9 am with a steady stream of people following them in all day. DTC is THE place to be on Awesomeday or any day!
This is a family friendly shop! There is a kids play area and racks of comics and books just for kids.
Their current location at 5801 W. Glendale Avenue, Glendale, AZ 85301 has been open since September 2011, but the shop has made a big impression on Glendale since 2004! Ken Brown and his lovely family greet each customer by name, making them feel welcome and at home. Some purchase their comics and head out, some stay and visit for a while. There are so many cool things to see!
Yearly special events include:
o Free Comic Book Day in May
o Brightest Saturday in November
Weekly events include:
o Wednesday is AWESOME DAY, pick up your new comics on Awesomeday
o Wednesday Drawing Sketch Cards in the evening with local artists
o Friday night art classes (first class is free, then a mere $10)
For more information check out their website at www.drawntocomics.com
Stop in and say hello. Tell 'em Judy sent ya…
*Judy gives DTC 5 out of 5 Green Lantern Rings*
Geek? Nerd? Rock Star Mom? I'm not really sure which title fits me best. I'm an artist and poet. I have two blogs. I don't read comic books. I have a good eye for composition. I know some artists that will be famous one day. My oldest son (Big Chris) is an amazing artist! My youngest son is a Punk Rock Star (Jeremy Wood, bassist for Authority Zero). I am very social and I like to interview cool people, so I write a few stories for GNN. Who wouldn't want to be included with such a cool/geeky/nerdy group of people, right? Judy Wood, poet, artist, writer for GNN.