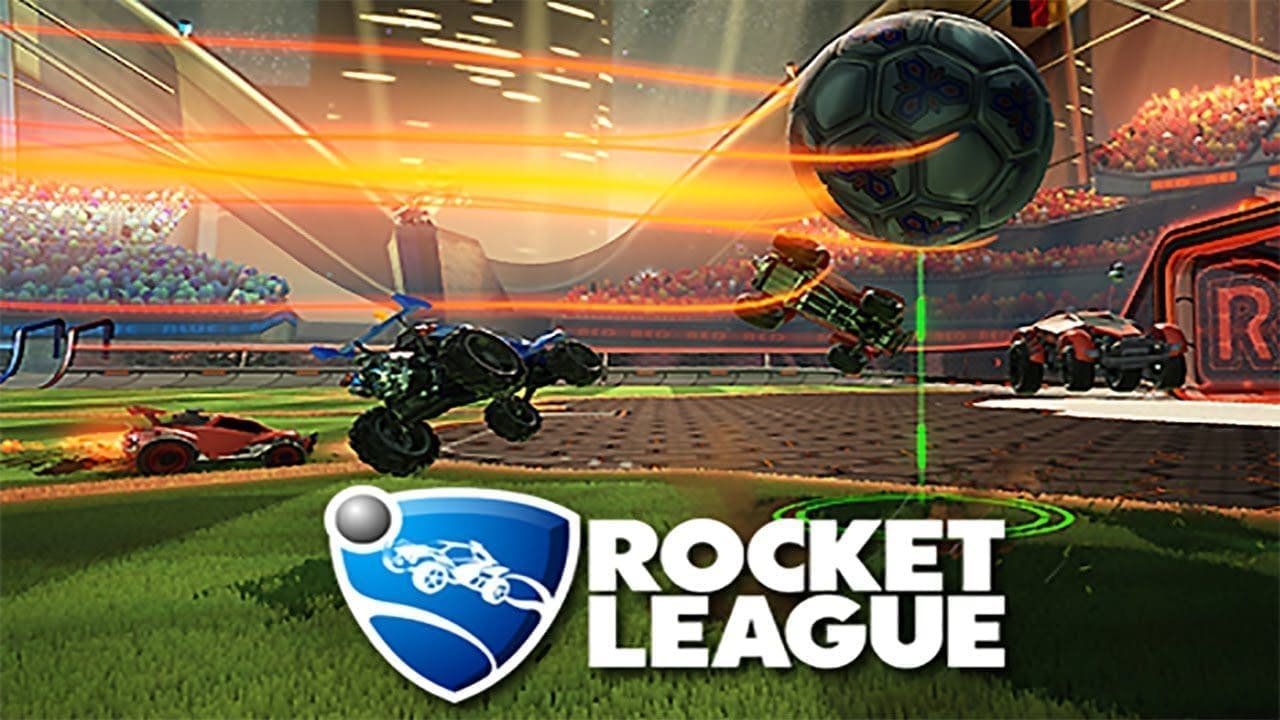 One of my favorite things about video games is the huge variety of options that we gamers have in front of us. We are able to cater to whatever mood we may be in at the time, whether it be a deep story driven adventure, or a simple arcade game to pass the time. Sometimes we need a game that is, at it's core, a fun experience and Rocket League certainly fills that need.
Currently available digitally on Playstation 4 and PC, Rocket League is the latest title both published and developed by Psyonix, a small studio with a history of assisting with the development of titles using the Unreal Engine dating back to a personal favorite, Unreal Tournament 2004. Rocket League is a sequel to another Psyonix title: Supersonic Acrobatic Rocket-Powered Battle-Cars. Along with a catchier, easier to say title, Rocket League brings back the same core gameplay: two teams of rocket powered cars ram into a massive ball trying to knock it into their opponents goal. It's soccer with cars and it's as awesome as it sounds. Each match in Rocket League takes place in an enclosed arena-style field with various maps/skins to choose from. The cars are able to drive on walls as long as they'd like which adds an interesting navigation mechanic during the match. The rockets on the cars, coupled with the limited boost ability, also enables the cars to literally fly around (albeit briefly). Aside from these twists on navigation, Rocket League handles much like any other racing or car-centric game.
Rocket League is not a huge game by any means, but it is incredibly fun. There are a number of things about Rocket League that I absolutely love, the first of which is local co-op a.k.a. "couch co-op". I am a huge proponent of couch co-op and have been known to buy a game for no reason other than because it has couch co-op (namely Knack at PS4 launch). Rocket League also has bot support which adds nice variety in both single and multiplayer matches. Another huge plus about Rocket League is the customization options for your car in the "garage". From paint jobs and chassis, to festive flags and comical hats there are thousands of possible combinations to make your car your own.
Although Rocket League has many positive aspects, it has some negatives to it as well. One issue I run into somewhat frequently is confused AI. Every once in a while a friendly bot will start going towards our own goal and will take the ball straight in, scoring for the opposing team. When this happens it's more than a defending error, they'll take it across ¾ of the field like a line drive to the goal. Another annoyance I run into is figuring out which camera mode to use. Rocket League let's you choose between a front facing camera and locking the camera on the ball. Locking on the ball is generally the most beneficial while playing due to the lack of a mini map showing the ball's location when not locked on. There is an arrow pointing to the ball, but there's no difference between it being two inches away or fifty yards away which can effectively take you out of the game while you're more or less unaware of the ball's actual location. The only problem with the ball-lock camera is when the ball gets knocked into the air. When the ball is aerial the camera darts to the ceiling and you can't see where you're driving. This leads to a pile up most of the time, incapacitating everyone. Once you get the hang of alternating camera modes these problems cease to be an issue, but it's still annoying.
Despite my gripes with Rocket League, there is one overwhelming positive: this game is FUN. If I had an AI in FIFA score on my own goal, I'd be furious. However when this happens in Rocket League I somehow end up laughing it off simply telling myself, "That's Rocket League!" and I jump right back in. The final scoreline is often 6-1 or something similar because while my opponent is focusing on the game, I'm too busy driving around on the walls and trying to perfect my flight skills. Rocket League is an incredibly fun, albeit flawed, experience that should not be missed. Those of you with Playstation Plus should download this game for free ASAP, and those without Plus should scoop up a three-month membership for the fifteen-ish bucks and grab Rocket League rather than pay the twenty dollar a la carte price.
Director of GNN's Gaming Department and King of Impulse Decisions. Keep up on Twitter @tntharalson