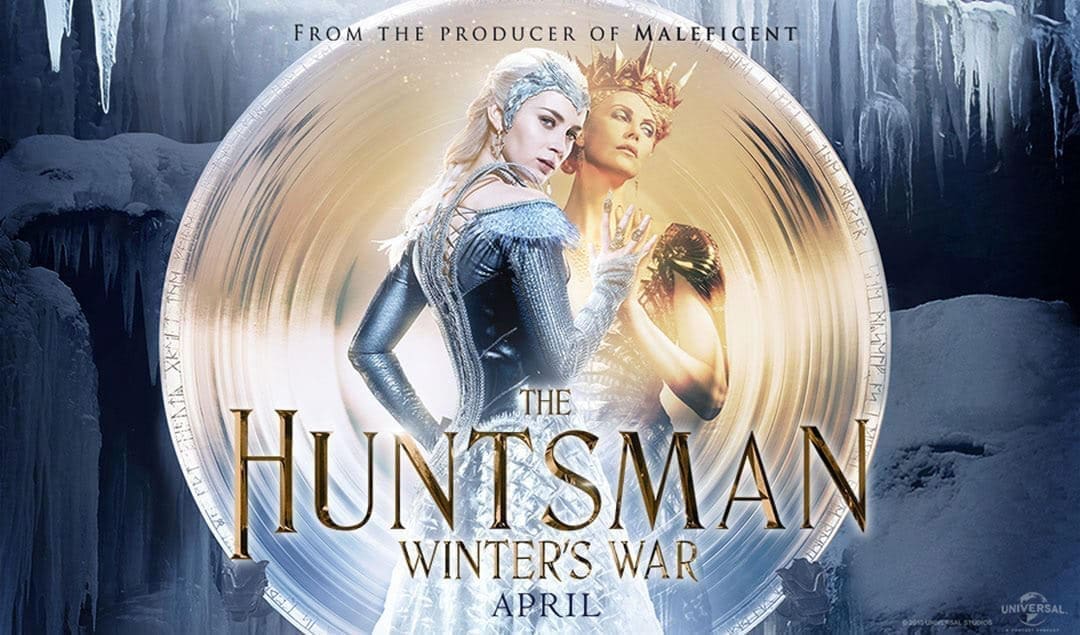 Snow White is just one of those stories that everyone grew up with when they were a child. The story originated in Germany in 1812 when it was published by the Brothers Grimm in a collection entitled Grimms' Fairy Tales. Since then it has been adapted into numerous books, TV shows, films, comic books, and even video games. One of the most notable adaptations was in 1937 when Walt Disney decided to use the story to create the world's first fully animated feature film called Snow White and the Seven Dwarfs. In 2012 Universal Pictures produced Snow White and the Huntsman, a live action adaptation starring  Kristen Stewart, Charlize Theron, and Chris Hemsworth. Due to the success of that film, the studio decided to green light a sequel/ side story that follows the Huntsman character entitled The Huntsman: Winter's War.
The story is both a prequel and a sequel that blends together the events of the first film. It starts off by introducing Ravenna's (Charlize Theron) sister Queen Freya (Emily Blunt) who gives birth to a child that is murdered. Due to her anger and psychosis over the tragedy, Freya morphs into a frigid ice queen and establishes her own ice palace far away from her sister. Soon after, she viciously kidnaps and trains children to become her own personal army known as Huntsmen. Sara (Jessica Chastain) and Eric/ The Hunstman (Chris Hemsworth) are two of those children and as they grow up they become very fond of one another. One day, a tragic event occurs and The Huntsman is banished from her kingdom. Flash forward years later and Ravenna is dead, Snow White is in power, and Freya is in search of Ravenna's mirror in order to use its power for her own personal gain.
While I found the first film to be a fantastic adaption of the Snow White story that introduces many new and interesting elements; this addition feels somewhat unnecessary. It's appealing to see who The Huntsman was before the events of the first film but I wish that this film was comprised mainly of those essentials instead of retreading a lot of the "wicked queen wants more power and I have to stop her" storyline again. Also, even though this revision is a Universal Pictures production it borrows heavily from Disney films. Specifically, Queen Freya is undoubtedly a clone of Elsa from Frozen and Sara is eerily similar to Merida from Brave equipped with bright red hair, amazing bow and arrow skills, and a thick Scottish accent. In addition, Jessica Chastain's impression of the accent fluctuated in and out throughout the film which could be very distracting at times.
Moving past the negative qualms that I had with the film, it does actually feature many noteworthy positives. Firstly, it has many more playful, comedic beats that help break up the very dark and morose tone. Not every joke hits its mark but more stick the landing than completely fail. Also, the relationship between Sara and Eric doesn't feel completely tacked on. There are some genuine moments where I felt their onscreen chemistry stand out and that it was apparent that they truly care for one another. On a completely different note, the CGI and set piece moments were done in a very realistic and highly entertaining way. Some specific set pieces had a very thrilling aspect that kept my attention completely glued to the action.
As it stands, I liked The Huntsman: Winter's War but I surely didn't love it. However the film is still an entertaining piece of fiction that fans of the previous film will more than likely enjoy.
The Huntsman: Winter's War:[usr 3]

[youtube http://www.youtube.com/watch?feature=player_embedded&v=eAvCgVR0gIM]
About The Huntsman: Winter's War

Synopsis: Ravenna's evil sister Freya has risen to power and The Huntsman must try and stop her from taking over Snow White's kingdom.
Director: Cedric Nicolas-Troyan
Writers: Evan Spiliotopoulos, Craig Mazin
Stars: Chris Hemsworth, Jessica Chastain, Charlize Theron, Emily Blunt
Rated: PG-13
Runtime: 114 min
Just call me "Turbo" because it sums me up in a single word. I'm originally from Visalia, California but currently reside in Mesa, Arizona. I'm a movie and video game fanatic with a BA in Film and Media Production from ASU. I try to see every movie that I can (new and old) as well as play the latest video game releases. My goal in life would be to create a feature length film which viewers absolutely love. However, until then I love to entertain people with my 100+ voice impersonations as well as fill them in with the latest movie/ gaming news on Twitter. Facebook.com/turbizl, Twitter: @turbizl