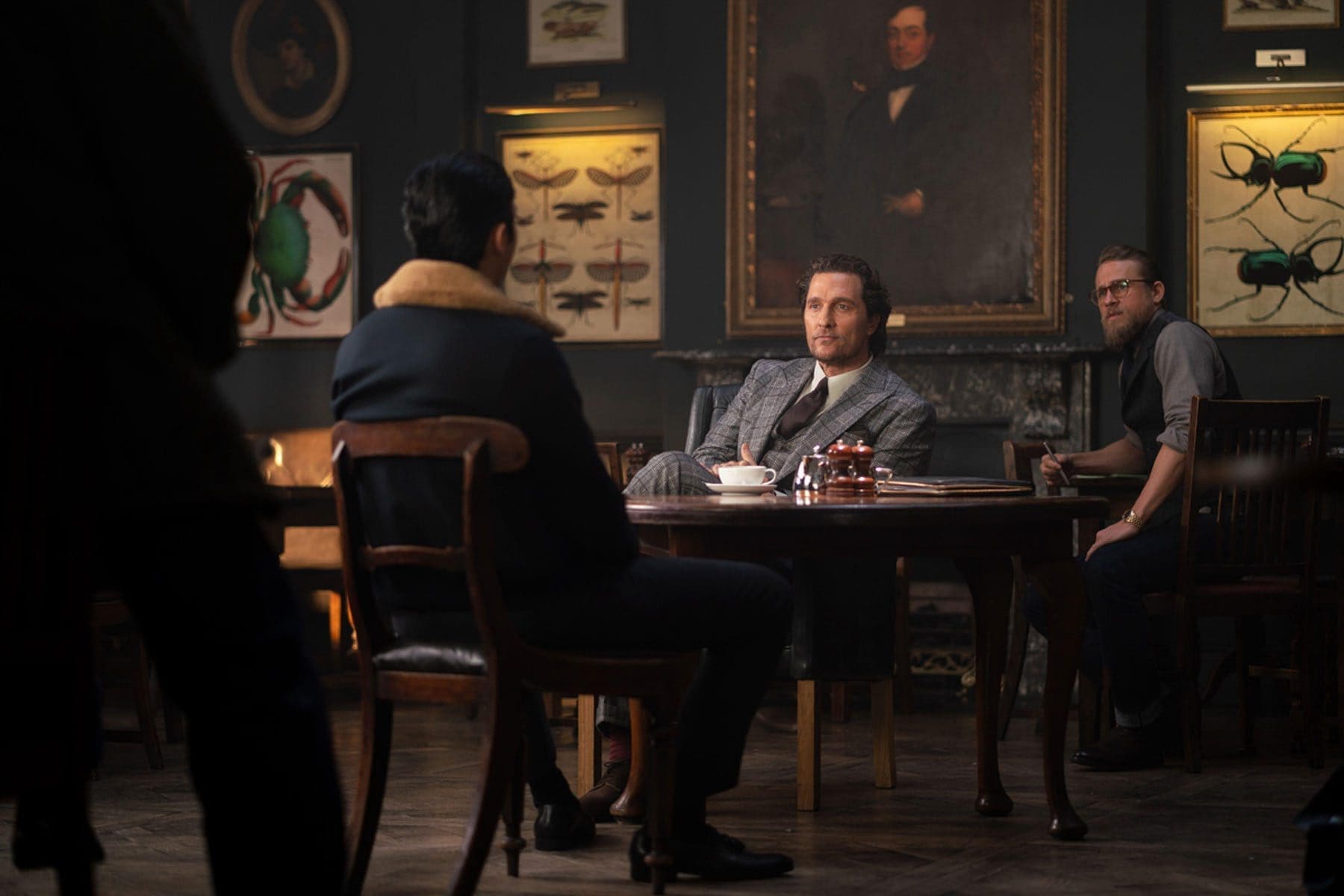 British gangster films have been around for quite a while. Michael Caine was an uncharacteristically menacing force in Get Carter, Bob Hoskins lit up the screen in the powerful film The Long Good Friday, and Ben Kingsley won an Oscar for his portrayal of a disconcerting psychopath in Sexy Beast. Now even though these are all well-regarded entries, it was Guy Ritchie's 1998 film Lock, Stock and Two Smoking Barrels that garnered the genre mainstream appeal. Since that success, he's gone on to direct films such as Snatch, Revolver, and RocknRolla in 2008. Even though all his films aren't great, I would definitely say that the gangster genre is where his talents truly shine. Flashing forward 12 years, Guy Ritchie is back in his wheelhouse with his latest entry entitled The Gentlemen.
Big Dave (Eddie Marsan) is the editor of a British tabloid. He decides to hire a man named Fletcher (Hugh Grant) to follow around local drug kingpin Mickey Pearson (Matthew McConaughey) to dig up dirt on him. Ray (Charlie Hunnam) is Mickey's right-hand man and Fletcher decides to meet with him to discuss all the illegal activity he and his cohorts have been up to. What comes next is a series of seemingly unrelated and over-the-top events that result in death, mayhem, and tons of laughs.
While I do enjoy the majority of Guy Ritchie's gangster films, they tend to be a bit overcomplicated upon first viewing. The Gentlemen is no exception. For the first 45 minutes or so I was somewhat lost in where the story was going and what everyone's motivation was. Then at a certain point, every just clicked. This guy wants to screw over this guy, this guy has ulterior motives, and this guy just wants complete control, and so on, and so on. After all the puzzle pieces started to come together and reveal the full picture, The Gentlemen grew from being merely a mediocre film to an exceptionally witty film filled with memorable characters and a notable, carefully constructed story.
Hugh Grant has one of the stand-out performances while playing an overly flamboyant know-it-all with a penchant for storytelling. He lights up the screen with each new element of the story that he kindly divulges and is instantly likable despite is unscrupulous manners. Colin Farrell also gives a noteworthy performance as the coach of a boxing gym geared towards helping troubled youths. His calm demeanor in dire situations heightens his charisma exponentially and allows him to keep everything in check. In addition, despite using his insanely thick Irish accent, I was actually able to understand the majority of his lines clearly and distinctly which is something I tend to have trouble with for some of his other films.
Even though I thoroughly enjoyed The Gentlemen, I did have one minor qualm that I'd like to discuss. Given Guy Ritchie's pedigree, I would have expected a bit more visual flair throughout the film. There are hints of it here and there but there wasn't anything notable enough to have it seared into my brain. Nevertheless, for what the film is, I definitely enjoyed what I got. It unquestionably harkens back to some of Ritchie's earlier work and makes me yearn for more down the road.
About The Gentlemen
Synopsis: A British drug lord tries to sell off his highly profitable empire to a dynasty of Oklahoma billionaires.
Director: Guy Ritchie
Writers: Guy Ritchie, Ivan Atkinson, Marn Davies
Stars: Matthew McConaughey, Charlie Hunnam, Hugh Grant, Colin Farrell
Rated: R
Runtime: 1 Hour, 53 Minutes
Just call me "Turbo" because it sums me up in a single word. I'm originally from Visalia, California but currently reside in Mesa, Arizona. I'm a movie and video game fanatic with a BA in Film and Media Production from ASU. I try to see every movie that I can (new and old) as well as play the latest video game releases. My goal in life would be to create a feature length film which viewers absolutely love. However, until then I love to entertain people with my 100+ voice impersonations as well as fill them in with the latest movie/ gaming news on Twitter. Facebook.com/turbizl, Twitter: @turbizl