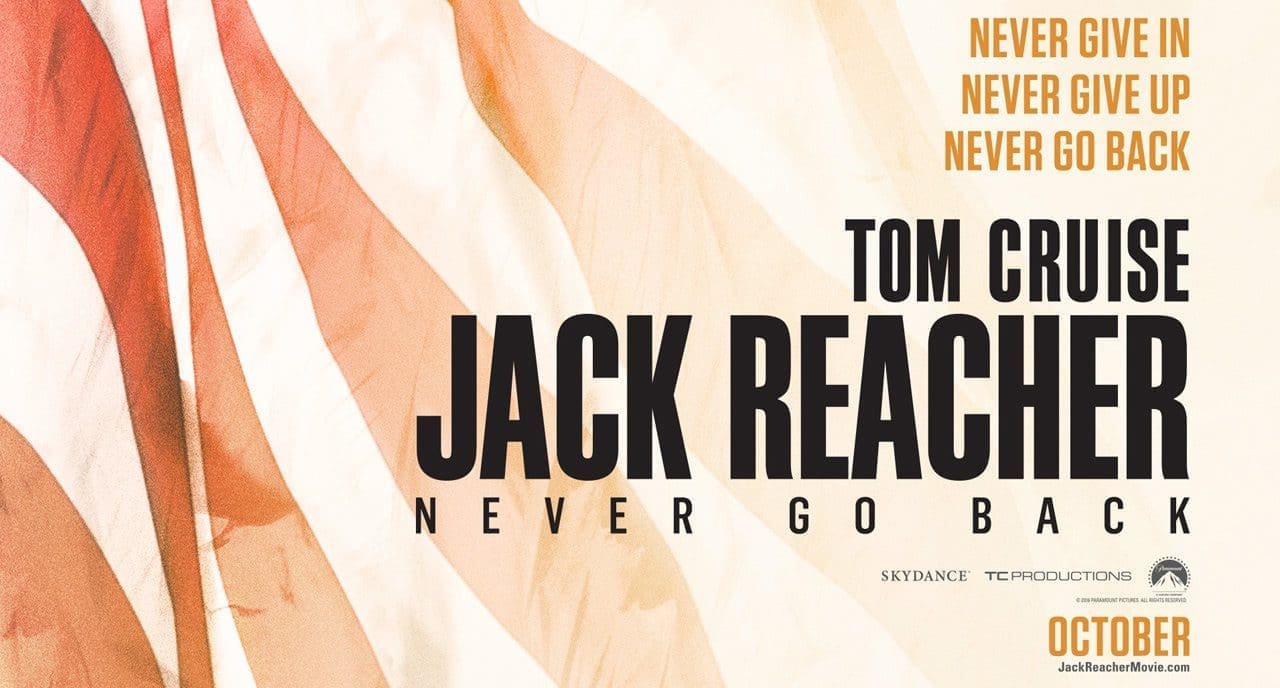 Have you ever heard of the films Glory, Legends of the Fall, or Blood Diamond? If so then you're familiar with the directorial efforts of a man named Edward Zwick. Born in Chicago in 1952, Edward attended Harvard in 1974 and then transitioned to the AFI Conservatory where he graduated with a Master of Fine Arts degree in 1975. Using his immense talents, he began his career directing TV shows and TV movies up through 1985. A year later he would debut his first feature film starring Rob Lowe and Demi Moore called About Last Night… Since then he would go on to have great success with the films previously mentioned as well with the 1998 action thriller entitled The Seige and 2010's Love & Other Drugs. Now Edward is back with the next iteration in the Jack Reacher film franchise called Jack Reacher: Never Go Back.
Tom Cruise stars as Jack Reacher – a no nonsense former military Major who is drifting through life attempting to help fix injustices that occur around him. Through the course of happenchance, Jack begins a long distance friendship with the woman who now has his former position in the U.S. Military. Her name is Major Turner (Cobie Smoulders) and when Jack decides to finally meet her in person, he finds out that she has been imprisoned on espionage charges. Under the assumption that she is actually innocent, Jack decides to try and uncover the truth behind what is really going on even if it means that his own life will be at risk.
I really enjoyed what the first Jack Reacher film brought to the table in terms of story, action, and character development. It's a film perfectly made for Tom Cruise and he chews the scenery at ever chance that he gets. Jack Reacher: Never Go Back however feels like it's trying too hard to be like the original. The story is definitely relevant and it has a few tricks up its sleeve but at one point it gets way too overcomplicated and adds in characters that feel somewhat disposable. In comparison, there's a new antagonist played by Patrick Heusinger who I really enjoyed quite a bit, however I didn't feel that he got enough to do in the film. Overall, I feel that the story needed to take a step back and focus on a couple of things instead of attempting to juggle several elements all at once.
Even with a lackluster story, the film must be praised for its excellent action and sound design. Just like the first film, Jack Reacher is a one-man wrecking crew who is able to take on several opponents at once and completely decimate them. Now this doesn't mean that he doesn't get hurt, it just means that he is constantly exchanging blows and attempting to get the upper hand at ever chance that he gets. From the sounds of gunfire to the sounds of faces getting punched and limbs being broken, it's almost cringe-worthy (in a good way) of how gritty and realistic those noises come across. This is a PG-13 film and the sound design alone was almost so pragmatic that I felt that an R rating may actually be more appropriate.
Looking at the film as a whole – the action and audio are simply astounding but the uninspiring story brings down the entire package. I would recommend seeing Jack Reacher: Never Go Back but only if you can tune out some of the story's ridiculously bad elements.
Jack Reacher: Never Go Back:[usr 3]

[youtube http://www.youtube.com/watch?feature=player_embedded&v=nhcI5ktLa7s]
About Jack Reacher: Never Go Back

Synopsis: When Jack Reacher finds out that one of his friends is charged with espionage, he has to uncover the truth as to what is really going on.
Director: Edward Zwick
Writers: Richard Wenk, Edward Zwick, Marshall Herskovitz
Stars: Tom Cruise, Cobie Smoulders, Danika Yarosh, Patrick Heusinger
Rated: PG-13
Runtime: 1 hour, 58 minutes
Just call me "Turbo" because it sums me up in a single word. I'm originally from Visalia, California but currently reside in Mesa, Arizona. I'm a movie and video game fanatic with a BA in Film and Media Production from ASU. I try to see every movie that I can (new and old) as well as play the latest video game releases. My goal in life would be to create a feature length film which viewers absolutely love. However, until then I love to entertain people with my 100+ voice impersonations as well as fill them in with the latest movie/ gaming news on Twitter. Facebook.com/turbizl, Twitter: @turbizl