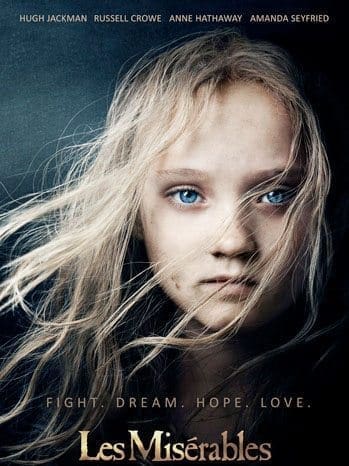 Holy mother of musicals, was this movie amazing. Not just "Yeah, man, that was pretty cool," I mean "The entire audience was in tears and applauding like crazy by the end of it!" If you don't read any further than this, GO SEE IT!
If you've decided to read more, and if you've heard of Les Misérables, the longest-running musical in the world, you know what a moving, powerful, amazing story it is.
If you don't know anything about it all, I'll catch you up: Set in revolutionary France, Hugh Jackman stars as Jean Valjean, an ex-prisoner running from police officer Javert, played by Russell Crowe. Anne Hathaway plays Fantine, whose daughter Cosette (eventually played by Amanda Seyfried) falls under Valjean's care.
These two really carry the entire story on their shoulders, either sharing or alternating the burden between them. Jackman's Valjean is heart-wrenching, uplifting, and lovable, while Crowe's Javert is intimidating, and you really want to hate him, but you just can't. Hathaway's Fantine is a tragic, beautiful character, and a first Oscar win for Best Actress looks bright for her with this performance. Isabelle Allen plays the young Cosette, and she does an amazing job! Seyfried plays the older Cosette, and while she did a great job, she was the weakest singer. Helena Bonham Carter and Sacha Baron Cohen play the husband and wife who take care of Cosette in the beginning, and they are such an amazingly deceitful and hilarious couple! They made the entire audience break out in laughter, repeatedly. None of the acting falls short, anywhere in this film, and there is only the slightest degree of variance between any of the very talented actors.
Nothing was sacrificed by bringing this stage play to film. You still get all the songs you love, sung by these fantastic actors. I, for one, had no idea Russell Crowe could sing that well! All of the film's characters are exceptional singers, so none of the songs made your ears bleed from anything other than awesomeness. There were a few times, though, where songs were overlapping, or the emotion was too much for one character, and you miss a bit of the song. Maybe I'm weird, but I really dislike missing song lyrics, especially when sung by the main characters, as it feels I'm missing out on part of the story. That's my only gripe about this film, however. Everything else is perfection.
And more impressive is that none of the music was pre-recorded. All the songs were sung during filming, nothing was lip-synched, and there wasn't even any predetermined tempo. All the actors continue acting through every song, which adds such a huge amount of realism to it all.
Directed by Tom Hooper, this movie is visually spectacular, and as I just said, everything (except my little gripe) is perfection. If this doesn't win best picture, I'll be very surprised, and pretty upset, too!
For moving me to tears, laughter, applause, and wanting to sing along, and for this movie being nearly perfect in every way, I give it:
15.5 hearts!

About the movie:
Les Misérables is the motion-picture adaptation of the beloved global stage sensation seen by more than 60 million people in 42 countries and in 21 languages around the globe and still breaking box-office records everywhere in its 27th year.  Helmed by The King's Speech's Academy Award®-winning director, Tom Hooper, the Working Title/Cameron Mackintosh production stars Hugh Jackman, Oscar® winner Russell Crowe, Anne Hathaway, Amanda Seyfried, Eddie Redmayne, Aaron Tveit, Samantha Barks, with Helena Bonham Carter and Sacha Baron Cohen.
Set against the backdrop of 19th-century France, Les Misérables tells an enthralling story of broken dreams and unrequited love, passion, sacrifice and redemption—a timeless testament to the survival of the human spirit.  Jackman plays ex-prisoner Jean Valjean, hunted for decades by the ruthless police officer Javert (Crowe) after he breaks parole.  When Valjean agrees to care for factory worker Fantine's (Hathaway) young daughter, Cosette, their lives change forever.
In December 2012, the world's longest-running musical brings its power to the big screen in Tom Hooper's sweeping and spectacular interpretation of Victor Hugo's epic tale.  With international superstars and beloved songs—including "I Dreamed a Dream," "Bring Him Home," "One Day More" and "On My Own"—Les Misérables, the show of shows, is now reborn as the cinematic musical experience of a lifetime.
Rating: PG-13
Runtime: 160 min
As an avid Jill-Of-All-Trades, I dabble in many things, but I've always been passionate about writing and photography. I read like a fiend, all sorts of genres and authors, and I hope someday to write my own novels. I've been taking pictures since I was little, and I strive to improve my skills everytime I pick up a camera. I love all kinds of movies, from those terrible-yet-hilarious B movies to the latest superhero blockbusters. I play video games, roleplaying games, even Magic: The Gathering (much to the chagrin of my wallet, at times), because I adore delving into these other, amazing, created worlds. Check out all my interests and projects, or get in touch with me, on my Facebook page at: Http://www.facebook.com/SamanthaCantrellAZ