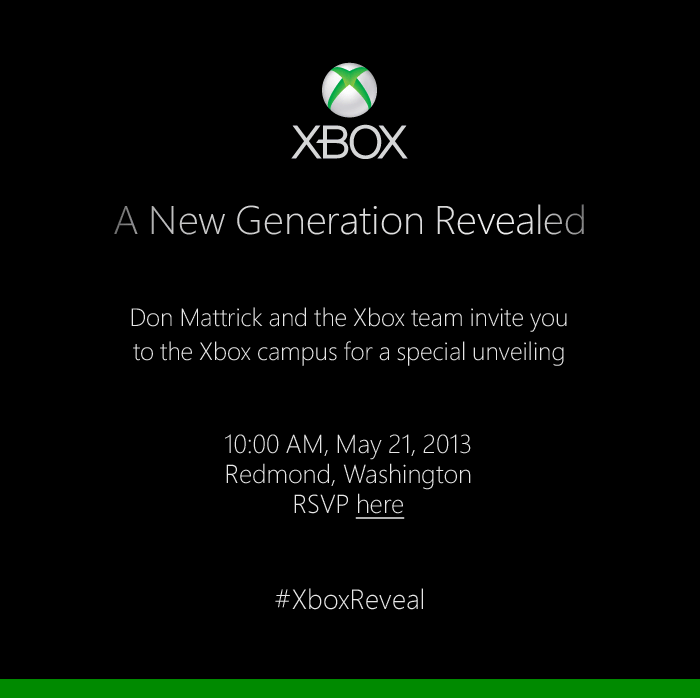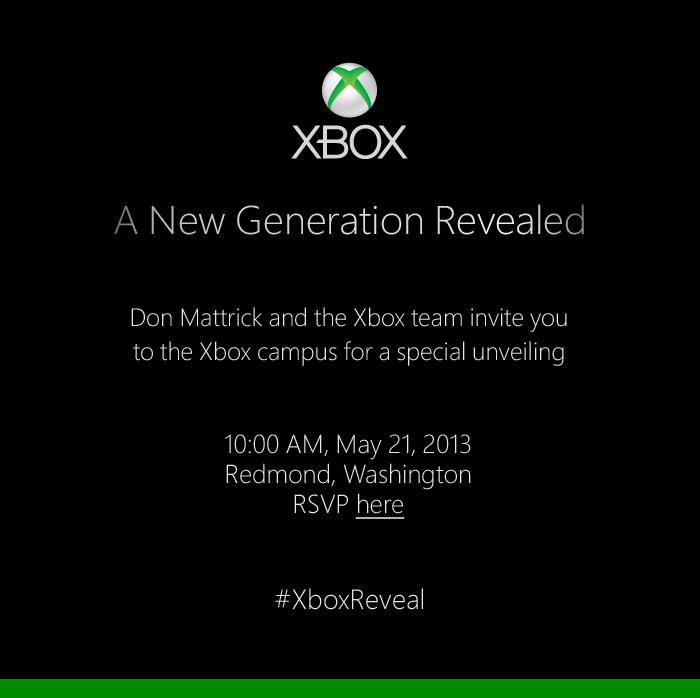 It is official, the next Xbox will be unveiled on Tuesday May 21st at 1PM ET/10A PT at the Xbox Campus in Redmond, WA.
Major Nelson posted the below comment about the event:
On Tuesday May 21st, we'll mark the beginning of a new generation of games, TV and entertainment. On that day, we'll be holding a special press event on the Xbox campus and we invite you to join us via the live global stream that will be available on Xbox.com, Xbox LIVE and broadcast on Spike TV if you are in the US or Canada.

On that day, we'll share our vision for Xbox, and give you a real taste of the future. Then, 19-days later at the Electronic Entertainment Expo (E3) in Los Angeles, we'll continue the conversation and showcase our full lineup of blockbuster games.

We are thrilled to pull back the curtain and reveal what we've been working on.
So there we have it, new Xbox information at the end of May, followed shortly thereafter with their full gaming lineup at E3.
What will Microsoft do to combat Sony's mostly stellar PS3 unveiling, while offsetting the bad press they've received leading up to this reveal? We'll find out in just under a month!
Source: #Xbox Reveal (Major Nelson)
Joshua is the Director of Gaming for Geek News Network and Editor-in-chief for Constantly Calibrating. He is a co-host of both the GNN Gaming Podcast, Constantly Calibrating Podcast, and further podcasts that even he is unaware of. You can read more of his thoughts on gaming and everything else on Twitter @BearPunch.
[SlideDeck2 id=9271]