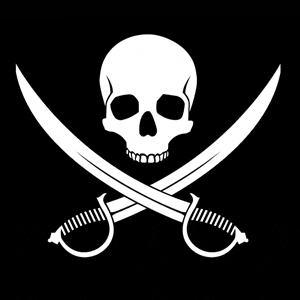 Ahoy, mateys!  Just a quick update in the Arizona local music world.  We've got a pirate themed rock/metal show happening on Saturday, July 28th!  The first annual Buccaneer Brewfest, brought to you by the badass folks at MoshPit Army, will be going on at 910 Live, featuring two out-of-state bands and a few awesome locals.
I went ahead and checked out the two bands from So Cal, and I do like what I hear from both of them.  The Pirates Charles are classified as Progressive Folk Rock, which is right up my alley, as I'm very into folk metal lately.  I especially like bands with Celtic impact and drinking songs, which they definitely have.  Their Facebook page lists some bands they're influenced by, and I squealed with joy a little bit at some of the names: Korpiklaani, Gogol Bordello, Flogging Molly, Dropkick Murphys, Dragonforce, DIO, Faith No More, and Tenacious D.  If those are the bands that have inspired them, then I can honestly say I am anxious to hear and see more.  Check out their Facebook or official website.
The Dread Crew of Oddwood are also from So Cal.  I liked what I heard from them.  They're comical and creative, and they use a variety of uncommon (in metal) instruments.  It looks like they put a lot of work into their performance, and I did see something about them street performing at the San Diego Comic Con – so if you're one of those lucky people who have the awesome opportunity to hit SDCC up, be sure to look for these pirates.  There are seven members in the band, so I think we can expect to get quite a bit out of their performance at the Buccaneer Brewfest.  Stop by their Facebook and official website for tunes and more.
Also on the bill are In Peril (who happened to play the last Paganfest that rolled through town back in May), D2D, and my good friends Adavant (who also played Paganfest)!  I can tell you right now, after stopping by their band practices these past couple months, Adavant has a few surprises that they're very excited to reveal, and instead of showing off their traditional Viking ways, they'll be putting a piratey twist on things for this special occasion.  I can hardly contain myself, so I'm going to stop there before I ruin everything.
Dressing up as a pirate or beer wench is highly encouraged.  It's technically a renaissance themed show as well, so if you don't have the time or money to put a pirate costume together, just throw on your RenFair outfit instead!  Also, I'll be getting my hands on a few of the tickets, so if you'd like to go, but don't personally know any of the band members, you can get in touch with me via my Facebook, and we'll work it out.  $16.
FLYER TIME, Y'AARRRGG!!