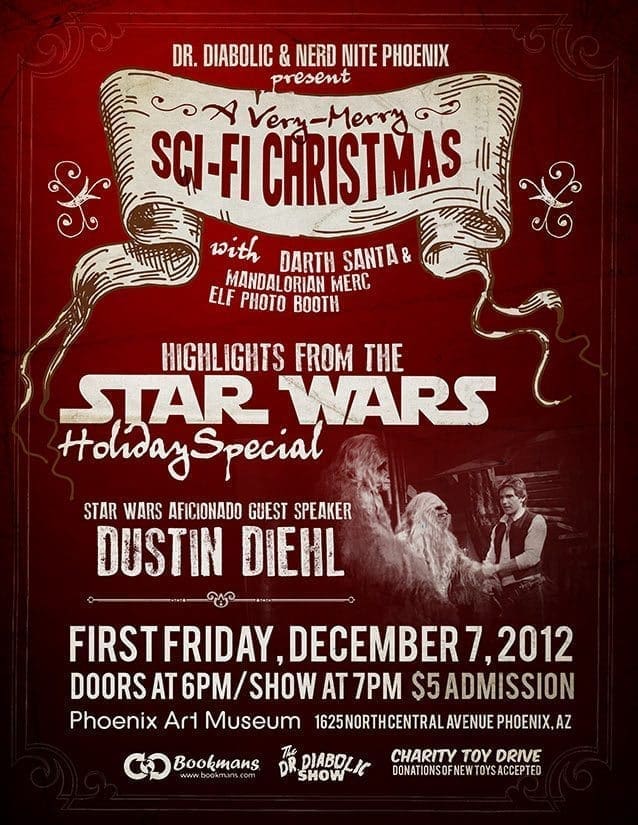 Phoenix, AZ – An unspeakable horror from the past has returned from oblivion to terrorize the residents of Central Phoenix: the Star Wars Holiday Special was screened at the Phoenix Art Museum on Friday.
The incredible popularity of the original Star Wars film took everyone by surprise, and the production company rushed to get new product out to capitalize on this new fandom.  The result was the Star Wars Holiday Special, a two-hour special aired on CBS in 1980, featuring most of the original cast and some guest stars.   Unfortunately, little time and a small budget, along with a lack of input from Star Wars creator George Lucas, added up to an incoherent mess.  The format of the show, a variety show with skits, animated pieces,  and musical numbers along with an original plot about Chewbacca's family, did not lend itself well to the Star Wars universe.   The show was such a failure that it was only aired once, and has never received an official release for home viewing.  For years, it has only existed in the shady world of convention bootlegs and internet downloads.
Dustin Diehl, a prominent Tempe Star Wars fan known for his Ignite presentations, decided to change all that.   For the monthly First Friday presentation at the Phoenix Art Museum, Dr Diabolic invited Dustin to do a presentation about the infamous special.  Thankfully, Dustin did not show the entire special, but rather showed selected highlights while providing some history and commentary between  scenes.  Dustin introduced us to Chewbacca's wife Malla, his son Lumpy, and his father Itchy, who all live on the wookie home world of Kashykk and are eagerly waiting for Chewbacca to return home for the wookie holiday Life Day.  Unfortunately, Chewbacca and Han Solo are being delayed by Imperial forces, and may not be able to make it home on time.  Chewbacca's family are consoled by messages from Princess Leia and Luke Skywalker, but must still endure a Jefferson Starship music video, a cooking segment with a four-armed Harvey Korman in drag, and a torch song by Mos Eisley waitress and former Golden Girl Bea Arthur.  Despite all of this bad, there is one ray of light to come from this special: a short animated adventure that introduced Boba Fett to the Star Wars universe.  In the end, we are all learn the true meaning of Life Day as Princess Leia sings a song to the tune of the Star Wars theme.
This event was a lot of fun.  True, the source material is awful, but Dustin did a very good job of not taking it too seriously, while also showing its place within Star Wars continuity.  This was the perfect format to see the Holiday Special in: abbreviated, interrupted by commentary, and with lots of other people around to help with the group therapy of the survivors.
*****
The Dr. Diabolic Show: Reviving the Horror Host tradition, on the Web & in your Theater. We're MAD about Movies! www.DrDiabolicShow.com. For media, contact media@drdiabolicshow.com.
Nerd Nite Phoenix is an informal gathering at which nerds get together for nerdery of all sorts (mostly presentations and drinking). Be there and be square:  phoenix.nerdnite.com/.