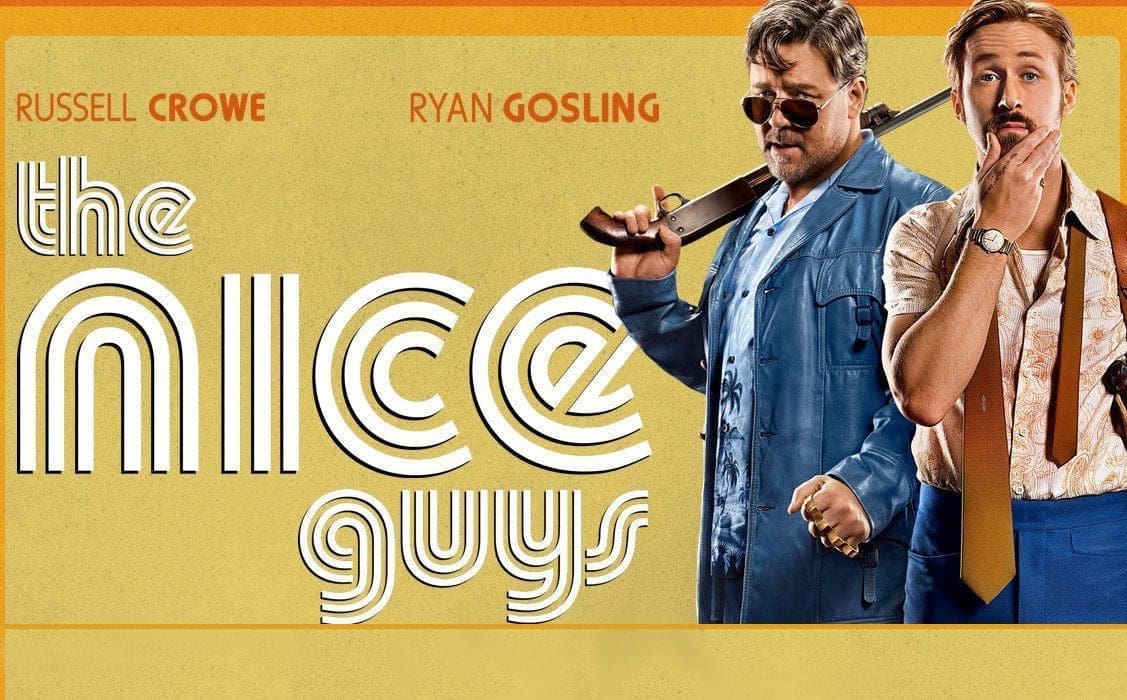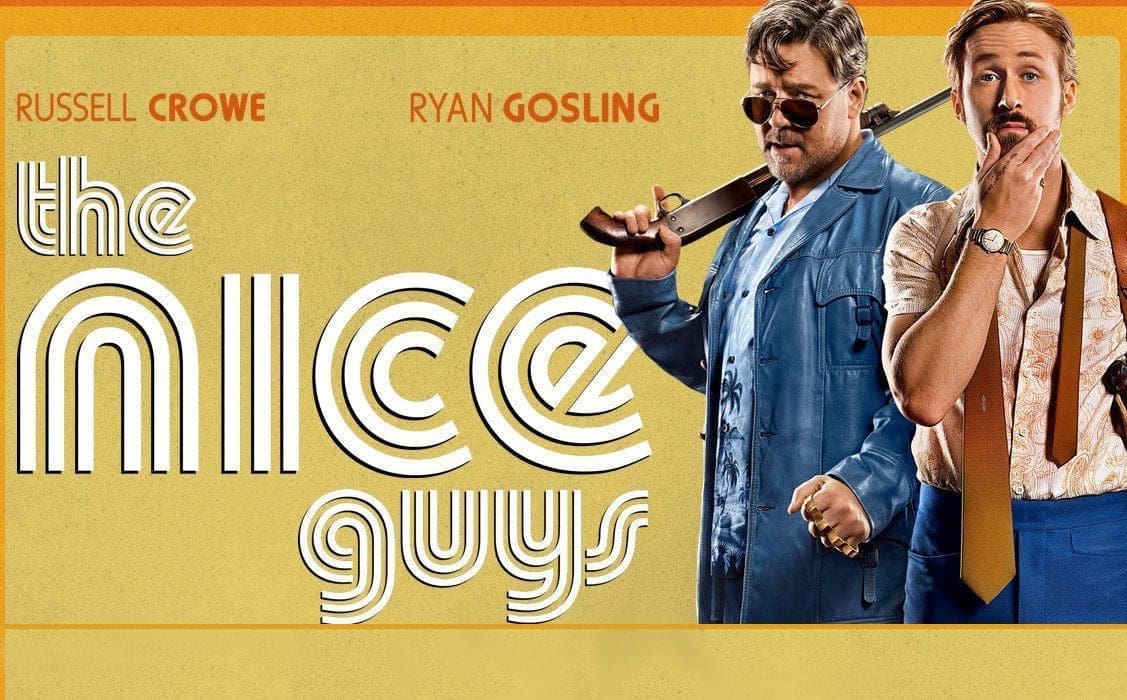 While Shane Black may not be a name that you automatically associate with, the films that he has written and directed are quite well-known. He got his big break in Hollywood by writing the 1987 classic Lethal Weapon. After that success, he would go on to write the three sequel films as well as The Monster Squad, The Last Boy Scout, and Last Action Hero. In 2005 he added director to his resume when helmed the black comedy Kiss Kiss Bang Bang and then partnered up with Robert Downey Jr. again to make Iron Man 3. He is most well-known for his insanely quip-laden dialogue and quirky characters which are even more present in his new film entitled The Nice Guys.
It's the 1970s Los Angeles and Russell Crowe plays Jackson Healy, a muscle for hire who goes around beating people up for whomever pays him to do so. Ryan Gosling plays Holland March, a single father and private investigator who is somewhat aimless in his everyday life. When a porn star mysteriously dies in a car accident, the two men are thrust into a series of bizarre events that all coincide with finding a girl named Amelia.
The easiest way to think of this film is Lethal Weapon with a 1970s twist. The humor is amazing and perfectly encapsulates the talents of Crowe and Gosling in subtle yet hilarious ways. Crowe is much more of the straight man which works perfectly when Gosling becomes a human cartoon at certain points. They have a fantastic onscreen chemistry which works so well that it harkens back to the characters of Riggs and Murtaugh. The only character that feels slightly out of place is Holland's daughter Holly played by Angourie Rice. Even though she is supposed to be a somewhat naive teenager, her character does and says things that feel completely out of place. For example, at one point she is fearful that a bad guy is about to kill her and then right after she feels compelled to help him after he gets injured. Her character motivations seem to be all over the place.
While I liked that the plot isn't incredibly straight forward, it is a bit overcomplicated at times. It's not a huge detriment to the film but there were portions where I didn't really know why the guys were at a specific location doing a specific thing. More and more elements reveal themselves as the story progresses but even looking back on it now, I'm clueless as to why certain events unfolded as they did. Nevertheless, the overall pacing of the film is exceedingly fun and enjoyable and never once was I bored or uninterested in what was taking place in a particular scene. In addition, the sound work is brilliant and every time a gun was fired or a punch was thrown it hit like a ton of bricks – like it should.
My overall favorite thing about this film is how good it is at subverting expectations. There is so much nuance, so much life to the scenes that even when you think you know how something is going to play out it completely turns the screws in such a chaotic way that it results in pure comedic gold. Plain and simple, The Nice Guys is a hysterically funny film that should not be missed.
The Nice Guys:[usr 4]

[youtube http://www.youtube.com/watch?feature=player_embedded&v=GQR5zsLHbYw]
About The Nice Guys

Synopsis: A muscle for hire and a private investigator chaotically team up to try and find a missing girl.
Director: Shane Black
Writers: Shane Black, Anthony Bagarozzi
Stars: Russell Crowe, Ryan Gosling, Matt Bomer, Kim Basinger
Rated: R
Runtime: 1 Hour, 56 Minutes
Just call me "Turbo" because it sums me up in a single word. I'm originally from Visalia, California but currently reside in Mesa, Arizona. I'm a movie and video game fanatic with a BA in Film and Media Production from ASU. I try to see every movie that I can (new and old) as well as play the latest video game releases. My goal in life would be to create a feature length film which viewers absolutely love. However, until then I love to entertain people with my 100+ voice impersonations as well as fill them in with the latest movie/ gaming news on Twitter. Facebook.com/turbizl, Twitter: @turbizl