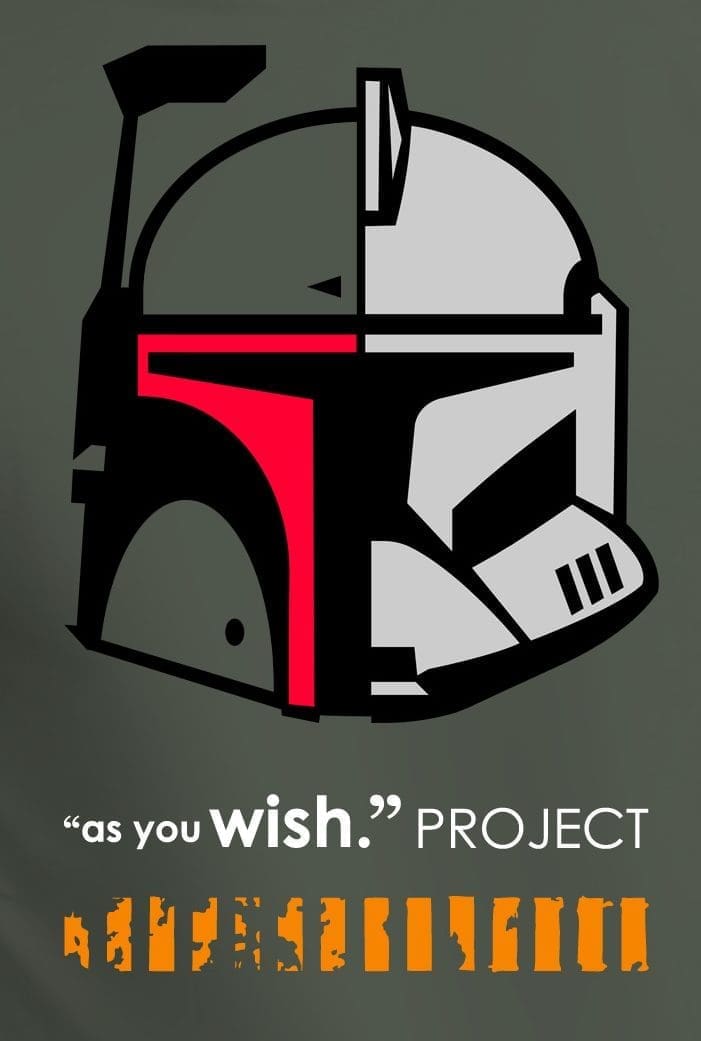 The reimagining of the look of a character is not a new idea. We've read it in fan fiction. We've seen it in art. It's at every convention. Someone creates a costume based on a crossover mash-up (my most recent favorite is the Joker and Harley Quinn at Star Wars Celebration VI who came as Anakin Skywalker and Slave Leia. see "here" for photo). But rarely is it done so spectacularly or for such a good cause as the As You Wish Helmet Project.
The Dented Helmet, eFX Collectibles and the 501st Legion are sponsoring the auction of over 40 reimagined Boba Fett and StormTrooper helmets benefitting the Make a Wish Foundation. Well known artists and FX shops such as Legacy Effects (Iron Man, Avatar), Weta Workshop (The Fellowship of the Ring, The Hobbit), Tom Woodruff Jr of ADI (Skyline, X-men Origins: Wolverine), even two of the artists involved in the creation of the original Boba Fett , Joe Johnston and Sandy Dhuyvetter, agreed to work on the project and create the helmets that are presently being auctioned off on Ebay.
There is a stunning array of work.
There are nods to other famous "helmeted" personalities such as a "Cylon Fett" (Battlestar Galactica) and "Iron Fett" (Iron Man) there are references to popular tv shows such as the Game of Thrones inspired "Game of Clones" helmet and the "KITT" helmet (Knight Rider). A Girl Power Helmet, a Lego Helmet, a Retro Robot Helmet, the list goes on.
The most popular, and at present fetching over $17,000, is Legacy Effects "Scavenger" – apparently answering the question of what happened to Boba Fett after he fell in to the Sarlacc.
A limited number of the helmets were on display at San Diego Comic Con in the Star Wars pavilion and I was able to see them there in person.
Recently on display at Star Wars Celebration VI at The Dented Helmet Booth and As You Wish Exhibit, they are now presently up for auction at the Make A Wish Ebay store.
To see all of the helmets visit the As You Wish Project Facebook (and don't forget to like and share!)
https://www.facebook.com/asyouwishproj
The auctions end Sep 2nd and 100 % of proceeds will go to the Make A Wish Foundation.
George Lucas visits the As You Wish Exhibit at Star Wars Celebration VI
(Video by the Replica Prop Forum)
[youtube http://www.youtube.com/watch?v=hjUr_abRQ9w&w=560&h=315]
Shannon is an independent Media Manager who specializes in web series and independent films. She has also been a Script Supervisor, on set Photographer, Editor's Assistant, author for Web Series Today and is the proud owner of an IMDB credit as "painter". An avid photographer and classic camera collector she often can be seen at events with her 1969 Polaroid Land Camera and quite possibly at least 3 other cameras in tow.
You can contact her at shannon.shea@geeknewsnetwork.net and find her on Twitter @shannon_shea