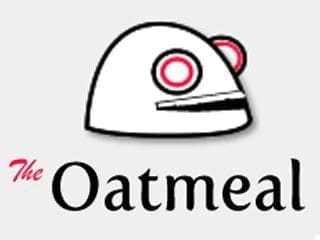 It seems the Oatmeal just can't catch a break.
Matthew Inman, author of the popular blog/webcomic/internet phenomenon TheOatmeal.com has recently come under attack for a joke implying that the F5 key is the "rape victim" of the keyboard.
As a result of the offending comic, Jack Stuef of BuzzFeed wrote up an article criticizing the comic and Inman's response.
However, Stuef's article was rife with factual inaccuracies.  Not simply controversial or unpopular points of view, but statements that are demonstrably false.  Inman wrote up a point-by-point rebuttal of Stuef's article, pointing out various errors of fact.
These false statements include assertions like saying that Inman had never made a comic on a controversial topic before.  This statement is hard to square with Oatmeal comics like "How to Name Your Abortion Clinic," "How to Suck at Your Religion," and "5 Super Neat Ways to Use a Hooker."  Additionally, Stuef's article includes a conversation between Inman and his daughter deriding President Obama.  Inman denied the conversation ever took place.  It's easy to believe Inman on this point for several reasons.  First, Inman is a Democrat who posted various pro-Obama messages on his Twitter account when Obama was reelected.  The validity of Stuef's research is further eroded in light of the fact that Inman doesn't even have a daughter.  Other examples abound, but reciting them would rapidly turn into mirroring the original blog post.
As a coup de grâce, Inman was able to dig up an extremely offensive "humor" piece by Stuef making fun of Sarah Palin's mentally challenged son.
In short, while Inman's original joke was in questionable taste, Stuef's hit piece was so error-ridden it "borders on being libelous" in Inman's words.  Inman did a great job of defending himself against Stuef's poorly-researched article.  After driving off Charles Carreon's failed lawsuit earlier this year, it should be clear the Inman is not to be provoked frivolously.
Robert is a science geek with a passion for science fiction. He has a BS in general biology and currently works in an occupational health lab at The University of Arizona. Additionally, Boumis has published three short stories, all science fiction, and does costuming in his spare time. His interests include classic science fiction novels, sci-fi films, filmmaking, UFOs, and video games. Follow his Facebook here: https://www.facebook.com/pages/Robert-J-Boumis/142544852462290?ref=ts